While living in the Andalusian capital of Seville, in the back of my mind I knew I'd have at least a stint of living in Madrid. The draw of a big city—I'm from Chicago, after all—meant more job opportunities, one less leg to consider when visiting family Stateside, and a cosmopolitan life.
After nine years in Seville, my husband was facing the prospect of working for at least two years in Madrid. I'd begun casually searching for jobs in Spain's capital city—eager to branch out of teaching English and put my marketing chops to use—and landed a job working at a university on the administrative side. We ran the numbers; we could afford about $990 in rent while keeping up with mortgage payments on the house we'd bought in Seville. We'd even have enough to invest in our retirement account plus a yearly trip to the U.S.
Madrid is a vibrant, active city—cultural offerings in theaters and converted industrial building, concerts by big name artists, world-class museums such as the Prado, traditional but trendy markets, and so many bars.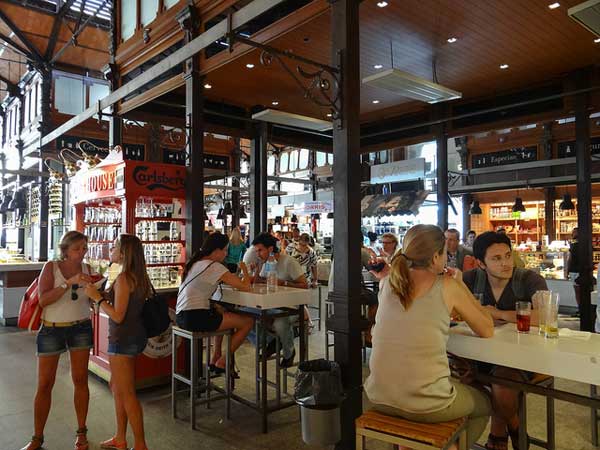 But daily life revolves more around ordering in or cooking for ourselves, spending money on train and plane tickets to see friends and family in Seville and Chicago, and paying bills.
Our monthly utilities run us about $135. We typically spend around $90 a week in groceries, and order in food once a week. The trendy Calle Ponzano—rife with cool cocktail bars and eateries—is a block off our street. Because I walk to work each morning, I don't have to pay for gas or even subway tickets, though I'd gladly pay to ride what I consider one of the most efficient subway systems in the world. My daily mid-morning coffee ($1.70) buys me a little bit of time for myself and a much-needed boost of energy.
As an American who has lived most of her adult life abroad, Spain is now home. I came with very few expectations about the cost of anything, and was surprised to find out that my measly $780 salary in 2007 allowed me to live well.
Still, visitors are often surprised at how well one can live on a Spanish salary, and that theater tickets or museums are accessible to the public on the cheap. It's one of the things I enjoy most about Spanish culture: that people are willing to spend money and time on the now rather than the later.
People often ask me how my life is different in Spain than in the U.S. The short answer is that I live my life as I would in the U.S., just speaking in Spanish. But it really goes beyond that—my quality of life has improved in so many ways. I'm active, eat well and plentily, live in a metropolitan city with ample things to do, and still have money at the end of the month to squirrel away for the future, or to invite my husband for a few cervezas.
Related Articles
7 of the Best Cities in Spain for Your Retirement
Spain Real Estate and Property
Spain Visa and Residencey Information

Editor's note: Cat enjoys all the benefits of big-city living in Madrid without having to scramble to make ends meet. No matter what kind of overseas life you're looking for, you can find out where it's waiting for you in our 2018 Global Retirement Index. Whether you want a big city adventure like Cat, a quiet mountain town surrounded by lush scenery, a laidback life by the beach, or anything in between, our detailed analysis of the world's best retirement havens—24 countries ranked across 10 categories—means you can pinpoint the place that ticks all your boxes. And right now you can get your hands on it for free. Claim your free copy of International Living's 2018 Global Retirement Index here.