I was chased by a lunatic yesterday.
Lunatic might not be the right word. A man with an obsession might be closer to the mark. One that he felt obliged to share with the world at large…
"So much sexier now!" was what he first shouted at me. Heads turned, to see what floor show had just rolled up. Big mistake. The lunatic now had an audience…
I didn't know what he was referring to. I looked down to make sure I was fully dressed (well, you never know). No, nothing wrong there. What was he on about?
It all became clear when he shouted again…
"You're wasting your time putting that face mask on. You're already infected—infected with FEAR".
Of course, I put the face mask on to comply with the law, which states that you should wear one when social distancing isn't possible. The lunatic doesn't get personal space and had crossed the street towards me for no obvious reason. Possibly so I'd put on a face mask and he could then start preaching his gospel…
I'm looking for a new base in southern Europe. I've already explored Faro and Albufeira on Portugal's Algarve coast. My last stop on the Algarve is here in Lagos.
In 1415, a huge fleet of ships set sail from Lagos under the command of Prince Henry the Navigator. Their mission was to seize Ceuta in North Africa. It was the first of many voyages and the start of the golden Age of Discovery. Portuguese seafarers sailed out across uncharted waters over the next 100 years, reaching places as far flung as Brazil, Goa, and Macau. Lisbon replaced Venice as the European center for trade in spices, pearls, silk, and diamonds. Lagos became the center of the slave trade in Europe.
Like Albufeira, much of Lagos was destroyed in the 1755 earthquake and tsunami. There are some original buildings left, including portions of the old city walls and a fortress.
Lagos is a town on the up. It's got its historic roots, but it's growing, and attracting more tourists and snowbirds. One focal point is Lagos Marina, which opened in 1994. It's got 462 pontoon berths and can accommodate boats up to 30 meters long. It's almost full and has been since we arrived.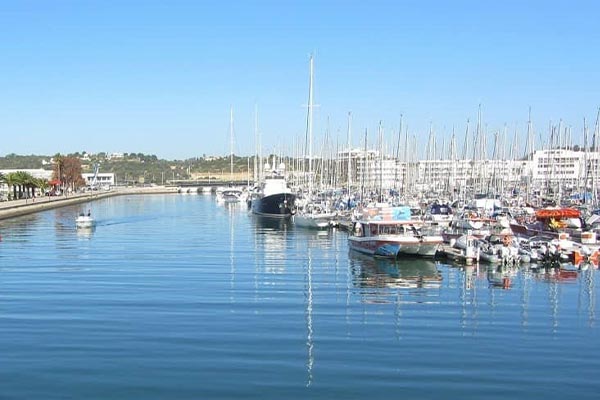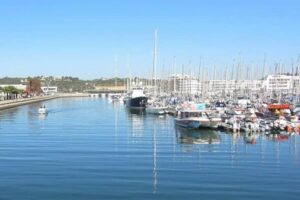 Yachts come and go, flying flags from Germany, Sweden, and the U.K. The restaurants and cafes around the marina are busy at weekends with folks enjoying the sunshine and waterfront setting. It's a nice spot for breakfast or lunch.
From the back of the marina, you can walk or drive to Meia Praia, a long sweep of soft-sand beach. Busy at weekends, it's quieter on weekdays. I've seen groups doing water yoga, stand-up paddle board, surfing, and kite-surfing on this beach.
Cross a pedestrian bridge from the marina, and you're on the waterfront malecon. From here you can walk into Old Town. It's a charming warren of little streets, lined with bars, restaurants, cafes, and an eclectic mix of stores. You'll find practical stuff like banks and pharmacies in Old Town, but also little shops selling handcrafts, ceramics, and clothing. There's even a second-hand bookshop, The Owl Story, with an excellent selection of books. You could happily wander around Old Town for an afternoon, admiring Art Deco style buildings, peeking into little galleries and museums, stopping off for a coffee and a flaky pastry.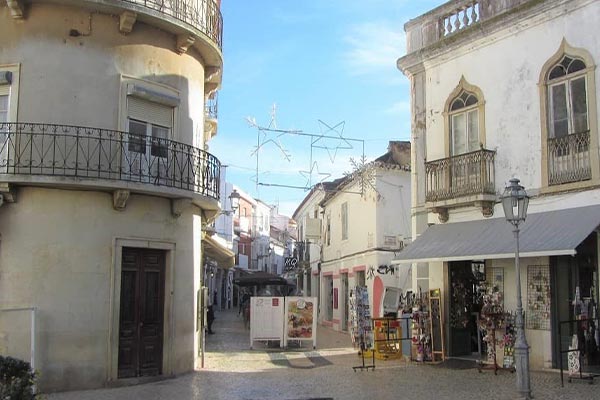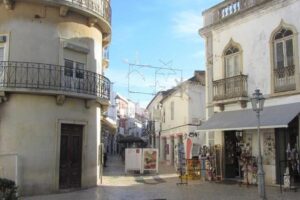 West of Old Town there's a series of gorgeous beaches. From Praia Batata to Praia do Pinhão, Praia da Dona Ana to Praia do Camilo, there really is a beach for everyone. There are tiny coves, with crescent beaches washed by the waves, wrapped by sheer cliffs.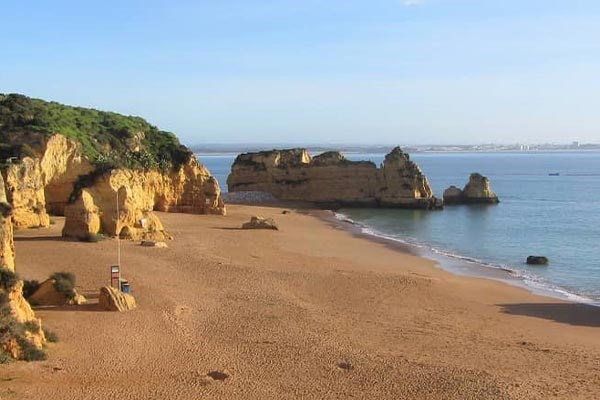 From this side of town you can also walk to Ponta da Piedade. This is a typical boat trip from Lagos for tourists, but I walk it instead. Piedade means piety and on the road out to the point you'll see the stations of the cross, so this must have been a pilgrimage route.
At Ponta da Piedade there's a lighthouse and steep steps down to the water below. But to the right of the lighthouse there's a stunning wildlife area that's home to crested larks and little owls. Raised decks and walkways lead you to vantage points where you get amazing views of cliffs and open sea, and of Porto de Mós in the distance.
There's a lot to love about Lagos. And it's most definitely on the up. There's more construction activity here than in Faro or Albufeira. Homes in Old Town are being remodeled. There are new, luxe, condo blocks going up close to the town center and the marina. There's a large, planned condo-hotel project in the works, a renovation of an old hotel.
You could definitely live the good life in Lagos. I've come across countless Europeans…Irish, British, Scandinavian, Dutch, German. Some live on their boats in the marina. Some live a nomadic life in camper vans (like mobile trailer homes), traveling from place to place around Europe, coming to Lagos and the Algarve in the winter months. Many of the owners of the condos around the marina, where I'm staying, are also European.
There's a trickle of North Americans, too. In fact, many RETA members have already purchased condos in and around Lagos. Some are using their real estate purchase to get a Golden Visa—which brings with it the right to work and live in Portugal—travel around Europe and ultimately get a second passport. Plus, there's the prospect of good rental returns (up to 10% a year gross) on the right real estate buy.
But I'm not looking at Lagos from an investment viewpoint. I'm looking for a home base. Find out how Lagos stacks up on that front in the coming weeks.
Related Articles
Homes With Land for as Little as $98K
Three Things I Miss About Panama
A Simple "Plug and Play" Deal in Panamal