It's September…the perfect time to visit Paris. I land at Charles de Gaulle airport and take a taxi to my apartment rental in the 11th arrondissement (district). I haul my luggage up the narrow curvy stairs. Inside, I delight at the hammock and views onto the small square below.
Energized by being in my favorite city, I grab my grocery bag, and head out. First, coffee at the new café downstairs. I take one of the V'elib bikes (on-street, bike sharing) and zip over to the ATM. Then, straight to the best pastry shop in Paris for a chocolate pistachio escargot. These first tastes, smells, and sips of Paris fill me with joy and delight. From
there, I head to the open-air market to pick up some veggies and, of course…cheese.
Within two hours, I have set myself up for a few weeks in Paris. I'm here to work, but fortunately for me…my work also happens to be play.
I run tours for aspiring artists and creatives, who wish to be guided through The City of Light and inspired by its romance. My tour, called "Capture the Wow," focuses on using the city's glorious spots—its gardens, parks, cafés, and museums—to inspire our inner artists. During our week together, the "Wowsters" (my name for the participants on the tour) fill a moleskin sketchbook with stories, inspiration, notes, and sketches.
For most of the year I live in Denver. But for a few glorious weeks each fall…the most romantic city in the world becomes my home.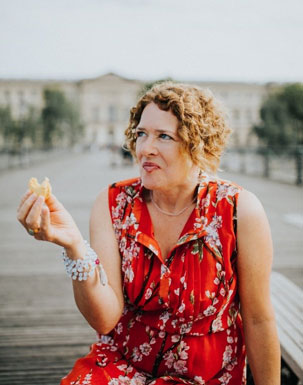 Because I have been doing this for so many years, I have the structure down. The hotel I book for the participants, the restaurants and cafés I take them to, and the excursions I bring them on are all things I can count on to "wow" them. But even with the structure in place, there's always room for more wow, even for me.
A week before the Wowsters arrive in Paris, I'm there to prepare…and get reacquainted with my favorite place in the world. This extra time in Paris allows me to touch in with the city, to discover new things, and to set myself up so I am ready to go for my tour. And the best part is, I can roll the cost this week into the cost of leading the tour…so it's like I get a free week in Paris.
Not only that, but the tours cover the cost of my travel expenses, and even after that I still walk away with a pre-tax income of $10,000.
My favorite part remains the week I have all to myself before the tour begins. This week fuels me. I bike everywhere, fill a sketchbook as a sample to show my Wowsters, and have fun speaking French. This solo time allows me to be prepared, refreshed, and excited when the Wowsters arrive. It's just one of the many perks of my job leading Capture the Wow.
Need a Way to Fund a New, Better Life?

Join our Fund Your Life Daily e-letter today, and you'll hear from us five times a week, telling you about ways to earn income that lets you live anywhere, travel anytime… and give you the funds to make your dreams of a better life real. We'll also send you your FREE report Fund A New, Better Life With These 6 Portable Careers.
Related Articles
There's Something About France that Few People Know…
Cost of Living in France: Sample Monthly Budget