Three years ago, I left the United States and moved abroad as a divorcée with five kids. As a writer, I could live wherever I had an internet connection. As the breadwinner for a family of six, I needed a lower cost of living to maintain the standard of living I wanted. And, as a mother, I wanted my children to have the enrichment that comes from experiencing a new culture.
So, in February of 2013 we moved to Loja, Ecuador. After years of dealing with deep snow and punishing winter temperatures combined with withering summer heat, the year round average of 77 F in Ecuador was very appealing. The fact that Loja has a small expat presence was also a draw. I wanted an immersion environment that would mean a more rapid integration into this new culture.
Within three months of arriving, I had purchased a quinta with hundreds of banana plants, mature fruit trees, and three houses: a main house, a guesthouse, and a worker's cottage. Our home is a traditional Spanish colonial with all the rooms opening onto an inner courtyard. I love sipping iced tea on the verandas, listening to the birds trill, smelling the gardenias and jasmine wafted by the wind rustling through the banana leaves. Most of all, I love the slower pace of life, shared with a people who are warm and gracious.
There are many benefits to living in Ecuador and I am so thankful to be living here. I love the family-centered culture. I love the mild climate that lets me line my verandas with huge ferns. Instead of paying $2,000 a year in property tax, I now pay less than $40 a year. Our monthly electrical bill, at $60, is very high for here. (One expat friend pays less than $20 a month.) However, we have a large family and use more than most. And, $60 a month is far less than the $300 it used to be in the wintertime in the U.S.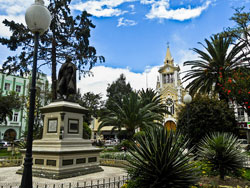 All these savings allow me the freedom to hire someone to clean my house, so I can spend more time with my family. It lets me take them on trips and do things I otherwise couldn't.
There was one factor in particular that helped our relocation be a success: research. There were so many times, sitting at my computer in the U.S., I felt so overwhelmed at the thought of moving abroad. But doing a lot of research and discovering the differences between living in Ecuador and the U.S. helped me identify any "deal-breakers" for the day-to-day life experience I wanted. It also helped reduce the level of culture shock I experienced and eased our transition into a new culture.
It's been a wild and crazy ride getting to Ecuador. I know a lot more Spanish than when I arrived. The learning curve of life in another culture continues, although not so steep as before. And I have never once, not a single time, ever regretted moving here with my family.
Get Your Free Ecuador Report Here:
Learn more about Ecuador and other countries in our daily postcard e-letter.
Simply enter your email address below and we'll send you a FREE REPORT – Ecuador: Live Like Royalty on Your Social Security.
This special guide covers real estate, retirement and more in Ecuador and is yours free when you sign up for our postcards below.

Get Your Free Report Here