For many years, Kathleen Evans and Steve Spada knew they wanted to live and retire abroad. So, they spent their free time researching locations, dreaming about the move, and even looking at real estate abroad.
"Even before the internet," Kathleen says, "we were subscribed to International Living and looking at properties when traveling overseas."
A few years ago, the couple got serious about selling their home in Austin and making a move. Kathleen had had enough of the rush and stress of the workaday life.
"After years of working in corporate America on commission only…it was creating small health issues for me and I knew I needed to get out. Even cold winters were messing with my system."
They started the process of moving overseas by making a list of all the things that were important to them—and choosing a country to move to based on that list.
What was on the list? Kathleen says:
"We never wanted to have to wear a coat again—so it had to be somewhere warm. We wanted to drink the water safely straight from the tap. Practically, we also needed easy access to travel back to the U.S., a lower cost of living, a fairly easy residence process, and to be able to legally own a home and business in our new country, even on a tourist visa."
That wasn't all.
They wanted good quality, affordable healthcare, too. "And we also wanted to hear and see the ocean every day, to live somewhere peaceful and pretty, and to have lots of things to do so that we never got bored."
Not exactly a small order…and there were few countries that met every single one of their mix of practical and heartfelt criteria, but wild and lovely Costa Rica fit the bill. After eight visits, in 2013, they'd narrowed their search to the Pacific beach town of Tamarindo and started the process of moving their lives overseas.
They sold their Texas home, packed up their belongings to be stored until they purchased a new home (at which time they'd be shipped to Costa Rica in a shipping container), and moved into a rental for three months before purchasing a condo and returning to the States to arrange for their container to ship.
These days, Kathleen and her husband are semi-retired, working about 20 hours per week at their leisure—Kathleen in advertising sales and her husband in real estate management—and the couple spends their considerable free time exploring, adventuring, and simply enjoying life in Costa Rica.
Kathleen says, "Every day in Costa Rica is a little different. Sometimes we take the car out and explore new places or meet up with friends for adventures—like four-wheeling through mud in the rainy season or riding horses or boating on a friend's catamaran.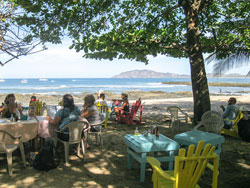 "Still, a typical day in paradise is much like a typical day anywhere," she adds. "We take our dog for a walk, make some Costa Rican coffee (the best in the world!), do a little work online, have lunch at one of the many nearby restaurants, go for a swim, and end the day with a sunset walk along the beach or a sunset happy hour."
This lovely simple life in Costa Rica even costs less than their life in the U.S. There are a few things—cars and electronics, for example—that cost a bit more in Costa Rica due to import taxes, but overall Kathleen says the dollar stretches further. The biggest savings of all has been on their property taxes:
"In Austin, our property taxes were nearly $12,000 per year. Here they are about $500. We can live for six months on those savings alone!"
But the greatest joy of their move is the slower pace of life it awards them, Kathleen says.
"Here, people still stop to smell the roses. Hurrying is not in their vocabulary. They call it pura vida—pure life."
Editor's note: Dreaming of your perfect life…in a place that ticks all the boxes on your retirement checklist? Make your research easier, quicker, and more cost effective this summer.
At the 2015 Ultimate Retire Overseas Conference, you'll meet the experts and expats who can help you to find the life that's right for you overseas. To see what else is on the line-up—or to reserve your place today with an Early Bird discount—click here now.

Related Articles
A Peaceful Retirement in Atenas Costa Rica
There is More to Tamarindo Than a Perfect Climate