As we approached our retirement, my wife Cindy and I decided we wanted a new and challenging adventure. I was president of an engineering company and Cindy a registered nurse who had advanced her career from oncology nursing into medical research, but we wanted something different. Moving overseas was high on our list.
After researching and reading about the different areas of Costa Rica, we decided to visit. Based on what we read about the Southern Zone, on the country's south Pacific Coast (a three to four hour drive from the country's capital, San José), it was one of our top locations to check out.
We wanted an ocean view and preferred a more remote and mountainous location. On a three-day trip there, we fell in love with the area. The beautiful mountains overlooking the ocean captivated us immediately…it was exactly what we were looking for.
Our life now is so much more laidback than in the States. From morning coffee on the patio to a nice glass of wine at sunset, everything feels more relaxed here.
Waking up to the sounds of howler monkeys playing in the trees and watching toucans and parrots flying by is an absolute delight. After noticing the amazing variety of wildlife right off our patio, Cindy has become an avid photographer.
Our cost of living is much lower here than in California. Buying local fresh food is cheap. Our basic grocery bill is about $400 per month. We spend about $25 a week at the local farmer's market, which includes a fresh, free-range, organically fed chicken and locally grown produce like arugula, kale, tomatoes, carrots, beets and bok choy. And I can get a deliciously juicy pineapple for just $2.
Eating out here is also extremely affordable. I recently had a lunch of gazpacho, mahi mahi tacos, and a sinful chocolate brownie for $12. The town of Ojochal, where we live, also has great "fine dining" options for when we want to treat ourselves.
We bought a lot on a mountain overlooking the ocean and began building our new home. The prices of lots here in the Southern Zone range from around $50,000 to $200,000 for a half-acre to one-acre lot, with construction costs running about $100 per square foot, excluding furnishings.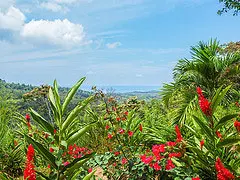 Virtually all of our furniture was custom made in Costa Rica and we didn't try to "scrimp" on cost and quality as this was going to be our new, dream home. However, the custom furniture is a lot less than what we would have paid in the U.S. For example, our dining set, which is on our patio, is high-quality hardwood with a one-piece solid top, hand-carved designs, and seating for eight. The cost was under $5,000. A comparable set of furniture in the U.S. would be double that price.
The quality and cost of healthcare here was another huge draw for us. As a resident, you are automatically included in the national healthcare system, Caja. You can also choose to use private doctors and hospitals, which is what we have done.
I visit the doctor regularly  to have blood drawn, which costs around $30 per visit. Cindy recently had to have emergency dental work that involved two visits, a root canal, a new crown, and some other minor work. The total cost was around $800. In the U.S., it would have been $3,000.
We like to keep busy here. Cindy does yoga classes three times a week, volunteers at a local school, and takes painting lessons every other week. We spend time every day walking our two dogs on the nearby beach, and have both taken up scuba diving and enjoy trips to Isla del Caño. Rated one of the top diving and snorkeling locations in Costa Rica, it's a one-hour boat ride from nearby Playa Uvita. The island is a protected biological reserve and is where we do most of our local diving.
You'll often hear Costa Ricans talk about pura vida (the pure life)…now, living here in the Southern Zone, I fully understand it.
Related Articles
A Peaceful Retirement in Atenas Costa Rica
There is More to Tamarindo Than a Perfect Climate