Start Here With These 7 Easy Steps To Help You Retire Overseas This Year
Since 1979, International Living has highlighted overseas retirement destinations in Latin America, Europe, and Asia, countries where you can enjoy a whole host of benefits, including low cost but very high quality and caring healthcare, good value real estate, a very low cost of living, including many locations where a typical retired couple can live well on $2,000 or less a month.
Here we share seven easy steps to make your own transition to a happier, healthier, more affordable life overseas that much easier and quicker. See the links below to find out more about how International Living can help you to your new, dream life overseas.
Step 1: Get Our Free E-Letters and Free Reports
The first thing you should do to get started is to sign up for International Living's free Daily Postcards. In these Postcards, you'll learn about retirement, property, travel, and lifestyle opportunities from around the world. Read about the destinations you've always wanted to know more about… and some you may not have even heard of yet.
Step 2: Discover the Best Country For You
If you're looking for information on a particular country of interest, go here to see our top recommendations. Whether you're looking for sand and sea, a skyline full of high-rises, or a secluded retreat deep in the mountains, our top countries can offer you all that and more. If you're unsure of which country is right for you, our quick-and-easy (and free) Overseas Retirement Calculator will point you to your best global retirement destinations. And don't worry. It's totally anonymous. We won't ask for your name or contact information.
Step 3: Check Out Our YouTube Channel
The next best thing to being there yourself is to check out videos from our editors and contributors around the world to really get a feel for a country that may be on your wish-list as the perfect retirement or relocation destination. This is where you'll really get the first-hand information straight from the horse's mouth… people who are living the good life abroad right now tell you in their own words how they did it, what worked for them, and just as importantly, what to avoid in your own adventure abroad.
Step 4: Browse Our Free Sample Magazine and Other Publications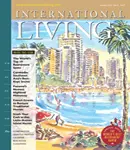 Be sure to take a look at our free online sample issue to find out more about our monthly magazine. This is one of our best resources if you're really serious about moving overseas. In each issue we detail in-depth information on moving or retiring overseas, making money, saving money, and learning all the ins and outs on buying property abroad.
Then check out our Bookstore and stay in the loop with all our latest products. From moving overseas and real estate, to travel and asset protection, you'll find a book, a kit, or a publication on every topic you need to know, written by the experts.
Step 5: Connect with us via our IL Social Media Accounts
Follow us through our various social media outlets (Facebook, LinkedIn, Twitter, and Instagram). Note that we have various Facebook pages. You'll see a lot of our editors and writers on the International Living Facebook page, where you can keep you up to date with all our latest content and news.
View this post on Instagram
Step 6: Fast-Track Your New Life of Profit and Adventure Overseas with International Living's Events
The International Living Conferences section will really start you dreaming. Our world-class conferences and seminars are held in some of the most beautiful and historic cities on earth, and that's where you'll get to meet the International Living writers and staff members you've seen in videos and read in the daily postcards and in International Living magazine. These conferences have helped countless people find just the right locations, protect themselves from the falling dollar, network with other expats and experts, slash their cost of living, and avoid the most common mistakes made while moving or investing overseas.
Step 7: Explore Our Website
So get on in here… browse around by using the navigation bars or see some of the articles below… and take advantage of more than 30 years of International Living research, writing, and experience as you plot your own course to a happier, healthier, more affordable life abroad.
Welcome to International Living!