It seems like it's impossible to turn on the television these days without hearing on the news how people aren't saving enough to retire comfortably…how health care costs and taxes are rising…
The good news is there is a solution. A solution that will allow you to reclaim your retirement and live very comfortably, no matter how much—or how little—savings you have.
Places where the climate is better…where there's more to do…where you can make your retirement dollars stretch…
Below is a list (in no particular order) of nine great retirement havens to consider. From the beach to the highlands to city locales, there is something for everyone. All of the destinations are safe, welcoming, and relatively affordable when compared to life in the States. They are spread out around the world, from Latin America to Asia to Europe.
Where Should You Retire?
Sign up in the box below to receive International Living's free daily postcard e-letter and immediately receive a free report on the World's Top 10 Retirement Havens. (We value your privacy. You can unsubscribe at any time.)
Get Your Free Report Here
Panama City, Panama
Most expats who come to Panama end up in Panama City. That's because it's a great place to do business and is the site of the busy Tocumen International Airport. Plus, it's the only First-World city in Central America.
Here you'll find plenty of English speakers, quality health care, a large, active expat community, and all the comforts of home. Retirees here can enjoy the museums, theaters, parks, restaurants, malls, and more. Plus, there are real estate options to suit every budget…from a $65,000 apartment on the busy 12 de Octubre Avenue to a 5,500-square-foot apartment on the Panama Bay for a cool $1.2 million.
Live downtown where the city lights sparkle on the bay or choose an environmentally friendly neighborhood by the Canal. Spend weekends checking out the new nightspots and first-run movies in English, or take off and tour the country. In Panama City you can truly have it all.
A major draw for expats to Panama City is Panama's attractive retiree program. You may be thinking, "Retiree? That leaves me out". If so, think again. The rules for qualifying for this visa program in Panama are not what you think. In 1987, Panama created Law No. 9—the most appealing program of special benefits for foreign residents and retirees you'll find anywhere in the world today.
Although it's been in effect since 1987, it hasn't been until recently that Law No. 9, more commonly known as Panama's Pensionado Program, has received the attention it deserves.
This government-backed program will pay for part of your retirement. It helps pay for your hospital visits and medicine for the sales tax on your car and the property tax on your house. It heavily subsidizes your travel by train, ship, and plane. Your food is cheaper and so are your hotel stays.
Panama has one of the best—if not the best—residency deals in the world today.
Salinas, Ecuador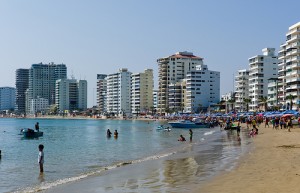 Unless you've traveled to Ecuador, you may not understand how very diverse this country is. It really does have everything…from the Galapagos Islands to the Amazon basin and the Andes Mountains, from big, modern cities to small, quaint villages. And up until now, one particular area of Ecuador has been overlooked—and that's its 937 miles of Pacific coastline and its beautiful mainland beaches. But all that's about to change.
Ecuador tourism and government officials are now making a concentrated effort to promote the country's breathtaking western coastline. They're going all out to attract tourists to these beaches, and behind that effort are new infrastructure projects.
Salinas, Ecuador's largest coastal resort, offers one of the country's best real estate investment markets and most popular and most upscale (for Ecuador, that is) beach lifestyle.
Located at Ecuador's western-most point, Salinas is sometimes called "Little Miami Beach" because of the plethora of white mid- and high-rise condominiums that sprout from the sand and curve around a crescent bay. Then again, except for the sun, sand and surf, it's really nothing like Miami.
Salinas is a relatively small town. The beach is divided almost perfectly in half by a jetty where you'll find the docks of the Salinas Yacht Club. The sandy half-moon bay on the north side, where the abundance of action takes place, is Salinas Beach. To the south is Chipipe Beach, quieter and more family oriented.
Despite the flurry of activity that is Salinas, it may be one of the world's least-expensive beach resorts. A steak or seafood dinner in one of those trendy restaurants will set you back just $5 or $6. Or chow down on fish or shrimp, cooked any way you like, at the local mercado—more than you can eat for about $2.50.
Property is inexpensive too. We recently saw a property for sale for $130,000. It had three bedrooms, three bathrooms and a maid's quarters.
You can often find re-sale condos for even less. One oceanfront condo recently for sale, on a gorgeous stretch of sandy beach, had two bedrooms, two bathrooms and a service-quarters bedroom and bathroom. It even included a covered parking space and the complex had a swimming pool. Price: $105,000.
Penang, Malaysia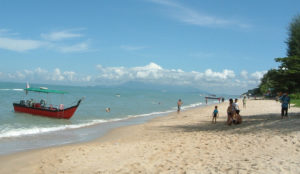 Many foreign retirees to Malaysia opt for a new life on Penang Island, a 50-minute flight from Kuala Lumpur. It's also accessible by an eight-mile long road bridge and a ferry from the mainland. A second bridge will be completed in mid-2013. One of the oldest outposts of the former British Empire, Penang delivers 110 square miles of tropical treasures. A lush, mountainous island oozing history and heritage,
George Town is Penang's main settlement. A UNESCO World Heritage Site, it's one of Asia's most likable cities. There's plenty here for colonial history buffs and foodies, but it also delivers top-class hospitals, international schools, and western-style shopping. And beaches are on George Town's doorstep. A 60-cent bus ride takes you past up-market Gurney Drive to Batu Ferringhi's golden sands.
Most retirees live along the northern coast above George Town. Prime residential areas include Gurney Drive, Tanjung Tokong, Tanjung Bungah, and Batu Ferringhi—Penang's main beach area.
The cost of living here is low. Below is a typical monthly budget for a couple living in Penang:
| | |
| --- | --- |
| Rent: | $500 |
| Electricity: | $100 |
| Water: | $10 |
| Cell phone: | $10 |
| Gas: | $4 |
| Internet: | $30 |
| TV: | $40 |
| Maid (four hours a week): | $15 |
| Transportation: | $34 for gas |
| Health insurance: | $33 |
| Dining out/Entertainment: | $300 (and that's eating out five nights a week, alcohol not included) |
| Monthly total: | $1,076 |
San Miguel del Allende, Mexico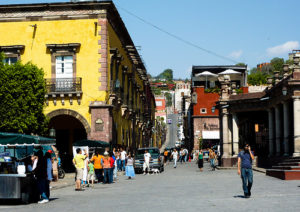 Old Mexico still exists. All the charm and splendor is still there, and it has a home—the colonial mountains and valleys of central Mexico. One of our favorite towns is San Miguel de Allende. It's artsy, close to home, and a "classic" destination that's more affordable than you probably think.
San Miguel has been an expat haven for decades, thanks to its charming and well-preserved colonial character and its location, a 10-hour drive from the U.S. border and only three to four hours from Mexico City.
San Miguel is one of Mexico's national historic landmarks. It gained notoriety a few years ago when Money magazine and CNN ran a story about the eight best places to retire. San Miguel was the only non-U.S. city on the list. U.S. newspapers and magazines love to run stories about San Miguel, due in large part to its incredibly picturesque downtown area, centered on El Jardin, as the town's central square is called. If you were blindfolded and taken to San Miguel, you'd be forgiven for mistaking the town for an ancient Spanish or Italian hill town, with its narrow cobblestone streets winding under tall, arched windows and intricately-railed balconies.
San Miguel's other claim to fame is its arts community. Artists have been coming here to study and work, either full- or part-time, since WWII. The town also tends to attract many others who are interested in "the arts." Musical events, gallery openings, new painting and sculpture shows, and book readings are all the norm in San Miguel with plenty of excellent restaurants and themed bars to visit afterwards.
If you live here, the urge for uncontrolled buying usually fades. What remains to enchant you is the town's fertile creative atmosphere, with its stimulating energy, and the many expat connections. Also remaining, of course, are all the amenities. Have a taste for sushi on a Saturday night? Or need a little Reiki or a first-rate spa experience? No problem in San Miguel. For its size (population about 80,000), it's possibly the most sophisticated city in Mexico.
Because San Miguel is a relatively small town and has been popular with expats for decades, real estate can be expensive, especially close to el centro. But due to the recession, prices in recent years have dropped. San Miguel is probably more affordable today than it's been in a number of years. And depending on how far you want to live from the center of town, deals can be had.
For example, one we recently saw was for sale in the popular San Antonio district. The property was a modern two-story house with two bedrooms and two bathrooms in 1,750 square feet. It had typical Mexican touches like boveda ceilings, tile work, fireplaces in the bedrooms, a terrace, and a flowering garden area—with pool and was selling for $199,000.
Lake Arenal, Costa Rica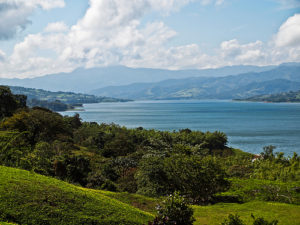 Costa Rica is hugely popular with North American retirees and, even in the midst of all Costa Rica's natural wonders, Arenal stands out for its dramatic landscape and gorgeous scenery. The Arenal Volcano is an impressive, active stratovolcano that gives a glowing performance almost nightly, often seen reflected in the 33 square miles of calm, clear water that lies at its feet. The lake is cradled by green mountain slopes that make Arenal one of the most spectacular places to live in Costa Rica.
Lake Arenal is one of Costa Rica's best-kept retirement and real-estate investment secrets. You can find tidy homes, magnificent lake-view lots, and mature, well-managed gated communities surrounding this beautiful lake.
You'd think a place in Costa Rica with great tropical weather, beautiful scenery, and a 33-square mile boating and fishing lake would be overrun with retirees and second home owners, but this isn't the case. Lake Arenal is cursed (or blessed, depending on your point of view) with being a long drive over winding roads from both of Costa Rica's international airports…San Jose is 70 miles east, and Liberia is 90 miles west. This means you have to want to get to Lake Arenal, and you have to drive to get there. But once you do, you may never want to leave.
What does this mean to a homeowner or retiree on Lake Arenal? Relatively low real estate prices (real estate around the lake goes for a fraction of the cost it commands elsewhere in Costa Rica), lots of developments with stunning lake and volcano view properties to choose from, and a huge lake with ideal conditions for boating, fishing, wind surfing, and water skiing that is practically private.
Add to this the fact that the eastern end of the lake around the town of La Fortuna is surrounded by dozens of hot springs and spas featuring mineral-rich water heated by the deep roots of Volcano Arenal, and you have a retirement and second home destination perfect for year-around living with no end of activities and entertainment.
Thanks to its terrain, properties around Lake Arenal have some of the most spectacular views around. Several developments managed by North Americans feature lots that have panoramic views of the lake and surrounding mountains. Several developments are also lakeside with docks and water access. And all around the lake, small Tico-style houses, the type lived in by the locals, are available for less than $100,000.
Punta del Este, Uruguay
It's possible that Uruguay may be the best retirement destination you could treat yourself to. Not the cheapest…but the best. (And still at about half the cost of living in North America these days.)
Uruguay offers the very best of Latin America and Europe all rolled up into one surprisingly appealing package.
No trip to Uruguay is complete without a stop in hip and happening Punta del Este. No longer a river estuary, it's officially all ocean here, and Punta del Este is a grownup resort town with miles of sandy beaches and blue waters, the country's hottest nightclubs, best casinos and shows, and the highest concentration of fine restaurants.
If you're Uruguayan, Argentine, Brazilian—or a celebrity from anywhere in the world—there is no place better to be seen than "Punta." Property and rental prices are higher here than anywhere else in Uruguay, as is the cost of living. But expats here say they wouldn't live anywhere else…
"Absolutely, the best quality of life is found in Punta del Este," says IL's Uruguay correspondent David Hammond, who has lived in Punta six years.
Bill Tickle, a British expat who retired to Punta permanently with his wife in 2010, lives in the San Rafael neighborhood—cut straight from the cloth of gentrified Europe or Americana at its Norman Rockwell best. Quiet, tree-lined streets, tidy homes with perfectly clipped lawns…
"Punta del Este is one of the best places in the world," Bill says. "There's a real sense of optimism here. People are working, they're getting ahead, and the international community is attracting that type of person, too. They see opportunity.
"Punta del Este is clean, it's safe, you can wear your best jewelry and drive an expensive car and have no fear of robbery or anything else. Plus, it works…electricity never goes off and everything is organized, including the town hall. It's a comfortable place to come on holiday and a comfortable place to live…everything is here.
"How much you spend to live here will depend on your lifestyle. We do like to go to the port for dinner, which can be pricey, but we also go to the nearby town of Maldonado, where the food and drink are more reasonable."
While expats in Uruguay say their cost of living is not rock-bottom cheap, they also say they wouldn't consider living anywhere else.
Savings are huge, not just on public transport, but on big-ticket items like health care and health insurance, property taxes, and wine.
If you own your own home or apartment and don't have car-related costs, you can live comfortably in Uruguay on about $2,000 a month.
Granada, Nicaragua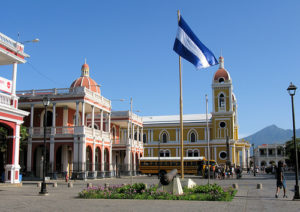 Nicaragua is one of the most beautiful countries in the Americas. It boasts a dramatic Pacific coastline; long, gentle Caribbean beaches; and volcanoes and freshwater lakes that dot the hilly inland. Colonial cities like Granada and León offer visitors a taste of days gone by. And Managua is rapidly becoming a real First-World city with top-notch theaters and a range of international restaurants.
Add to that the very reasonable real estate value here and you could have your perfect retirement or second home destination. Whether you want to live somewhere quiet, near the coast where you can sit back and listen to the waves gently lapping the sea shore or you'd prefer the hustle and bustle of a colonial city with everything you could possibly need (at half the price of the U.S.)…then you should definitely take a closer look at Nicaragua.
The jewel in Nicaragua's crown is a little city called Granada. It's a beautiful, bewitching place. And if your dream of an overseas property involves an old colonial home, you'll get more for your money in Granada.
Granada has an unmistakable colonial charm. Red-tile roofs stand out against the dark-green cloud forest that covers the slopes of the sleeping Volcan Mombacho. Thick-walled adobe homes line the narrow streets, painted in shades of terracotta red and jade green.
One of the city's charms is its tranquility. You won't live life by the clock, rushing from one meeting to the next. Instead, you'll enjoy life to the full…lingering over meals with friends, spending the day fishing or boating on the lake, or browsing the street markets…
As well as the low real estate costs, a couple can live well in Granada on about $900 a month, so your cost of living will be low, too, should you retire here.
Placencia, Belize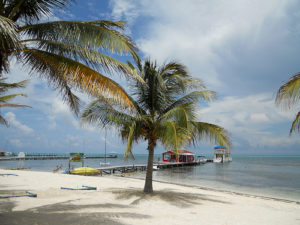 Attractions in Belize include the warm, English-speaking people, the natural beauty and the air of freedom and opportunity. A young country (only independent from Great Britain since 1981), Belize has a low population and plenty of empty, wide-open spaces. It's a country where you can explore and develop, and there's room to breathe, with a pervasive, heady sense that almost anything goes.
To a growing number of expats weary of regimented, rules-laden lives at home, free-wheeling, casual, affordable Belize has proved almost irresistible.
The town of Placencia is appealing to retirees, and it's easy to see why. The water here is vivid blue, the beaches white sand. The palms sway in the breeze. And with the vast open sea to one side of the peninsula and tranquil lagoon on the other, it offers waterfront property and vistas on both sides.
For now, Placencia is still largely a vacation spot, and people are buying here for the future or for investment.
Most of the development is along the highway between the villages along the peninsula. You see large, individual homes; resorts; gated communities under construction; and many lots for sale. Pretty much everything looks slated for eventual development.
Within walking distance of downtown Placencia, on some side roads, you can find lots starting at about $250,000 and townhomes or condos from $385,000. Rentals, however, can be inexpensive. You can find decent one-bedrooms for $500 or $600 a month. You won't get beachfront for that price, but you'll be in town.
Bilbao, Spain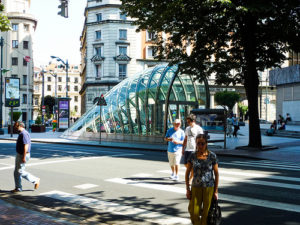 If you like convenient urban living, accessible culture, delectable food, an engaging seaside atmosphere, and green, hilly countryside just a short drive away… then come to Bilbao, Spain.
Bilbao lies almost nine miles from the coast, connected to it by a long estuary. This gives the city and surrounding suburbs nine miles for waterside living.
Bilbao is one of the country's biggest cities. It's also a major industrial center and port. But Bilbao is also a very livable city.
About 15 years ago the city kicked off a major urban renewal with the inauguration of the Bilbao Guggenheim Museum. A branch of the New York museum franchise, the Bilbao Guggenheim has been hailed as the first architectural masterpiece of the 21st century. The museum, whose gleaming titanium hull and rounded form recalls Bilbao's ship-building heritage, has been a link between the old and the new Bilbao.
Today the city has extensive green park spaces and boardwalks (known as paseos marítimos) along the estuaries that thread through Bilbao. These make it easy to traverse the center on foot (you can walk from one end of central Bilbao to the other in a half hour or less).
Don't want to walk? Bilbao has an efficient and inexpensive public transportation system of buses, metro, and trams. For about a dollar you can take the metro all the way to the end of the two main lines…both of which end at beach areas that are 30-60 minutes from the center.
Bilbao also has a centuries-old casco viejo, or historic center. Today this area's cobbled streets are largely pedestrian. The buildings, with their signature enclosed balconies, house apartments on their upper floors and, at ground level, are home to restaurants, bars, and shops that bustle with life.
For its level of sophisticated urban life that it offers, Bilbao is relatively affordable. You can find small apartments in the casco viejo starting at about $150,000. For $250,000 or so you can find cozy two-bedroom apartments in many areas of town, including in some parts of Portugalete, Santurce and Plentzia, the seaside areas near the beaches.
Where Should You Retire?
Sign up in the box below to receive International Living's free daily postcard e-letter and immediately receive a free report on the World's Top 10 Retirement Havens. (We value your privacy. You can unsubscribe at any time.)
Get Your Free Report Here