"You could hike every day here and see something different," says Kristin Simmon-Lowman of her new home in the highlands of Ecuador. "My friends and I just hiked Fuya Fuya (an inactive volcano), which was wonderful.
"Now we're working up to doing Mount Imbabura (one of Ecuador's most iconic mountains), so we've been getting a training system going to get in shape for that. There are waterfalls all around and a lot of lower foothills."
But in Ecuador, you don't need to hike to stay in shape. The cycling Kristin now does around town has worked wonders for her health.
"Because I don't have a car, I take my bike everywhere," she says. "That has been fabulous for me, because it makes me more active. Unlike in Chicago, I never have to worry about it being incredibly cold or incredibly warm. We have such nice moderate temperatures. Not much keeps me from biking to and from town."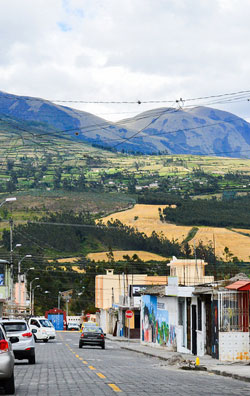 Not only is staying active important to Kristin, but so is eating right, which is easy and affordable in a land where a wide variety of produce grows year-round. "I can buy three heads of organic lettuce and it costs me less than $2," she says. "It's so much less expensive than my grocery shopping back in the States.
"The mercado (market) has stall after stall of vendors selling most anything you could desire…however, I prefer to buy organic. There are at least three organic farmers in Cotacachi that sell tons of organic produce at a gringo market at a fraction of the price at Whole Foods."
The couple's cost of living in Ecuador is much lower than it was in Chicago. "Our HOA fees are $235 a month, electric is $19, water is $4, cell phone is $23, and I pay $70 for my internet," says Kristin.
Although Kristin is not yet 50, Ecuador's low cost of living has allowed her to retire early from her job as a social worker.
Kristin starts each day with a cup of coffee on her terrace. She then exercises her border collie, Zip, before making a nutritious smoothie with kombucha (fermented and sweetened green or black tea), almond milk, organic spinach, and Andean blueberries. Then her day gets busy.
"There's so much to do locally here, too. There's the train that runs from Otavalo to Salinas, and valleys full of blueberries and orchids that are pristine and nobody knows about. That's one of the things that I love about hiking in Ecuador: You can go out and not see anybody."
Kristin also spends her time learning Spanish and volunteering with an organization where she helps schoolchildren learn English.
She has no regrets about choosing Cotacachi as their new home base. "It's peaceful and it's quiet. And there are lots of other expats around. I love having people around that I can relate to and share interests."
Get Your Free Roving Real Estate Investor Report Now

Sign up for the FREE Roving Real Estate Investor e-letter and get a valuable report (free for a limited time) on The Exact Location of Where to Make the Most Real Estate Profits This Year (Plus 4 More Places to Build Your Fortune in Latin America and Europe).
Related Articles
Opportunities Exist for Savvy Real Estate Buyers in Popular Ecuador
The Life You've Been Looking For in Ecuador's Intag Valley