After nine years of living in Nicaragua, Darrell and Amy Bushnell still feel it was a great choice for their retirement. The people are friendly and accepting, the cost of living is low, and a welcoming expat community provides a busy social life.
Shortly after Amy's mother passed away, they decided they were ready to make a new life for themselves overseas. They wanted a place that was affordable, safe, and convenient to the U.S. They had traveled extensively throughout Central and South America, but Nicaragua always came out at the top of the list.
"On the way to the airport after a visit to the beach town of San Juan del Sur we decided to go ahead and do it," recalls Amy. "So we just went back to Charlotte, NC and sold everything, left our jobs and moved, lock, stock, and barrel to Nicaragua."
After a few months by the ocean in San Juan del Sur they moved to the colonial city of Granada. "And we have been here ever since," says Amy.
Granada sits next to Lake Cocibolca (also called Lake Nicaragua). The majestic Chontales mountains rise up at the far end of the lake, and a few miles to the south, the cloud-covered Mombacho volcano looms like a great guardian of the earth. "Many people refer to Granada as 'the city of doors,'" says Darrell. "Of more interest, though, is what you find behind them. They might open onto a 200-year-old home with the original adobe walls, simple furnishings, and a simple tiled floor, or a fully restored colonial mansion fit for a king."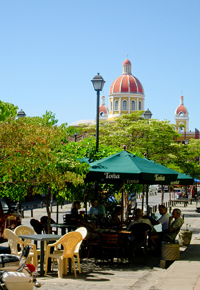 The low cost of living in Nicaragua was a real draw for them. They live comfortably on Darrell's Social Security and pension and spend less than $2,000 a month.
The couple say that their largest expense each month is groceries. Their food and beverage costs average $400 a month. "Vendors come door-to-door every day selling fruits, vegetables, milk, bread and seafood," Darrell says. "It's cheaper in the market, but this is so convenient. And for three or four dollars you can buy a lot of fruit."
They pay $150 a month for utilities, which includes water, electric, cable TV, and internet and their housekeeper and a caretaker cost $280 a month. The running costs for their two cars, including gasoline, insurance and tag taxes, costs a little over $100 per month. They also go out occasionally to wonderful, inexpensive restaurants in Granada, spending around $150 to $200 per month.
They had their home built. It's a 2,000-square-foot house with two master suites, two bathrooms, a large kitchen, a living room, and dining room. They also have a large veranda and patio and a swimming pool. The total cost was $150,000, including the land.
Granada has two hospitals and the cost is extremely affordable. Amy had a friend who had an emergency gall bladder removal for which he only paid $50 for some medications. A visit to an excellent local doctor is a mere $15 and for more serious problems the capital of Managua, just 35 minutes away, has hospitals with world-class specialists.
Amy says, "We keep ourselves busy with community projects. I have a studio where I teach painting, and Darrell writes an online newsletter and administers several other websites." The couple also like to golf and although there are only four golf courses currently in Nicaragua, they get to play a few times a year. Prices run from $45 per round up to $250 for the most exclusive club.
Life in Granada for the Bushnells is good…their only regret is that they didn't do it sooner.
Get Your Free Nicaragua Report Here:
Learn more about Nicaragua and other countries in our daily postcard e-letter. Simply enter your email address below and we'll send you a FREE REPORT –  Start a New Life on the Beach in Nicaragua.
This special guide covers real estate, retirement and more in Nicaragua and is yours free when you sign up for our IL postcards below.
Get Your Free Report Here