Erdi Knezic and her husband were ready for a change. They were both born and raised in Wisconsin. They had a profitable company that made molded plastic parts for cars and successful careers, but they were fed up with the extreme cold weather of the northern states.
"I told Jerry if you don't get me outta here, I won't make it through another winter," says Erdi.
And so Jerry did just that… First the couple moved to Florida. But "we read International Living and liked the idea of moving overseas," Erdi says. "We considered Costa Rica. But then we came to Panama and we really liked Chiriquí Province. It reminded us of the rural countryside in Wisconsin."
When the real estate bubble burst and the economy went belly-up in the U.S. the couple got serious about finding a place to retire. "We wanted out," Erdi says. "We were ready for a new life, a new adventure. Financially we took a hit and the cost of living became a concern for us. I liked Florida, but there were too many old people who had lost interest in life and were just boring!"
These days Jerry, 74, and Erdi, 68, are far from bored and enjoy a retirement they could only dream about before. They live in a deluxe three-bedroom home in an exclusive gated community in one of the most scenic and comfortable locations in Panama.
"I love the view. When the sun comes up, it lights up the whole place and bounces around the hillsides. It's gorgeous," says Jerry.
The development sits on a ridge at the heels of the Continental Divide, with a steep canyon on both sides and irregular peaks rising in the distance. Home to about 30 private homes, it's called Boquete Canyon Village.
They first tried out Boquete town, favored for its cool, spring-like climate year-round, thanks to an elevation of about 4,000 feet. But it wasn't quite the right place for the couple, who preferred hotter weather.
Thankfully all it takes is a drive toward the provincial capital David. As you get closer to David you're at lower altitudes and the climate becomes more tropical.
Boquete Canyon Village is only 35 minutes' drive from Boquete, and 25 from David.
"Originally we rented a townhouse, but when our current house became available about two years ago we grabbed it. It's actually more space than we need, but we love it here." They still rent, and the owner of the house is a neighbor and friend.
"We're able to relax and enjoy our retirement here," Erdi says. "We don't have to put up with all the bad news and politics from back home. It just doesn't affect us much anymore."
"Now I can really exhale," Jerry adds. "All the stress of our working lives is gone. It's different and beautiful here."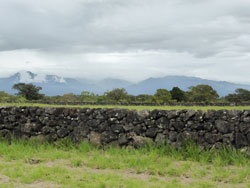 "Our neighborhood is very sociable, with frequent potluck meals, happy hour gatherings, and spontaneous get-togethers," Erdi says. "I go for a walk with friends every morning and we're still die-hard Green Bay Packers fans. We belong to a Packers Club and we get together to watch the games during the football season.
"We usually go to Monday Happy Hour at another community across the highway, and every week we go to the Tuesday Morning Market in Boquete, where we see a lot of people we know."
Being foodies, one of the things Jerry and Erdi like most about living here is the quality and variety of food they find locally. They both enjoy cooking at home and it's easy to source fresh ingredients. Jerry says, "There's a gal at the Tuesday Market who sells organic produce. Her bell peppers are fantastic! And we discover unexpected delights…a man selling lobsters on the side of the road, or a fishmonger who comes through the neighborhood selling his fresh catch from a cooler in the back of his pickup truck."
They visit David regularly for medical care, shopping, or business matters and share insider tips about food sources there, too. "Have you been to Dong Fang yet?" Jerry asks. "It's the best Chinese restaurant we've found. It's a tiny storefront with no ambiance but the food isterrific. And right around the corner you have to try Il Mercato, a new Italian deli that smells delicious the minute you walk in the door! And you have to go to La Casa del Cerdo to buy your pork for the juiciest, tastiest pork chops you've ever had!"
There's certainly no question that the Chiriquí highlands are the right place for the Knezics.
Get Your Free Panama Report Here:
Learn more about Panama and other countries in our daily postcard e-letter. Simply enter your email address below and we'll send you a FREE REPORT — Panama: First World Convenience at Third World Prices. 
This special guide covers insider advice on real estate, retirement and more in Panama. It's yours free when you sign up for our IL postcards below.
Get Your Free Report Here