Cascais is a high-end resort town just outside Lisbon, and once a favored retreat for Portuguese royals.
Now, it's a fixture in my annual travel schedule…
When I'm in Europe, I typically take a long weekend in Lisbon, then set up base in Cascais for a week, just before returning to Mexico.
I get my fix of great seafood, long walks along the Atlantic coast, and the pleasure of stylish and cosmopolitan European hotels.
Go back 15 years and Cascais was a commuter town for Lisbon's wealthy and a vacation destination for the rest of Portugal's well-heeled.
Today, thanks to Portugal's Golden Visa it's become more cosmopolitan, and even more expensive.
No area of Portugal has seen real estate values rise as high as a direct result of the residency-by-investment program.
But my senior researcher, Margaret Summerfield, is leaving no stone unturned. She is in Portugal on the hunt for a personal base.
It's a journey that has taken her right across the Algarve, from Faro to Lagos. Now, she's heading north, and her first stop is the beach town of Cascais.
See what she's found below…
Old Mansions & the Jet-Set Lifestyle in Cascais
By Margaret Summerfield
I'm writing from Cascais, a beach city near Lisbon. The plan is to fly on to the French Riviera from Lisbon airport.
To clarify, I have no intention of making Cascais my permanent base. But I'm certainly taking advantage of its many charms.
One of those is its many grand summer palaces and mansions. In the 1870s, King Luis I and the Portuguese royal family made Cascais their summer residence. Aristocrats and business tycoons followed…tobacco and cement barons…and exiled kings (Edward VIII of England, Umberto II of Italy).
The Portuguese nobility and uber-rich built some fabulous seaside homes in Cascais, many of which you can still see today.
To one side of the marina, there are two museums in houses originally owned by Jorge O'Neil. Like many of these summer residences, they feature towers and terraces and privileged sea views. The style of these expensive, large, summer homes gave rise to a movement called summer architecture, with an emphasis on leisure and wellness, and the use of natural materials like stone and wood.
Casa de Santa Maria is the more rustic of the two: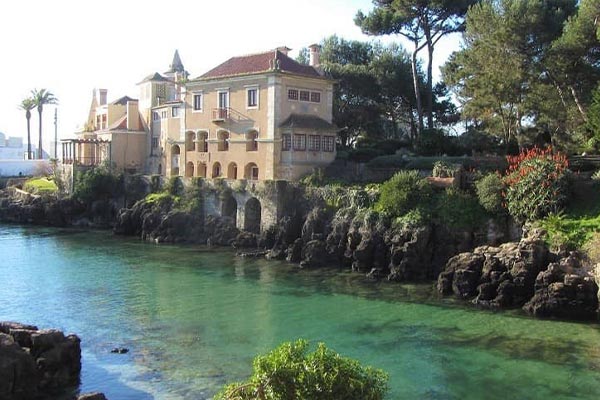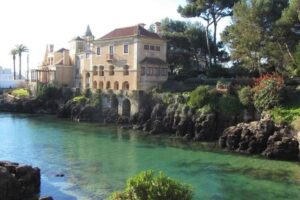 While the Palácio dos Condes de Castro Guimarães is much more ornate with fabulous interiors and lots of expensive porcelain, furniture and decorative touches: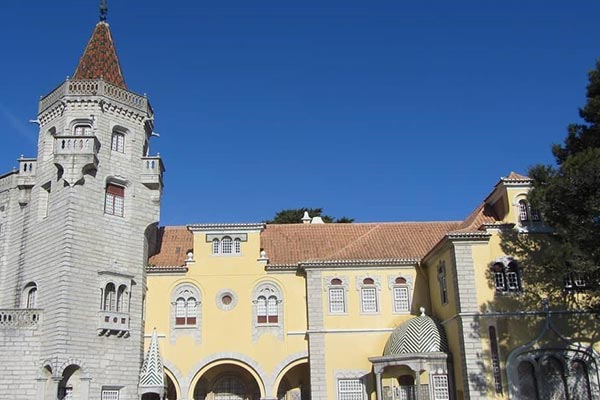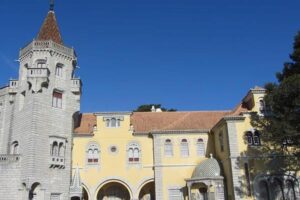 If you go back to the center of Cascais and walk towards Estoril (a neighboring town) along the malecon you'll come across more of these summer residences.
The first is Palacete Seixas, built in 1916. It's currently the headquarters of the port authority of Cascais. It's an impressive piece of real estate, with some gorgeous features: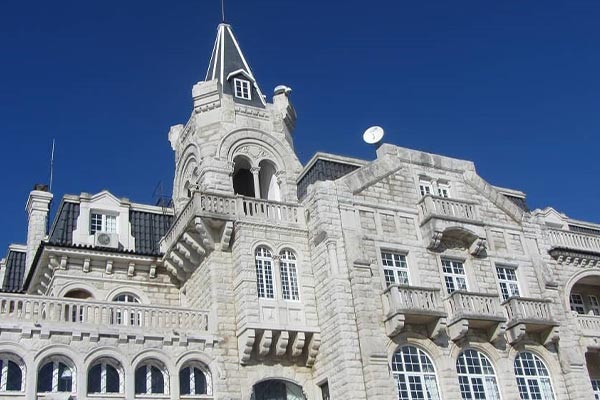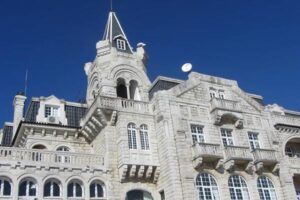 Moving a little away from the models of his eclectic palaces of Parisian taste, the architect opted for a more historicist, medieval-inspired feature, taking advantage of the proximity of the sea to give the building the imposing scenery that made it a fundamental element in the urban line of the bay of Cascais.
The next is my favorite, Casa Lencastre. The elaborate stonework and yellow tile roof on this building make it really stand out: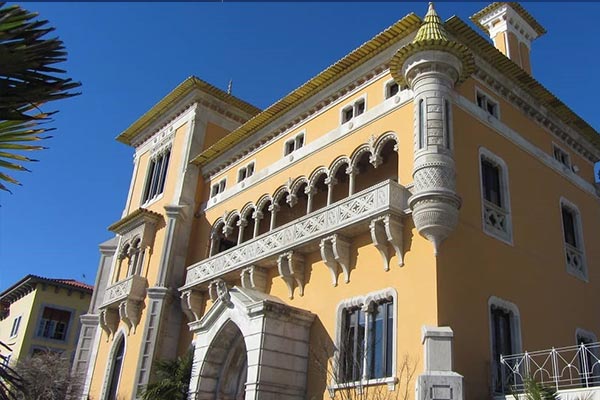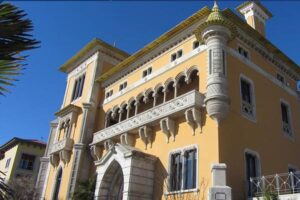 The Albatroz Hotel on the opposite side of the road was once the home of the Duke of Loule.
Then we have two buildings originally owned by the Dukes of Palmela. The first, Chalet Faial, is now abandoned. Close by, the Palmela Palace is monumental in scale, with an asymmetrical style. It's a private home so no visits allowed: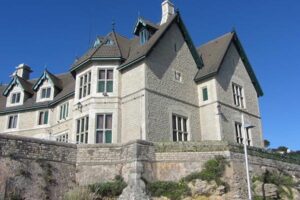 Also set on the malecon in Estoril, Chalet Barros apparently bankrupted the man who built it. It looks like a Scottish baronial castle, transplanted to the balmy Portuguese coast, turrets, crenellations and all.
Just behind it are some grand ruins: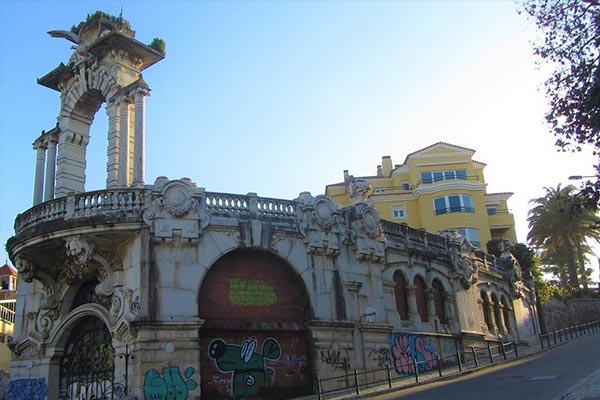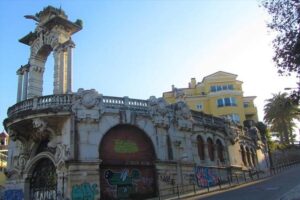 Now, none of these buildings are for sale. But if you're in the market for a summer residence of your own, what does Cascais offer?
It's one of the most expensive real estate markets in Portugal. Proximity to Lisbon and its jet-set associations have ensured its continued appeal as a weekend and second home getaway. There are multi-million-euro homes and apartments for a million plus. A large house in the Centro Historico (with 3,600 square feet), a short walk to the main plaza and marina, is listed as I write at €1.8 million.
On a more modest scale, a one-bed apartment in the heart of the Centro Historico is listed at €295,000. It's renovated in a contemporary style and features high ceilings. It's close to shopping, dining, plazas and beaches. It's a tiny 484 square feet.
Once you leave the Centro Historico and the seashore behind, prices drop. With a budget of say €150,000 to €200,000, you can buy a one- or two-bed apartment of 500 or 600 square feet in a building that dates back to the 1940s or 1950s. You'd be a 10-to 15-minute walk to the center, shopping, dining and the beach.
Ronan says: On my last trip to Cascais, I stayed in a great Airbnb owned by a South African couple, who had bought under the Golden Visa program. Pre-COVID they were getting over 70% occupancy. It's a year-round, blue-chip market; you can make very high rental income. Problem is, real estate values are too high to convert into yields worth our attention.
I love Cascais. But it's not likely a place we will see RETA level gains. I prefer Cascais to other similar high-end destinations, such as Puerto Banús, Spain or Saint Tropez or Monaco. It's got better beaches, a cooler vibe, and amazing scenery. And while you may never be able to buy cheap here, a crisis moment can sometimes shake out deals.
Get Your Free Real Estate Report Now
Sign up for our free daily Postcard e-letter and get a valuable free report on the The 5 Best Places to Buy Real Estate In 2023.
Related Articles
"I Bought My Dream Home in Croatia
Canary Islands Condos With Ocean Views