I've mentioned before how Ecuador made me a huge fan of mountain living. But it's more than just the mountains that did it for me. After all, there are mountains running the entire length of the Americas, from the far north of Alaska and Canada to the very tip of South America.
Almost any mountain range you choose in North, Central, or South America is in some way majestic and breathtakingly beautiful. But—and this is the crucial thing that makes Ecuador's mountains different for me—none of these mountains are directly on the equator.
In nearly every other mountain location in the Americas, seasonal changes make living up at a high altitude a part-time thing, at least for a guy who dislikes snow and cold as much as I do.
The Rockies may be stunningly beautiful and have some great communities to settle in…until winter sets in. Then whatever the local scenery or community happens to be is simply buried under plain old, bone-chilling snow and ice for a good part of the year.
Same in the Andes. The farther south in Peru and Argentina you go, the more brutal the winter becomes up in the mountains.
But in Ecuador…it's different. The country sits squarely on the equator, which means those seasonal variations that occur in the north and south (thanks to the tilt of the earth's axis in relation to the sun as we make our annual circuit) are almost non-existent.
It also means that, no matter what time of year it is, the Ecuadorian Andes are enjoying the same weather the Northern Rockies get in May and June and the Southern Andes get November and December.
In other words, perfect.
Even at 8,000 feet above sea level…even in the dead of winter in North America…even as the Polar Vortex buries entire states under enough snow to collapse roofs and shut down commerce for weeks…it's 60 F to 70 F during the day where I live and 40 F to 50 F at night. And the sun comes up at 6 a.m. and goes down at 6 p.m.
Just like every other day of the year.
This fact simply blows my mind. No matter how long I live here in Cotacachi, the little craft village in Northern Ecuador that my wife and I have called home for five years now, I never get tired of the weather. And I never cease wondering why, with weather like this and with quiet, friendly villages like Cotacachi scattered all along the Ecuadorian Andes, anyone would choose to stay put in North America and suffer through another winter.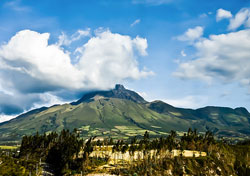 I know, I know. There are people who actually like winter. Well, they can have it. My winter survival plan is to live somewhere where winter doesn't exist—at least not the kind of winter that will kill you if you get caught outside for a few hours…or your car breaks down in the middle of nowhere…or your roof caves in on you.
It's almost miraculous that a place with weather like this exists. It's even more miraculous that it exists at 8,000 feet above sea level among some of the most spectacular mountain scenery on the planet. And it's even more miraculous that it exists in a country that welcomes foreign immigrants and has a cost of living that is a fraction of what living in comparable weather in the U.S. would cost you.
It's a miracle I'm grateful for every time I walk out on my terrace with that first cup of coffee at 6 a.m. to watch the sunrise over the shoulder of the mountain. Which I can do any day of the year, in my pajamas.
That's that kind of winter I like.
Get Your Free Ecuador Report Here:
Learn more about Ecuador and other countries in our daily postcard e-letter.
Simply enter your email address below and we'll send you a FREE REPORT – Ecuador: Live Like Royalty on Your Social Security.
This special guide covers real estate, retirement and more in Ecuador and is yours free when you sign up for our postcards below.
Get Your Free Report Here