Almost every time I visit Panama City these days, I use a helicopter to get a quick overview of the enormous Path of Progress rolling down the Pacific coast along what's being called the Pacific Riviera—a stretch of coast around 50 miles long where you'll find some of the country's best beaches.
On one of my helicopter rides I saw a long orange-brown scar winding its way across the landscape. This is a work in progress, a $370 million project to widen the main highway from the city to the Pacific coast. Parts of the highway will have eight lanes when it is finished.
And there's more to come. This road widening is dwarfed by the scale of other planned projects. A fourth bridge will be built across the Panama Canal, improving access from the city to the coast. Plans call for the city's metro system to run out to the western suburbs, close to this area. This will be a game-changer.
Panama is one of those places on my beat for which the global economic shutdown is but a temporary pause in a multi-decade transformation. In other places the crisis is catastrophic. (I'm thinking of Italy and Spain's fragile economies.)
But Panama City's emerging status as a global hub will continue. The World Bank now ranks Panama as a high-income nation. Panama is a haven of stability in a turbulent world…a destination for international people, multinational companies, and money.
You'll find 78 banks in Panama City, plus Panama is the biggest recipient of foreign direct investment in Central America. Panama has become the largest per capita exporter of services in Latin America. And 5% of all global trade passes through the canal in this tiny country…
Panama's robust economy weathered the 2008 crisis, and Panama will withstand the current global crisis just fine, too.
Yet, I remember clearly when I bought a condo in Panama City in 2005 my family and friends telling me I was crazy. "Why would you buy real estate in Panama?"
For a profit, that's why. Panama was riding high. The country's booming economy was sucking in folks from around the world…looking to profit from its incredible growth. I bought a one-bedroom condo pre-construction in Panama City for $147,630. I sold shortly after completion for $220,000…and made gains of $72,370.
That was an incredible buying moment and one that wouldn't be repeated quickly in Panama. I kept a close eye on Panama's development, but it took another decade before I was ready to make a recommendation to my Real Estate Trend Alert members.
But in the last few years I have made several because a second great buying moment has arrived.
For example, just a few months ago, I brought RETA members the chance to buy true beachfront condos on the nicest beach on Panama's Pacific Riviera while taking advantage of a little-known tax code change by the Panamanian government.
This tax code change meant RETA members were able to claim a $65,700 discount on beachfront property that I figure will increase in value by six figures within five years. I reckon on $135,700 in gains. And I figure on a gross rental yield of 15.7% when the community's momentum is realized…
And this is true beachfront…full frontal "ocean tang on your lips" condos that are steps from the sand. The community sits along nearly a mile of beachfront, and it's easily the closest best-in-class beach community to Panama City. RETA members who bought beachfront condos there in 2017 are already sitting on gains of $100,000. (I'm working on more deals here.)
All Panama opportunities stem from the same trends…
This is an emerging world-class city. Its rapid growth is driving demand for real estate, yet like other global hubs such as Hong Kong and Singapore, the best land is incredibly scarce.
Panama City has earned its nickname "Baby Singapore." Both cities benefit significantly from their strategic location for shipping and trade. Singapore sits between China and India, while Panama lies between North and South America. Panama's famous canal connects the Pacific and Atlantic oceans. It's one of the world's greatest maritime corridors.
Like Singapore, Panama has created a robust wealth fund and poured money into infrastructure. It evolved a foreigner- and business-friendly law and tax system and is now a key player in global trade, banking, and shipping. Today, Panama has the world's second-largest free trade zone.
As a result, it has one of the best performing economies in Latin America and one of the fastest-growing economies worldwide over the last 15 years. According to the World Bank, Panama's economy grew by 5% in 2019.
Yet, by global standards, real estate in Panama is silly cheap. A screaming bargain. If you know where and how to look you will find once-in-a-lifetime opportunities…
In global hubs like Singapore and Hong Kong there are three big drivers of real estate prices. Panama City has all three: population growth, scarcity of land, and high demand.
Population Growth: In 2010, there were 3.3 million residents in Panama. That number is now at more than 4.2 million. And it's projected to hit 5.8 million by 2050, with more than half of the population living in and around Panama City. This is a massive increase in a relatively short period. Panama City has established itself as a go-to place for young professionals and business entrepreneurs in Central and South America, and this population increase is driving demand for housing.
Land Scarcity: Panama City has another decisive factor determining real estate price growth: land scarcity. The city has a shortage of prime developable land. On one side, it is hemmed in by the Pacific Ocean, and on the other it is constrained by large parcels of protected land and watershed for the Panama Canal. There's very little room for urban sprawl other than to the far east or west of the city, which leaves a very long commute. And this will put huge upward pressure on real estate prices.
High Demand: As population grows and developable land runs out, an enormous real estate squeeze will hit. And when the big squeeze kicks in, it will push real estate prices only one way: up.
Get Your Free Panama Report Here:
Learn more about Panama and other countries in our daily postcard e-letter. Simply enter your email address below and we'll send you a FREE REPORT — Panama: Easy, First-World Living and the World's Best Retiree Program.
This special guide covers insider advice on real estate, retirement and more in Panama. It's yours free when you sign up for our IL postcards below.
Related Articles
By Moving to Panama You Can Move to Paradise
Panama Itinerary: How to Spend 7 Days in Panama
Upcoming Conferences

Maximize what you receive in retirement benefits, pay less tax, and position yourself to retire earlier.
REGISTER NOW. DISCOUNT ENDS SOON
---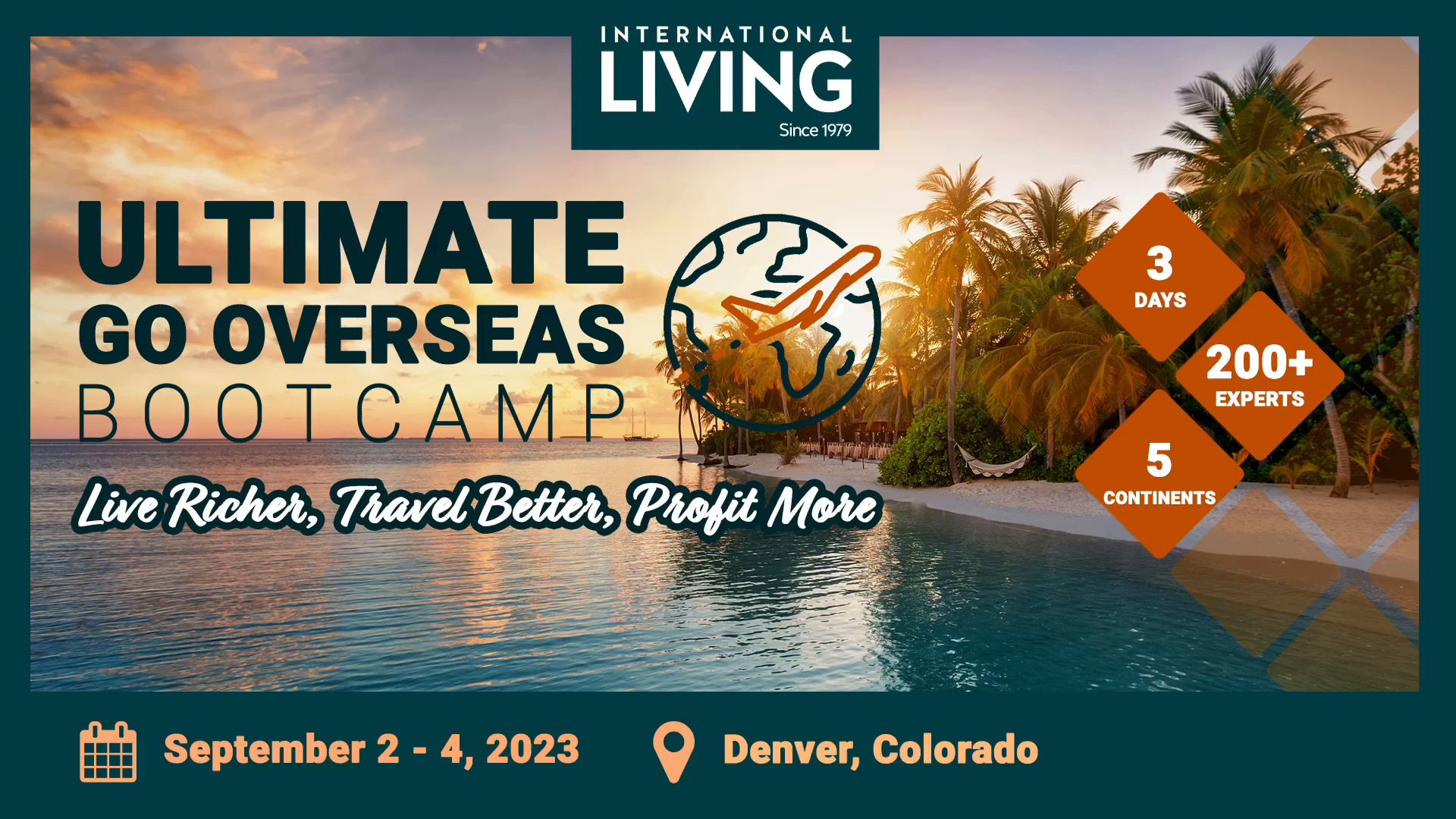 Most Popular Products