If you're a regular IL reader—or you've been following the World Cup hoopla—then you've likely heard of the cities of Fortaleza, Natal, and Recife.
If you're not familiar with them, they're all state capitals in the tropical northeast of Brazil. All are popular tourist destinations for Europeans, although North Americans have been slow to catch on to their delights. All are hosting World Cup games.
Natal has figured in the news recently, outside of the soccer World Cup, as the new Governador Aluízio Alves International Airport has just opened. Once fully ramped up, it is projected that this will be the busiest airport in all of South America, located as it is relatively closely to both the U.S. and Western Europe.
But one city in this region that you may never have heard of—it's received little attention in the traditional press—is João Pessoa, which lies on the South Atlantic coast between Natal and Recife. As the capital of the state of Paraíba, and with a population of almost 800,000, João Pessoa is not a backwater by any means. It's a wonderful little city, well known and well regarded among Brazilians. But North Americans are largely unaware of its existence.
That's surprising. With a solid infrastructure, expansive and well-kept beaches, and the glorious sunny skies for which northeastern Brazil is renowned, João Pessoa has in recent years become a popular spot for Brazilian retirees.
Residents of São Paulo in particular have flocked here, seeking sunshine, a quieter life, and better value for their reais (Brazil's currency). Condominium buildings are going up all over the Bessa and Cabedelo sections of town, just north of the main strand.
But curiously, João Pessoa is not a prominent tourist destination, certainly not for foreigners. Even among Brazilians, it is much less visited than Natal or Fortaleza.
Locals tell me that the local government doesn't actively promote tourism. For me, that's just wonderful! The vibe here is not what you commonly find in tourist locales. You feel more like one of the locals. Hotel and restaurant prices are also lower than in other cities in the region. The beach is not mobbed.
And the beach is without question João Pessoa's principle draw. If you enjoy a bit of outdoor exercise, João Pessoa's strand might well be heaven for you. Avenida Almirante Tamandaré is closed to traffic from 5 a.m. until 9 p.m. Walkers, joggers, cyclists, and Rollerbladers—some still sporting braces, others gray hair—share the sidewalk, bike lanes, and the broad avenue. The strip exudes an air of health and wellbeing.
After your exercise, you can grab a table at a seaside restaurant and order an orange juice (fresh-squeezed, of course) or a chilled coconut, perhaps with a shrimp pastel. If you arrived late, you might order an early lunch. I suggest the seafood pasta, or the meca, a meaty white fish reminiscent of a firm tuna. Either dish is about $12.
There's not a lot going on in João Pessoa beyond its beach—and that suits some of its retirees perfectly. While it provides shopping, medical services, and good public transport, it offers few other attractions beyond several colonial buildings in the old downtown.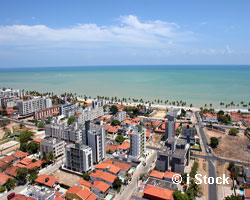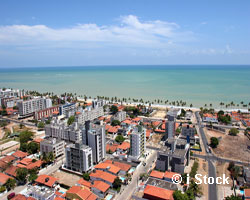 However, João Pessoa could be an excellent choice if you are looking for a place in which to spend part of your year. If you want to flee gloomy winter days—and perhaps shed a few pounds in the bargain—then our little Brazilian secret might well be a place to consider. If you stay in either the Cabo Branco or Tambaú neighborhood, you'll be near the strand and won't need a car. Shop around and you can find a furnished one-bedroom flat for around $500 a month.
João Pessoa's airport doesn't offer international flights. You'll need to connect through one of the larger northeastern cities, or Rio de Janeiro or Sao Paulo.
But sometimes being a bit off the beaten path can be a good thing.