People of diverse origins, interests, and experiences find Costa Rica irresistible as a retirement destination. Take Olga Campbell and her husband Roger for example.
Olga, who was professionally trained as a psychologist, grew up in England. She left at the age of 21, getting her first experience at international living when she relocated to India for three years. Later she ended up in west Texas where she lived for 27 years…and where she met Roger.
By the 1990s, the now married couple had visited Costa Rica on a cruise, and had also spent three weeks visiting the Quepos/Manuel Antonio area. They noticed immediately how welcoming the local people were and loved the laidback lifestyle, climate, and culture. So in 1999, they made a crucial decision to retire early to Costa Rica and they picked Quepos as their new home.
Olga and Roger didn't buy a house right away. Instead they opted to rent a place for a year to give them time to get the lay of the land and learn local peculiarities. Next, they bought their current home in downtown Quepos. This two-story house has a carport, covered terrace, living room, dining area, kitchen, and a half-bathroom on the first floor. On the second floor there are four bedrooms, a sitting room, and a full bathroom. "We're very comfortable," says Olga "and we actually have more room than we need even after converting one of the extra bedrooms to a computer room."
So, why did they choose Quepos? "The area is flat, no hills, and is very convenient to get around," says Olga. Virtually every business and supermarket in Quepos is within four or five blocks from their house. It's also only a 10-minute drive to one of the prettiest beaches in the country, Manuel Antonio and its world famous national park. Olga is an early riser and often walks her two dogs on the beach, enjoying the early morning coolness of the Pacific Ocean breezes.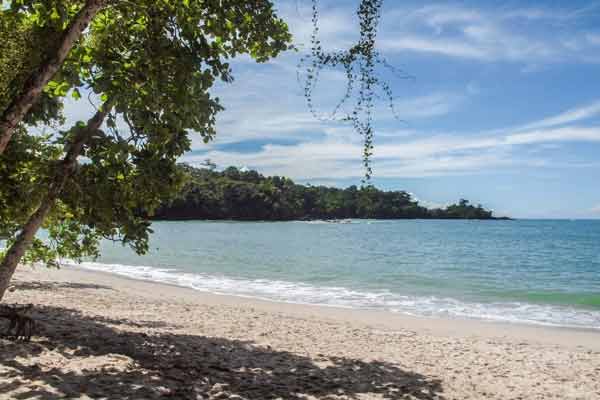 Manuel Antonio beach, an idyllic spot where Olga takes her dogs for early morning walks.
They love living downtown. In the back of their mind they knew they needed to find somewhere that would allow them easy access to amenities as they get older, and this area fits the brief perfectly. The house itself was in very good shape, built in a neighborhood that was already quite mature, which means there will be little new development in coming years. A home like this back in west Texas would be out of their reach.
Day-to-day living is easy, and Olga doesn't find language a barrier to enjoying life to the full. "Although I have not become fluent in Spanish, I can get along in shops and have basic conversations." She adds, "With my English accent, I actually had to repeat myself more often when living in west Texas, than I do here."
Olga and Roger are great examples of how good the easy lifestyle can be in Costa Rica.
Get Your Free Your Overseas Dream Home Report Now

Sign up for the FREE Your Overseas Dream Home e-letter and get a valuable report (free for a limited time) on the The Global Real Estate Boom of 2021: 15 Places Where You Can Profit.
Related Articles
How to Buy Property in Costa Rica
We Pay Just $500 Property Taxes a Year for Our Condo in Costa Rica
For Tropical Beauty and Affordability Look to Uvita, Costa Rica