Exactly one year ago, I was sitting on my couch in snowy Cleveland.
At that time, I hadn't left Northern Ohio for more than three weeks at a time. I was spending my time watching International House Hunter shows and researching on every travel blog and forum I could…trying to find out if living in Central America was a realistic dream for my husband, Dave, and I.
Well, now we're having weekly adventures, spending days on the beach, afternoons in farmers markets, and living a life we would only have tried out on vacation once a year if we had stayed back home.
We live in the beach town of Placencia, Belize.
Just last week we went night-river tubing in the jungle…climbed a Maya ruin…and swam and kayaked at a beautiful resort right down the beach from us. We have already replaced most of our income in the U.S., running a small resort on the beach, what a dream!
We really liked our life in Cleveland. We had our own businesses in which we were successful. But we both had the itch. We were at a place in our lives financially, and in terms of our skills, where we can start to take risks. We wanted to push ourselves…experience new cultures…and get out of the north-east winters!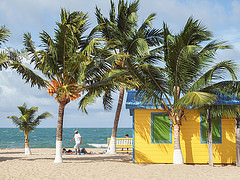 We picked Belize because it is English-speaking and friendly. It uses British real estate law, and has the beach and tropical climate. On our extensive pro/con list, it kept coming up first!
We showed up in Belize February 2014, and rented a car, searching all over the country for something that felt like the right fit. The second we started driving down the Placencia peninsula, we looked at each other and said—this is it!
We knew it felt like home. The sparkling Caribbean on one side, Maya Mountains and lagoon on the other, real estate right on the beach. Perfect!
We made an offer on a half-acre on the Caribbean Sea that day…sold our house and car back home, left our businesses…and changed our lives. We spent eight months renovating three cabanas on the beach and we were at nearly 100% capacity our first season.
We looked at each other just this morning with the realization it has been one year….and it would take a book to describe the experiences we have had. We are so grateful to have had the most memorable year of our lives, and so proud of ourselves for taking the risk to live more…and live without regret.
We know this last year would have passed by just like all the others had we not jumped.
No question…we would do it again in a heartbeat!
Need a Way to Fund a New, Better Life?

Join our Fund Your Life Daily e-letter today, and you'll hear from us five times a week, telling you about ways to earn income that lets you live anywhere, travel anytime… and give you the funds to make your dreams of a better life real. We'll also send you your FREE report Fund A New, Better Life With These 6 Portable Careers.
Related Articles
The Quickest Way to Make Money Online
5 Reasons to Become a Travel Blogger