My husband Mark and I live around 10-minutes' drive away from several beaches.
On weekdays we can let the dogs run loose, as we have the beach to ourselves. Mark, an avid cyclist, rides with a group of locals several times a week. Twice a week I go to the nearby pool for aqua aerobics and gossip.
We enjoy a busy social life here in Las Tablas, Panama. That's partly because eating out is so inexpensive. We indulge several times a week and it's easy for friends to join us. Dinner for the two of us averages about $15, and lunch can be as little as $2.50 apiece for the menú del día, which includes a soup, the main dish, and a beverage.
If we need more shopping options than our small town offers, we go to Chitre, a 30-minutes' drive away. Chitre also has a four-screen movie theater and a four-story shopping mall.
When we first arrived here we traveled around by bus and taxi. Buses are cheap and frequent. It costs 35 cents to get to the next town and $1.50 to go to Chitre. You can travel the four hours to Panama City for under $10—a mere $6 and change with Panama's Jubilado retiree discount. Cab fare around town is about $1.25.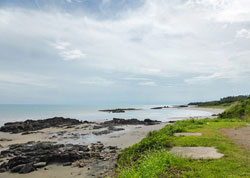 After eight months we bought a used car. We spend about $60 a month for fuel.
We don't live solely on Mark's Social Security check, but we could if we were willing to tighten our belts a bit. Our monthly budget, excluding travel back to the U.S. and medical care, is about $1,600.
It took about two weeks to find the house we now rent for $400 a month. It's a comfortable three-bedroom, two-bathroom, fully-furnished house with a small office in an upscale subdivision. The yard is filled with plants. We even have a couple of papaya trees!
We don't know what the future will bring. We're enjoying Las Tablas for now, but there are other places we want to explore. With our finances rebounding, we have more options now than we did two years ago.
We're not rushing into anything, though. Instead, we're enjoying our tranquilo life, knowing that the only stress we have here is what we create ourselves.
Free Panama Report:
Learn more about Panama and other countries in our daily postcard e-letter. Simply enter your email address below and we'll send you a FREE REPORT — Panama: First World Convenience at Third World Prices. 
This special guide covers insider advice on real estate, retirement and more in Panama. It's yours free when you sign up for our IL postcards below.
Get Your Free Report Here