At the end of a busy, yet frustrating, day looking at real estate in the Belize beach town of Placencia, Kirsten and Per Kristensen took time out to relax on the beach.
Strolling along the water's edge, Per glimpsed a beautiful white mansion right on the beach and noticed it had a 'for sale by owner' sign. "The house was elegant and was clearly of high quality and well maintained," says Kirsten. "Naturally, we called and had a tour the next day." They later made an offer and the house was theirs.
Having previously explored all the expat havens that Belize had to offer, Placencia stole their hearts. Although still very small, this remote but charming fishing village in southern Belize, has been on the map for tourists and expats for many years now. "We just knew we had to have a place there. We immediately felt at home and embraced by the locals," says Kirsten.
"Placencia has the perfect blend of energy and excitement, like what you would find in the Cayes, but with a provincial town feel that makes everyone seem like a big family."
Buying is a great option in Belize, as it is based on British law and if you use a credible real estate agent and lawyer, it is as safe as buying in the U.S.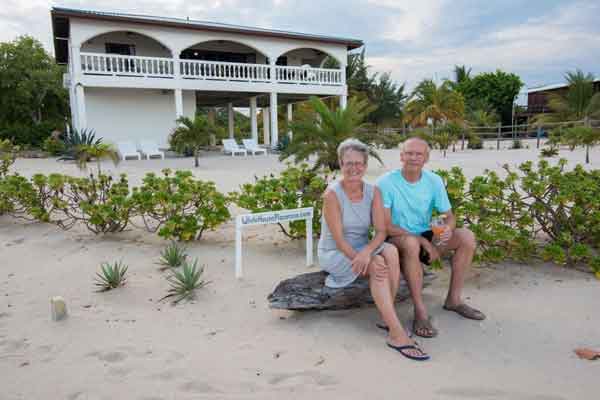 The styles of homes vary greatly—you can find anything from a wood shack on the beach, to homes as grand as any beach town in North America. In Kirsten's case, she was looking for something they could move into immediately. "The house was 100% move-in ready when we bought it," she says. "The interior is very comfortable and modern, perfectly fitting with our style. We've added pieces of local art and crafts to make it more "Belize" in style. Placencia has so many great fine artists, wood carvers, and crafters that it makes us proud to display their work."
Another excellent feature of owning a home in Belize is the potential to make a rental income. Many people live there part of the year and rent out their homes other times of year, or they have a small rental suite to help with income. Kirsten was able to take advantage of this opportunity. "The locals and real estate agents we spoke with kept mentioning that we had a great opportunity here, and it turns out they were on to something. As soon as we listed it, we were very fortunate to start receiving inquiries almost immediately."
But most important of all, the house is somewhere the whole family get to spend time together on vacation. "When all six of us stay, the house is perfectly sized. With three bedrooms, we all have our privacy and the open kitchen and family room make for great times spent together.
"While we're at the house, the balcony is where we spend most of our time during the day, when we're not off exploring inland or out on the water.
Get Your Your Own Home Overseas Report Now

Sign up for Your Own Home Overseas free e-letter and receive a special report "The Top 10 Locations to Own a Home Near the Water for $150,000—or Less!"
This special report covers the 10 things you must know before buying property overseas as well as pointing you to some of the best places in the world to buy real estate…and it's yours free when you sign up for Your Own Home Overseas e-letter below.
Get Your Free Report Here
Find Out More About Buying Real Estate Overseas Here
Related Articles
Find Your Dream Beachfront Property in Belize
Ambergris Caye is Belize's Most Popular Tourist and Expat Haven
Corozal is Continuing to Gain Popularity Among Expats and Native Belizeans