We were sitting in a rustic beach bar in the small town of Puerto Morelos on Mexican's Mayan Riviera sampling what the bartender promised was the best margarita in town.
The temperature was about 85 F and the ever-present sea breeze was wafting in from the Caribbean. Shore birds were circling overhead in a cloudless blue sky. From time to time, one would fold its wings tight against its body and dive into the brilliant aquamarine waters to snatch a small fish from below.
Only a few yards from the bar's entrance, two men were lounging in hammocks playing their guitars and singing in wonderful, Spanish harmony. It was as if the Chamber of Commerce had staged this entire scene just for us. But I knew better. This is really our life!
An hour earlier, my wife, Diane, and I had walked along the shoreline, gazing into the crystal clear waters from short piers that jutted into the Caribbean. Many species of colorful fish were finning along and underwater gardens of multi-colored vegetation swayed in the gentle currents.
"Think back five years ago," Diane said. "Living in the Caribbean wasn't even on the radar, and now, look at where we are!"
We left the States in 2012 after realizing that our life as retired expats living offshore would be much better than remaining where we were. We spent two years or so on the coast of Ecuador, in the small fishing and farming community of San Vicente, before moving to our current home in Cancun on the Caribbean coast of Mexico.
Puerto Morelos is a nearby fishing community that shares none of Cancun's dazzle and sparkle but exudes the natural, simple pleasures of the area. There are the usual gift shops along the main roads, of course, as the word had begun to spread some years ago and more tourists were finding their way off the main highway. A number of expats now also claim Puerto Morelos as their home.
Multi-colored, hand-woven serapes hanging from sale racks flutter in the breeze like rainbows. Hand-tooled leather purses and shoes share space with colorful, hand-painted clay pots and yard ornaments.
There are perhaps 10 or 15 restaurants within a two-block area. Naturally, seafood is the specialty with other traditional Mexican fare offered, too. The aroma of hot, fresh tortillas, onions, and freshly grilled fish escape from doorways and blend with the warm breeze from the sea. I walked down the street on my visit with an eager upturned head, like a dog sniffing the air.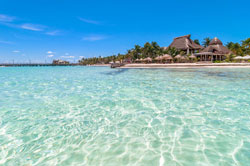 We love living in Cancun. Our condo is situated on a strip of land with the Caribbean Sea on one side and a large lagoon on the other side. From our bedroom, we have a stunning view of the lagoon with its frequent kayakers, small-boat tours of the nearby mangroves, and fishing boats bobbing in the calm waters.
From the other end of our condo, we have a spectacular view of the jewel-like, turquoise Caribbean Sea. Our walk to the powdery white-sand beach takes about two minutes with direct access from our property.
Cancun offers all the modern conveniences one would expect from a world-class destination, including large malls, major shopping outlets, more restaurant choices than one could visit in a lifetime, and great hospitals. And, as Cancun is the most popular destination in the Caribbean, it hosts a modern international airport. Direct flights to Miami take about two hours.
So, this is our retired life and all for about $2,800 a month. I say that out loud several times each week just to be sure I'm not dreaming. Every day as we watch airliners departing in the distance, I realize that most of those passengers are headed back to a job and a life somewhere else when many of them would rather be here…where I live.
I have to go now—I'm off to take a dip in the pool before a snack of fresh, local mango and pineapple…
Get Your Free Mexico Report Here:
Learn more about Mexico and other countries in our daily postcard e-letter. Simply enter your email address below and we'll send you a free special report – Why Millions of Americans Are Moving to Mexico.
This special guide covers real estate, retirement and more in Mexico and is yours free when you sign up for our postcards below.
Get Your Free Report Here