Exploring new and exotic places was something Patti and Bob Jackson had long loved to do, but the two-week breaks they were able to take off work just weren't enough. "It would just barely expose us to the culture and lifestyle in the places we visited, not immerse us like we really wanted," says Bob, 61.
With retirement on the horizon, the couple knew they needed to find somewhere that offered all the rich adventure they were after but at a much lower cost. They were tired of working so hard just to afford the things they had. "We were slaves to our stuff; the cars, the house, the backyard…our home owned us," says Patti, 58. Constant maintenance had them working just as much on the weekends as they did during the week.
When the couple discovered International Living magazine, they started to see a way out. "The more I read, the more it became real for us," says Bob. "We didn't have to stay put, we could go anywhere."
In November of 2016, they attended an International Living event. "I can't say enough how life-changing that was," says Bob. "The beauty of it was that we could talk with each speaker and ask the questions that were most relevant to us. That made all the difference. The personal interaction was key." They went with an open mind, but Ecuador, Panama and Colombia were on the top of their list. By the time they left the conference, there was a new front-runner: Penang, Malaysia.
Two months later, they were on a plane to check Penang out for themselves. They spent 10 days test-driving life on the island. They didn't do all the touristy stuff but instead met with a real estate agent, a few expats, and checked out the grocery stores. The couple fell hard for Penang's charms and knew they'd found their perfect overseas spot. They sold up at home and made the move just a few months later.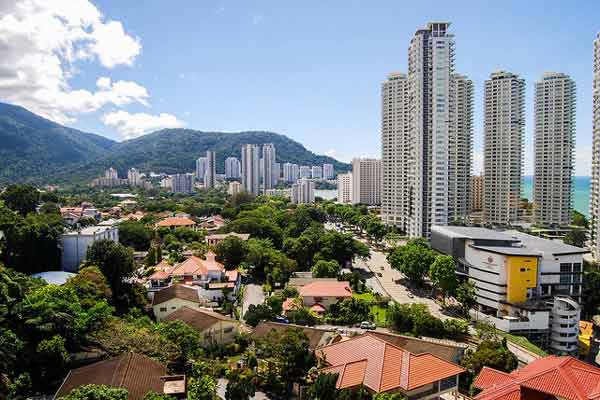 Penang, in northwest Malaysia, is popular with expats from around the world.
Today, home to Patti and Bob is a plush apartment complex complete with a sprawling, private waterpark. They have a bright, luxurious two-bedroom, two-bathroom unit with dark parquet floors. The 1367-square-foot home also features a balcony overlooking the sea. At night, while eating dinner on the balcony, they can hear the waves crashing into the rocks. "We pay around $880 a month," says Bob.
"Our whole lifestyle changed for the better. Life is up to us. Our social life went up exponentially because we have time and can afford to be out and about. If you simply talk to people here you'll end up meeting new people, the expats have open arms and are so accommodating," says Bob. "I play golf and tennis (which is a new sport for me) almost every day, and Patti plays more tennis here than she ever did at home."
Another benefit to this active lifestyle is that Patti and Bob have each lost almost 10 pounds without even trying. "It's amazing really because between the golf and tennis, Bob has had more beer in the last three months than in his entire life," says Patti. "We love the social aspect of life here."
Although the couple got their MM2H 10-year visa, that doesn't mean it's a permanent move. One of the key things they learned from International Living is that there's a whole world of options available to them and no move is irreversible. "Of course, when it comes to making the move overseas there is trepidation," says Bob. "But what conquers that is education, and that's where the conference was so helpful. It gave us the confidence we needed to make the move."
Related Articles
5 Best Places to Retire on $30,000 a Year
Can a single woman safely retire overseas on $1200 a month?
The 9 Ways To Retire Overseas For Less