South of Colombia's Coffee Triangle, the Pan-American Highway wends through the foothills of the Central Andean mountain range and into the Cauca Valley. Haciendas, orchards, and colorful fruit stands line the road and the air becomes warm and moist. Just past Tuluá, the sky seems to expand and the horizon fills with sugar-cane fields as far as the eye can see. Farther south, mountains reappear and the road twists and turns until it reaches the Ecuadorian border.
Southern Colombia is like a rainbow of landscapes and subcultures. Cali, the area's largest city, is a melting pot of ethnicities and the birthplace of Colombian salsa. South of Cali, Afro-Colombian and indigenous communities dot the landscape. And one hour north you'll find one of Colombia's true undiscovered jewels.
With high temperatures reaching 80 F during the day, Buga offers its 100,000 or so residents an airy lifestyle, with doors and windows open wide throughout the day. In the city center, students from the University of Cauca's Buga extension mingle in cafés, and in the main plaza children frolic in the shade while old men shoot the breeze.
Surrounding the plaza, colonial and early 20th-century houses—often called Republican-era buildings—rise above the pavement. While colonials often have plain facades, what lies beyond their doorways is a tranquility and comfort many North Americans can only imagine.
In many Colombian cities, homeowners of colonials have covered their central courtyards to create more living space. But that's not the case in Buga. The city's original settlers built massive homes, so most homeowners have retained the original designs, using courtyards for flower and vegetable gardens. Bedrooms and living rooms open to covered walkways surrounding the courtyard, creating a refreshing, open-air lifestyle, while thick walls block out street noise.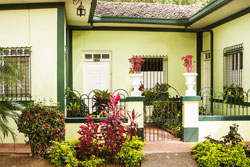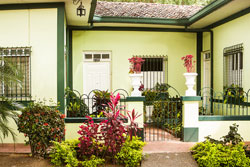 In today's market, you'll find numerous colonials for sale in Buga's historic district, including a 6,000-square-foot home with an asking price of just $110,000. The house has five bedrooms, two bathrooms, and a huge backyard. A neighboring colonial home—with 2,700 square feet—is on offer for $90,000. This fully-renovated house has two bathrooms, five bedrooms, a large patio, and a small, separate apartment with private entrance.
In the fashionable Albergue neighborhood, you can find modern three-to five-bedroom homes ranging in price from $50,000 to $2 million. Development of Albergue began in the second half of the 20th century and continues today. New three-bedroom townhouses and flats sell for $125,000 to $150,000, but many older homes go for under $100,000.
In the rolling hills east of Buga, you can often find undeveloped land or farms for sale. A recent real estate listing advertised a five-bedroom colonial home, set on four acres of land, for $250,000. With cooler temperatures, spectacular views, and low land costs, the countryside east of Buga is a retirement paradise.
While home prices are increasing throughout the region, rental prices in Buga remain astoundingly low. Expats Stefan Schnur, Clint Johnson, and Richie Holding pay $350 per month for a five-bedroom colonial house near the main plaza. The charming home has a courtyard, semi-outdoor kitchen, large covered patio, and huge backyard…