I'd expected to be in the middle of a whirlwind of travel at this time of year. Latin America to Japan and China…and then across Europe.
Of course, it hasn't worked out that way. Like many of you, I'm hunkered down at home instead. Boots-on-the-ground scouting trips are parked until we've got the green light to travel again.
But tricky travel doesn't stop real estate deals. We've got some amazing opportunities…and now we have a new way to see them from the comfort of your armchair.
Yesterday, Real Estate Trend Alert members got to tour Tulum, visit some of the best beaches in the world, and see the spot where we have our most recent opportunity…all without getting on an airplane, or even leaving their home.
This virtual member-only scouting trip was a RETA first. And it's opened up a whole new way to scout overseas real estate.
And it made me want to go back to one of my favorite parts of the world…a place that's not only stunning, but also very profitable for savvy real estate investors.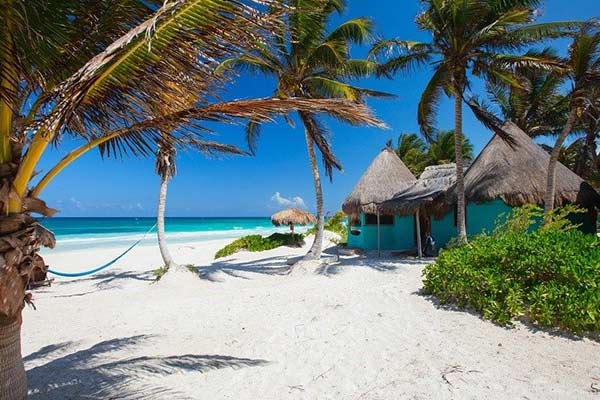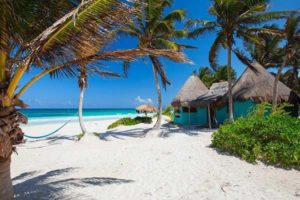 With our Tulum opportunity, members could lock down spacious homes in a stunning community in Tulum for a RETA-only price of $149,000. With financing available, you can own with just $799 a month and a manageable down-payment.
I predict gains of $76,000 or more shortly after delivery and I believe you can easily command rental yields of 13% or more…possibly much more as the crisis pours gasoline on trends such as remote work.
And, of course, there's also the kicker I revealed on yesterday's virtual tour…
Thanks to the current crisis, I was able to negotiate a free pool—valued at $7,000—with each spacious home.
Because the developer's cost-base is in Mexican pesos, and this opportunity is in U.S. dollars (which has appreciated in value against the Mexican peso) the developer's costs are reduced. And because of RETA's buying power, I was able to get them to pass that saving on to members in the form of an extra perk.
A pool is an upgrade that will make the home an even better rental. And it's for anyone who has already reserved, as well as those reserving now.
If you need a reminder of how insanely good this deal is, here goes…
When I first visited in 2004 it was barely on the map. The road got worse as we approached Tulum. We passed through downtown. It wasn't much to look at…dusty streets and stray cats. But when I finally reached the beach, I couldn't believe how beautiful it was. It's the quintessential Caribbean, with miles of deserted white sand fringed by palms and bright-blue water.
It was a total contrast to other towns along this stretch of coast. My trip had started in Cancún, 80 miles up the coast. In the 1960s, Cancún was a coconut plantation. The Mexican government wanted a piece of the growing mass market travel industry, which was in its infancy. They put in an international airport, streets and utilities, and helped transform Cancún into the tourist mecca it is today, with golf courses, marinas, and wall-to-wall hotels.
Development then swept south along the coast to Playa del Carmen. Playa went from a one-horse town where pigs roamed dirt streets into an international beach city.
And the next stop on this development trail is Tulum. It's the end of the line, in fact. South of Tulum, there's more than a million acres of protected land that can't be developed.
Since 2004, Tulum has zoomed ahead. Every time I go back, there's a new restaurant to try, a new boutique hotel to check out. You can eat gourmet food in a gorgeous beachside setting…join a yoga class or enjoy a spa treatment. And the beaches are still fabulous…
It's an eco-chic destination that now attracts the yoga set, the New York fashion set, influencers and movie stars and musicians and models.
When I first negotiated this deal, even members of the developer's sales team were shocked by the price. At $149,000 for a detached two-bed home, it's a steal. That's the typical price for a tiny studio in Tulum.
Then, there's the finance that lets us spread payment, with monthly payments of only $799.
The potential gains are huge too. I figure these homes will be worth $225,000 a year after delivery…$76,000 more. That may be conservative…
And now, because of this crisis, we're getting a pool…for free.
This deal is so good, I wasn't able to pass it up. Last week, I reserved a home of my own…
The last opportunity from the same developer in Tulum led to stellar gains. I bought, along with members of Real Estate Trend Alert, in October 2017. The members-only price on this condo was $154,500. I recently accepted an offer on my condo for $225,000.
It's probably a bit less than market price. That's okay. I don't mind leaving some money on the table if it means fast gains for me and a doubling or more of my cash invested.
Last October, I recommended another deal from the same developer, close by in Akumal. With this one, it looks like the biggest gains will be on the penthouses. One penthouse is showing paper gains of $125,200.
The cream on top of predicted capital gains is rental income. Targeting longer-term stays, I reckon you could generate $19,000 or so over 10 months. Or you could rent short-term for around half the year and make a similar amount. That's a 13% return.
Of course, you might not want to rent. You might want to keep your home private…use it for vacations or longer stays (Tulum's a popular snowbird destination). Or, make it your retirement spot, enjoying the best of what Tulum has to offer—good food, great weather, plenty of activities…and fabulous beaches.
If you're one of the lucky ones who reserved…congratulations!
If you're a RETA member and have yet to watch the virtual Member-Only Scouting Trip, you can do so here. Or you can read the full report on our Edena opportunity here.
Wishing you good real estate investing!
Get Your Free Real Estate Report Now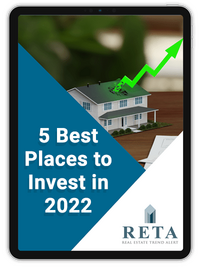 Sign up for our free daily Postcard e-letter and get a valuable free report on the The 5 Best Places to Buy Real Estate In 2022.
Related Articles
The 10 Best Places to Invest in Real Estate
A Caribbean Home for Just $799 a Month
Our Tulum Opportunity in Pictures…