It's another stunning day here in Lagos.
As I write, it's about 10.30 a.m. and I'm about to move inside before the morning sun becomes too bright…
Boy is that a complaint I like to have…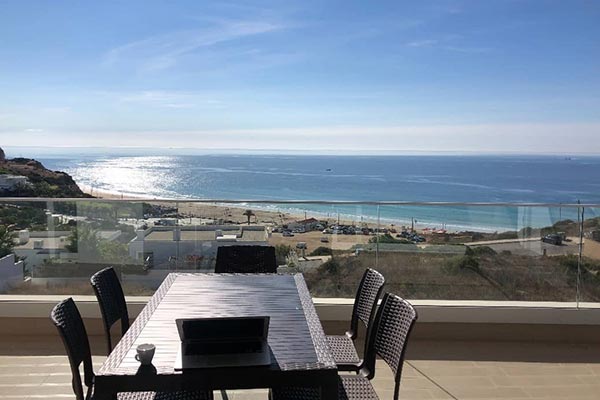 I'm here in Lagos meeting developers, bankers, lawyers, and connected locals, working on an exclusive deal for members of my Real Estate Trend Alert group.
RETA-only deals take a long time to move from preliminary scouting through to bringing it to RETA members, but the time I put in pays off in spades…
It allows members to get massive discounts on what regular retail buyers pay. This means we lock in substantial savings from the get-go. And we get the best available inventory too.
This week, I'm launching a deal on ocean-view lots in Costa Rica's Southern Zone.
It's a deal that's been in the works since I visited the region last February. That's eight months assessing inventory, negotiating the members-only discounts, hammering out terms, and nailing down members' financing.
I'll tell you more about all that in a moment…
First, I want to share why I've taken so long and fought so hard to get this deal to members…
Costa Rica's Southern Zone is one of the last true natural Edens. It has an edge-of-the-world vibe…a bountiful land of fruits, forests, and almost endless ocean views…
It's been called the final frontier of Costa Rica, and it more than lives up to its name. It's home to untouched rainforest, miles of pristine coastline, and tranquil cloud forests.
Half of the region is protected national parks and reserves. Including a national park that National Geographic named "the most biologically intense place on earth."
It's a place where you step out your door and see troops of howler monkeys swinging from trees…toucans perched in the jungle canopy…and electric blue morpho butterflies fluttering in the breeze.
The rich ocean waters are warm all year, home to whales, dolphins, and turtles. The coastline is a long stretch of sandy beaches, natural, unspoiled, and uncrowded.
Stretching from the surfer haven of Dominical on the Pacific coast, down to Uvita, Ojochal, and the Osa Peninsula, the region is dominated by the coastal Talamanca Mountain Range, which runs parallel to the ocean. This means that just a short way inland from the beaches you have truly breathtaking views along the coast. And the elevation offers a cool, refreshing breeze that keeps temperatures comfortable all year long.
This is precisely where we have our latest opportunity…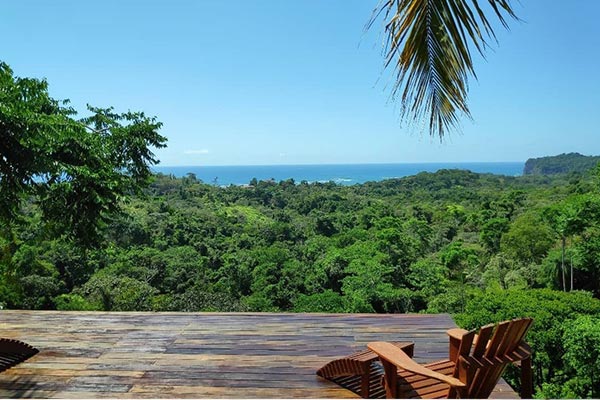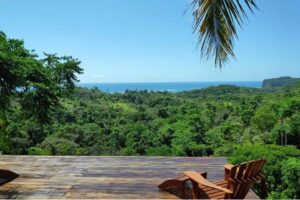 When I first scouted the Southern Zone many moons ago, I knew I was on to something special.
Back then, the journey from San José international airport took upwards of eight-hours. The roads were dusty and pockmarked. It felt like a voyage into another world—untouched and undiscovered.
Today, however, it's a smooth, slick, and easy three-hour run from the airport on a wide, paved road.
Access to the Southern Zone has changed, but what makes it such a special place has not. When I visited in February, I got to experience it again as if for the first time.
The Southern Zone is the quintessential escape. It's a place where the world moves to a different beat…a more natural order. Expats come here from all over the world to discover a simpler existence…to break free from the 24/7 news cycle…unplug from talk of elections, wars, global crises…
None of that matters in a paradise like this.
You can spend hours strolling remote beaches, losing yourself on a birdwatching expeditions, zip-lining through the forest canopy, cooling off under a cascading waterfall, or simply relaxing in a hammock as the soft breeze rocks you into a pleasant stupor.
Costa Rica is among the safest and most stable countries anywhere on our RETA beat.
For many Americans and Europeans seeking a warm-weather escape, Costa Rica is a beacon of dependability. The money other countries spend on the military goes into education (the literacy rate is 96%) and a top-rated national healthcare system.
It's a healthcare system that foreigners can use and costs a fraction of what healthcare is in the U.S. (The nearest hospital to our opportunity is a clean, modern facility in Cortes just 15 minutes' drive away.)
Since 2010, Costa Rica has enjoyed strong economic growth and the country has attracted one of the highest levels of foreign direct investment per capita in Latin America.
Life expectancy averages 79.8 years. That's higher than the U.S. And Costa Ricans are a happy bunch. In fact, they're among the happiest nations on the planet according to the annual Global Happiness Index. (That's while Americans report decreasing happiness.)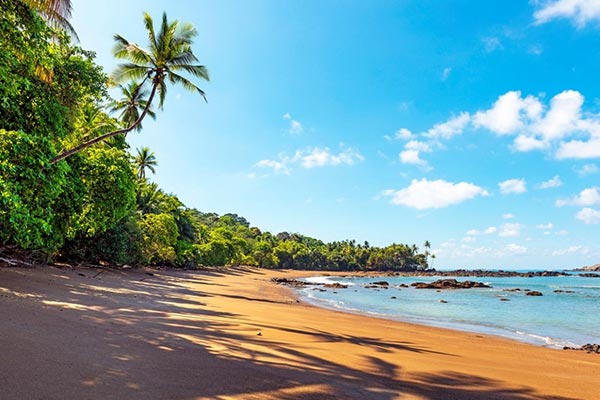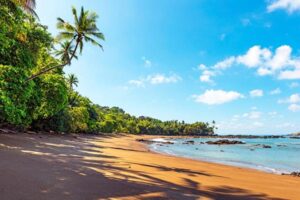 The outdoor lifestyle paired with delicious local produce, fresh seafood, and tasty home-cooked meals on offer in markets and little restaurants, means staying healthy isn't an effort.
The area around Ojochal, where our lots are located, is the "Culinary Capital of Costa Rica" with fine dining in the jungle at places like Citrus, Café Exotica, El Castillo, and more.
This is a low-stress, laidback place. People here don't ask about the news, they ask where you'll be watching the sunset and if they should bring drinks…
Come evening, folks gather on the beaches, at places like El Castillo, or for drinks at impromptu garden parties while the sun washes the sky in shades of red and yellow. It's one of the many little rituals that make this place like no other. And it's one you can enjoy every day of the year when you own one of the 21 stunning ocean-view lots that RETA members can lock down.
We're buying in the crème de la crème in the region's premier master-planned community.
Like I say, the Southern Zone has only opened up to tourists since the new highway opened. Unlike other Costa Rica destinations, it's not overbuilt. You won't find high-rise condo blocks on the beach, gigantic shopping malls, or cookie-cutter sub-divisions in this region. It's low-rise and boutique. Strict permitting regulations should keep it that way. And, being off the radar has kept land prices low…
I believe we are setting ourselves up for big potential gains after five years…potential gains of between $47,200 to $77,200 on those $102,800 lots for instance.
That makes sitting on lots in a best in class, master-planned community a sweet play. But if you decide to build a home you could be in line for strong rental income too.
Get Your Free Real Estate Report Now
Sign up for our free daily Postcard e-letter and get a valuable free report on the The 5 Best Places to Buy Real Estate In 2023.
Related Articles
The 10 Best Places to Invest in Real Estate
Lagos: Week Three of My Portugal Scouting Trip
Cut Your Property Tax by 75% or More