When Michael Allen, 54, joined his wife Connie, 51, for a vacation on Costa Rica's southern Pacific coast back in 2000, he made a startling discovery. "She had arrived there two weeks before me and had bought some land near the town of Ojochal, which is a hub of expat activity in the region," says Michael. "I remember saying, 'What did you do? Are you out of your mind? It's in the middle of the jungle.'"
But Michael was quickly won over.
"She was right. It's beautiful.
"We built a home on the plot and we have a partial ocean view. But the main thing we're excited about is that we're in the jungle. It's better than a full ocean view, because we also have all the wildlife like toucans, monkeys, and parrots. And we have a river right next to the property with waterfalls."
The Southern Zone is about three to four hours from Costa Rica's capital, San José, depending on what part of the coast you're going to. It starts roughly at the funky surfer town of Dominical and goes all the way to the border with Panama. Most expats, including everyone from retirees to business owners with young families, live between Dominical and Ojochal, a village in the jungle about 45 minutes south. In between is Uvita, the commercial center of activity, which has banks, grocery and hardware stores, a pharmacy, and other conveniences.
Michael and Connie made the area their full-time home in 2009. At first, Michael, who had been a restaurateur in Calgary for many years (and an amateur welterweight and middleweight boxer), was ready to relax.
But he met the owner of an open-air restaurant, then known as the Mangos Café, in Uvita. The restaurant is in a small shopping plaza off the coast road and has been open since 2008. The owner was struggling, so Michael offered to help him out and partner with him 50-50 in the business. (Michael bought out his partner when the latter moved to Alaska to be a fisherman in January 2013.)
They changed the name to The Dome, after the café's main feature: a large dome that attracts attention from the roadway. Michael changed the menu, too. It's a mix of U.S. "diner" food like burgers, fries, and burritos, and, in a nod to his heritage, some Jamaican dishes, as well. Of course, French toast and eggs Benedict feature on the breakfast menu. But there's also gallo pinto, which is the Costa Rican breakfast favorite: rice and beans mixed together with seasoning, plus eggs.
"The most popular items are the burritos. Second is the jerk chicken with coconut rice and peas," says Michael. "Then it's the hamburgers. It's a half-pounder, all beef, with real cheddar and either bacon or mushrooms."
The Dome is open from 6 a.m. to 6 p.m. It's mainly a breakfast and lunch place, popular with tourists staying at hotels in the area, as well as with long-time expats. It's also a drive-through. That feature is really popular for those who can't wait for their morning cup of coffee, says Michael.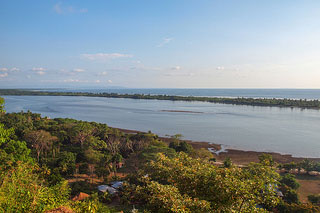 "It's become almost like an information center. People meet here. A lot of them do business, especially real estate agents," says Michael. The Dome has a Facebook page, and Michael advertises in local tourist-oriented magazines. But mostly he lets his restaurant speak for itself.
"I let people judge for themselves and then post on Facebook or TripAdvisor," says Michael. "Many people read the reviews and stop by."
Michael keeps busy with The Dome, but he's enjoying it. Plus, the work environment is a lot less stressful than his restaurant days in Calgary. "It's more relaxing. I come to work in shorts, t-shirt, and flip-flops," says Michael.
And there's plenty of time for the couple's favorite activities, like going to the beach, exploring waterfalls in the jungle, and traveling around Costa Rica. And it's a good place for it.
Though it's gotten a lot of attention from real estate developers, sellers, and buyers in recent years, the Southern Zone is far from overrun. There are no large resorts, no cookie-cutter gated communities, no high-rises. The landscape remains what it has been for centuries: brilliant-green, vegetation-covered mountains lining the coast, a patch of lowland jungle, the sand, and then the blue Pacific.
"Some days you can walk three to four miles without seeing anybody else on the beach," says Michael.
Free Costa Rica Report:
Learn more about Costa Rica and other countries in our daily postcard e-letter. Simply enter your email address below and we'll send you a FREE REPORT – Why Are Americans Still Flocking to Costa Rica. 
This special guide covers real estate, retirement and more in Costa Rica and is yours free when you sign up for our IL postcards below.
Get Your Free Report Here