When I started apartment hunting in Panama City almost a decade ago, I thought I knew what neighborhood I wanted to live in: the ritzy International Banking District, where the tallest skyscrapers face the sparkling Panama Bay. The area had undeniable cachet, and everyone I knew was living there.
The district is in the heart of downtown, where you'll find the best hotels, restaurants, shops, and more. Since 2009, new pedestrian walkways, green areas, and recreation facilities line the bay. On any given day you'll see people jogging, buying fruit, or just sitting and enjoying the pleasant atmosphere.
And the International Banking District is not the only area that may surprise you. If you take the time to look around, you'll find this city is tremendously diverse.
Take the Ancon area on the west end of town. Just 15 to 20 minutes by car from downtown, Ancon feels a world away. It's covered in patches of rainforest, and you'll see sloths and toucans if you keep your eyes open.
Skyscrapers would look out of place here, where red-roofed homes line neighborhood streets. There are plenty of recreation areas, from the hiking trails on Ancon hill to the ocean-surrounded Amador Causeway.
You can do your grocery shopping, banking, and much more without leaving Ancon. And there's a wide variety of property to meet every need. If you're not into skyscrapers, Ancon may strike you as Panama City's most beautiful barrio.
Head to the opposite end of town and you'll find Costa del Este, where some of the city's wealthiest residents have chosen as their home. It's a planned neighborhood…all wide avenues and gated communities, framed by neatly lined palm trees and emerald lawns. There are schools and strip malls, and execs go to work in office parks and shiny towers.
Apartments here can cost double per square foot as they would in other parts of town. Finding anything under $250,000 here, at any size, can be a challenge, but for that you get to rub shoulders with the elite.
If you'd prefer to spend less, however, you have plenty of choices of attractive, central neighborhoods that offer every convenience. San Francisco and El Cangrejo are both walkable and offer a wide variety of property. Spend as little as $150,000 for a one-bedroom apartment or rent for $800 to $1,500 a month.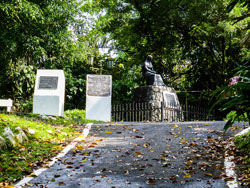 Both areas have their pros. El Cangrejo is on the metro line and in the downtown area. San Francisco is older, but it's home to the vast Omar Park and the ritzy MultiPlaza mall.
So, where did I end up? Where I least expected. I kept an open mind, viewing apartments in all these areas and more. In the metropolitan area's northern sector, I found a four-bedroom apartment for which I pay $750 a month. My street is lined with nice houses and all my neighbors are Panamanian—not an expat in sight.
I am just 20 minutes from downtown and a five-minute walk from the nearest metro station. I can also walk to banks, a small supermarket, drugstores, beauty salons…plenty of conveniences. Truth be told, I rarely leave the area. I can't see any skyscrapers from my window and there's barely any traffic on my street. There are mango trees behind my building, and every morning I watch the birds and squirrels from my bedroom window.
The city has grown so much since I got here in 2005. Modern malls, a brand new metro, and new roads have cemented its reputation as the region's greatest capital. I have access to high-speed internet, reliable cell service—all the trappings of modern life. But the city's neighborhoods have all kept their distinct flavor.
If you're attracted to the capital—for the nightlife, the business opportunities, or the international crowd—there's a home for you here. It could be in a green, quiet neighborhood, an opulent tower on the Pacific, or the romantic colonial quarter. The choice is up to you…and boy is there a lot to choose from.
Get Your Free Panama Report Here:
Learn more about Panama and other countries in our daily postcard e-letter. Simply enter your email address below and we'll send you a FREE REPORT — Panama: First World Convenience at Third World Prices. 
This special guide covers insider advice on real estate, retirement and more in Panama. It's yours free when you sign up for our IL postcards below.
Get Your Free Report Here