Panama, Mexico, Guatemala, Belize, Nicaragua, El Salvador, Honduras, Costa Rica…I am really fortunate to have spent time in all of these interesting and beautiful countries. I'm also fortunate to be able to choose where I live, and I choose to live in David, Chiriquí Province, Panama.
When my husband, Al, and I left the U.S. nearly 10 years ago I had no idea I would make my home in Panama. We set sail from southwest Florida to navigate the Caribbean Sea and study the Maya culture in person. With our boat secure at a marina in Isla Mujeres, we explored eastern Mexico for six months, then sailed to Belize and on to Guatemala. In the Rio Dulce we found a community of boaters that embraced us, and a marina to call home for the next three years. That was our base as we traveled by bus throughout Central America. Living aboard, preparing our own meals, and taking advantage of inexpensive transport kept our cost of living low, enabling us to cover a lot of territory.
Over time the purpose of our excursions shifted as we decided not to return to the U.S. and we sought a new place to live. Each of the countries we experienced has its benefits and short-comings; its pros and cons. When we came to Panama for the second time in 2008 we had done plenty of research, soul-searching, and comparisons to the other countries of Central America. Panama came out on top, and we took the plunge to apply for a residence visa. Our visas were approved in 2009 and we left Guatemala to move to Panama.
Al and I are country folk, not city folk, and we knew when we visited Chiriquí that it was the place for us. The rolling hills, farm land, pastures, clear rivers, and big old trees remind me of other places I love: the Missouri Ozarks, the Hudson River Valley, northern New Jersey. From the highest peak in Panama atop Baru Volcano, to the beaches along the shoreline of the Gulf of Chiriquí, there is a wide range of landscape and climate here. The highlands are known for their cool, spring-like temperature, pine trees, spectacular views, and the town of Boquete, an expat favorite. The lowlands offer great fishing, acres of rice and pineapples, and seaside resorts in Boca Chica, La Barqueta, and Las Lajas.
I liked the city of David right away. It's a big enough city that you can find whatever you need. As the provincial capital it has government offices, universities, and financial services. It's the transportation and commercial hub of western Panama with an airport, bus terminal, shopping centers, a mall, and even a Pricesmart (like Costco). But it's also manageable, with no high-rises, few traffic lights, and a rural feel.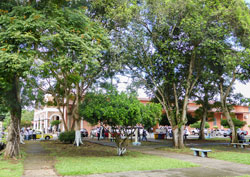 Having lived out in the boonies and then on a sailboat, I was ready for more convenience. Now I live just north of David, five minutes from a major supermarket and shopping center, and just 15 minutes from downtown. Internet service is very good here, and we have cable TV.
The cost of living in Panama has gone up over the past few years, but is still very affordable in most of the Chiriquí Province. Our rent is unusually low ($220 per month) so our major expense is groceries. Most of Panama's produce is grown here in Chiriquí, and I buy fresh, low-cost fruits and veggies at my favorite produce stands for about $10 per week. I track our expenses, and all told they average about $1,500 per month.
Still, David is not paradise and there are things I don't like. During peak hours the traffic can be absolutely crazy, for instance, and parking downtown is a challenge anytime. In the stores, even big ones, a product I bought last month may be gone this month, never to reappear. Everyone complains about the heat, especially in March and April, when it's at its worst. And barking dogs…they're everywhere, including right outside my window!
But even with all that, I know I made a good choice to live in David, Panama. I can visit any of the other Central American countries easily…but this, to me and Al, is home.
Free Panama Report:
Learn more about Panama and other countries in our daily postcard e-letter. Simply enter your email address below and we'll send you a FREE REPORT — Panama: First World Convenience at Third World Prices. 
This special guide covers insider advice on real estate, retirement and more in Panama. It's yours free when you sign up for our IL postcards below.
Get Your Free Report Here