Daily sightings of howler monkeys and a variety of lizards never gets old. Between the monkeys and the tropical birds found here, chances are you'll be waking to the tune of a different type of alarm clock. Arguably the most developed town in the Guanacaste region along the northern Pacific coast, Tamarindo offers the convenience of a bustling little town and also the tranquility of nature, with its nearly two miles of sandy beach, surrounded by mountains and tropical dry forest.
A hot and dry climate, locals enjoy the nourishment of the sunshine nearly every day of the year. Temperatures are pretty consistent year-round, usually between 80 F and 90 F. During the "dry" season, which spans November to April/May, the sun shines and skies are clear every day. During the "rainy" season, which technically begins in late May and rounds out in November, it's realistic to expect the occasional afternoon shower with a day every now and again bringing extended rains. The bulk of the rainfall in this area typically comes during September and October.
People find it pretty easy to incur low food costs by sticking to local staples like rice and beans, and by purchasing produce and fresh fish from the weekly feria (farmers' market). A couple can usually buy produce and fish for the week for about $30 at the feria. Purchasing imported, familiar North American products from the grocery store is where food costs start to go up.
Buying a home in Tamarindo can be an excellent long-term investment; alleviating monthly rental costs and also providing the opportunity to earn rental income, should you decide to move in the future or spend part of the year back at home for example.
You can find a two-bedroom, one-and-a-half-bathroom townhome in the center of town currently listed at $135,000. With the swimming pool steps outside the front door and the beach a short walk away—the equivalent of about three city blocks—every day will feel like a vacation. Recently renovated, this home offers modern amenities such as North American kitchen appliances, combined with elements of Central American charm, like molding made from local wood varieties.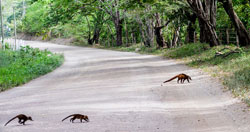 If you've ever dreamed of opening a small beach restaurant, or shop to sell homemade goods, this could be your perfect opportunity. A loft-style one-bedroom, two-bathroom condo sits above a 339-square-foot commercial space. Recently updated with modern tile flooring and bonus extras like granite counter tops, this clean living space could be combined with your own business, or the commercial space could simply be used to generate monthly rental income. Just about one block from the tranquil Langosta beach (Tamarindo's neighbor), listed at $129,900, you would be hard pressed to find a better opportunity.
If you prefer a single family home with a bit more space, you'll find options here too. One I came across was a two-bedroom, two-bathroom home in a gated community (with only five homes) could be perfect for you.
With a shared pool and barbecue area, and just steps across the street from the beach, the location can't be beat. The asking price is $262,000, and your piece of paradise will be perfect for both relaxation and entertaining. With a private patio area as well as a dining room and breakfast bar off the kitchen, visitors and new friends will be able to come over and enjoy a meal or a day at the pool together.
You will notice an instant, common bond with people here over an appreciation for health, happiness, adventure, and feeling more connected with nature. Among the many reasons to love Tamarindo, you can enjoy the slower pace, friendly community, beautiful natural surroundings, and nearly perfect weather all year long.
Get Your Free Roving Real Estate Investor Report Now

Sign up for the FREE Roving Real Estate Investor e-letter and get a valuable report (free for a limited time) on The Exact Location of Where to Make the Most Real Estate Profits This Year (Plus 4 More Places to Build Your Fortune in Latin America and Europe).
Related Articles
My Real Estate Journey: Creating Our Perfect Paradise in Costa Rica
Pros & Cons of Retiring Abroad