Retiring overseas could be the best thing you ever do…but it's a big step. So if you're not quite ready to make the move abroad on a permanent basis, the next best thing might be to go for a trial run and test the waters in one of your dream destinations.
If a two- or three-month getaway on a tropical island with all the modern amenities, wonderful restaurants, scenic beach bars, and lots of interesting sights to explore, sounds good to you, then Koh Samui may be the perfect fit.
This picture-postcard paradise, located on the Gulf of Thailand, is easily accessible by air and sea. Finding reasonably priced accommodation on Koh Samui is not a problem. There are lots of options. However, the large resorts catering to short-term holidaymakers are not necessarily the best places to look for budget-friendly monthly rentals.
On my recent trip here from my home in northern Thailand, I rented a scooter and spent some time making my way around the island. If you can tear your eyes away from the lush mangrove forests and glistening stretches of sandy beaches, you'll spot plenty of "For Rent" signs, which typically include a phone number. And remember, the farther you go from the busy tourist spots, the less expensive it becomes.
In Maenam, a quiet beach town on the north side of the island, I found apartments available for under $300 per month. The same landlord told me he also had one- and two-bedroom houses available for under $520 per month.
These apartments don't have kitchens, but they'd be a good deal for someone looking to live on a modest budget for a few months. Even with eating out every day, you could live on less than $1,120 per month and be comfortable. You only need to walk out the front door to find a plethora of mouth-watering local dishes up for grabs at less than $4 apiece.
Nearby Maenam Walking Street stretches a few blocks to the beach and is lined with great little shops where you can happily pass an afternoon taking in the colorful assortment of goods on offer. There's also plenty of restaurants to choose from. I stopped in at the beachside Seaview Restaurant where I was served a delicious Smoked Fish Spicy Salad and a chilled beer for a grand total of $5.
Happily, there was no extra charge for the incredible view from the restaurant deck just a few feet from the warm blue-green waters of the Gulf of Thailand. As I gazed out on the white sand below, stretching along the coast in both directions, a handful of tourists and locals dotted the beach, soaking up the sun and relaxing in the gentle warm sea breeze.
Many expats stay on the island for a few months each year. I met a retired gent from Norway who spends three or four months at his home on the island. I spoke with others who originally visited on a part-time basis but soon fell for Koh Samui's many charms and made the decision to stick around for good.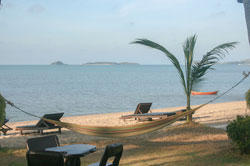 While almost every corner of the island has a store worth visiting, the main shopping sites are in Chaweng, Lamai and Nathon. In Chaweng, the huge new Central Festival Samui shopping center beckons with over 200 retail outlets and a modern Cineplex cinema showing the latest blockbusters. And, of course, there's dozens of wonderful local markets selling fresh produce for a fraction of the price you'd pay at home.
You can get around by taxi or songtaew (shared taxi) but it would be a treat to have your own vehicle for any extended stay on Koh Samui. I rented a scooter for $9 a day, or you can have a small car at your disposal for around $560 a month.
A major hospital is never more than a half-hour away. The beautiful private Bangkok Hospital Samui is located in Bhoput on the eastern side of the island and in Nathon, on the west coast, you will find a popular government hospital. Both provide quality care at affordable prices.
With the vast array of sights to see, activities to do and interesting and friendly people to meet, you certainly won't be bored. Whether you are visiting the famous 40-foot-high golden Buddha on the north coast, exploring Bhoput's charming and historic Fisherman's Village or dining on the beach at one of the island's many seaside restaurants, you will never be short of activities to keep you busy. Divers and nature lovers will particularly enjoy exploring Ang Thong National Marine Park with its pristine archipelago of 42 islands.
If you're looking for a place to get away from it all for a few months, Koh Samui would definitely make a great spot for a part-time escape from your other life… But, be warned, there's every chance you may never want to leave…
Get Your Free Thailand Report Here:
Learn more about Thailand and other countries in our daily postcard e-letter.
Simply enter your email address below to sign up for IL's free daily postcards and we'll also send you a Free Thailand Report – Thailand: Live Like Royalty in the Land of Smiles.
Get Your Free Report Here