Nicaragua is a very cool country…and it's not the temperature I'm talking about.
With its smoking volcanoes, clear blue crater lakes, fantastic surfing beaches, and a turquoise swimming hole in the middle of the forest on a mysterious island, it's a magical place to be.
Beach hideaways, colonial towns, cowboy villages, modern urban hubs, artistic centers, towns that look like a John Wayne movie set in the 1850s…Nicaragua has them all. And there's a choice of climates as well. You can enjoy year-round sunshine on the coast…or cooler temperatures in the hills.
It's a place of natural healing. You may find hot springs in your backyard and there is a warm-water medicinal lake in Laguna Apoyo for perfect swimming from January to December.
The main expat cities include Leon, Granada, and San Juan del Sur, but there are dozens more, as yet unexplored or kept a well-hidden secret by expats who are reluctant to share the perfect life they've found.
Nicaragua is still fresh and new. In "developed" developing countries there are already restaurants, yoga studios, beauty shops, home design shops, bars…many of the businesses you may have been thinking of starting. Here in Nicaragua, you still have an abundance of opportunity for setting up your business.
I remember traveling to Costa Rica 25 years ago and looking at a little house in Cahuita on the Caribbean side about a one-minute walk from the beach. I considered buying it for $35,000. Too bad I didn't. It's worth about $400,000 now.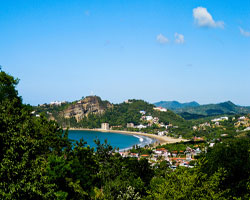 They didn't have smoothies back then in Costa Rica, but now you can find them everywhere. However, the fruit and vegetable healthy drink craze is only starting here in Nicaragua.
Nicaragua is like Costa Rica 25 years ago. Sure, you will find million-dollar homes here, but you can also buy lots for as little as $9,000. Nicaragua is the least populated country in Latin America, with fewer than 6 million people, and about the size of New York State.
And if you want to have a business, right now almost anything will be a hit. Here in San Juan del Sur, we could use an alternative medicine pharmacy…an expat clinic…a place to buy garbage cans (not kidding)…an auto parts store…an appliance store…a home decoration business…a Thai or Asian fusion restaurant…a shoe store…a furniture store.
I could go on and on…but you get the picture. That's what is so great about Nicaragua. You don't have to follow the pioneers, here you still ARE the pioneer, even in 2014. If you want to live economically in paradise and have the business of your dreams, Nicaragua is a win-win country.
Need a Way to Fund a New, Better Life?

Join our Fund Your Life Daily e-letter today, and you'll hear from us five times a week, telling you about ways to earn income that lets you live anywhere, travel anytime… and give you the funds to make your dreams of a better life real. We'll also send you your FREE report Fund A New, Better Life With These 6 Portable Careers.
Related Articles
The Quickest Way to Make Money Online
5 Reasons to Become a Travel Blogger