The road leading to the town of Santa Fe de Veraguas climbs gently and steadily up the slopes of the Continental Divide, winding past cattle ranches, jungled hillsides and gurgling rivers. The bright blue roof of the Catholic church in the middle of town is one of the first sights you see. This church marks the center of town. Around it you'll find a soccer pitch, a shaded plaza with benches and a gazebo, and small stores and businesses along the main street.
Horses are common, orchids grow in the wild, rows of coffee plants dot the hillsides, children splash in the rocky streams, and life moves at a relaxed pace.
Santa Fe is a small town in the highlands of Veraguas Province in west-central Panama. It sits at an elevation of about 1,500 feet, providing a cool climate and is surrounded by forested hills and rocky peaks. The weather here is just about perfect.
Daytime temperatures range from 75 F to 85 F and at night you can expect 60s F and 70s F, so it's never sweltering hot nor too chilly. A good fan keeps you comfortable during the day and you may need a light blanket at night. Because it's in the highlands, Santa Fe is cooled by occasional cloud cover and a soft misty rain called bajareque, which keeps the area vibrantly green and lush all year round.
This mountain hamlet is off the beaten path and you won't find big-city amenities though you do have modern conveniences such as internet and cell phone services.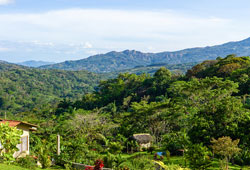 But that's exactly the attraction for the retirees and expats who have come from North America, Europe, and other parts of the world. Life here is about healthy rural living. Santa Fe offers year-round warm weather, a low cost of living and unspoiled natural surroundings.
Outdoor activities top the list of things to do, including tubing on the Santa Maria or Mulaba River, hiking along the many trails, visiting the spectacular waterfalls, bird watching, and night-time hikes. Tours of the coffee processing plant and orchid gardens are also popular.
For a big-city fix, the provincial capital, Santiago, is less than an hour's drive on a good highway, and it's a busy commercial center for shopping and taking care of business. A large health center and a new medical facility just east of town provide medical care. A huge shopping mall is under construction and will add many new stores, a cinema, and dining choices for those living in the area.
All of these things drew Bob and Irma Caragol to Santa Fe when they were looking for a retirement home. "We liked Panama after visiting a few times, and were especially attracted to the nice climate and low cost of living in Santa Fe," he says.
They bought a plot bordering the Santa Maria River, hired a local contractor to build the home they designed, and took up full-time residence in 2014. Coming from Albuquerque they initially wanted a higher elevation, but even in Santa Fe Bob's chronic asthma is significantly relieved. "The environment is unspoiled, with clean rivers and no pollution," he says.
Irma enjoys cooking with all the local ingredients, saying, "The food is fresh and healthy, and we eat very well. For a few dollars I can buy two full bags of fruits and vegetables. Our Social Security is more than enough to cover our monthly living expenses, including a part-time gardener."
Get Your Free Panama Report Here:
Learn more about Panama and other countries in our daily postcard e-letter. Simply enter your email address below and we'll send you a FREE REPORT — Panama: First World Convenience at Third World Prices. 
This special guide covers insider advice on real estate, retirement and more in Panama. It's yours free when you sign up for our IL postcards below.
Get Your Free Report Here