From the terrace of his small, boutique hotel, Dennis Pekus can look out at the buildings and rooftops of Guanajuato, Mexico. As night falls and the moon rises, lights go on across the city, and its Spanish-colonial buildings take on a golden gleam. For Dennis, this city makes for the perfect retirement.
"I first came to Guanajuato 40 years ago," says Dennis, 69, who enjoys life in this lively university town whose beautifully preserved buildings and rich history have earned it UNESCO World Heritage status.
Back then, the Los Angeles native was working in the hotel business in Canada. He had a Mexican friend there who suggested they make a road trip to Mexico, and the two ended up in Guanajuato.
"The first time I came into the Jardin [the square in central Guanajuato]," says Dennis, "I had an epiphany and knew that someday I had to live here."
He's been visiting Guanajuato ever since. Four years ago he moved there full-time.
By then he'd already bought a building and renovated it, twice—first in 2005 to convert it into a private home for himself…then a second time in 2008 to convert part of it into a four-bedroom guesthouse, Hotelito Casa Dionisio.
The small hotel is located on a hillside, accessed by one of Guanajuato's typically winding, stair-stepped streets.
"Ninety-six steps," Dennis is quick to point out. "We're upfront about that with guests." But at the end of the climb is a panoramic view of Guanajuato from the hotel's large terrace. Even in Guanajuato, a city known for its spectacular views, this one is a stand-out.
Thanks to a four-person staff, including the general manager, the hotel runs well with only minimal supervision from Dennis.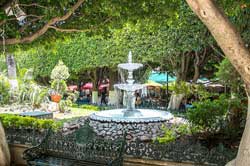 "Ideally, I'd like to work an hour a day," he says. "I have a general manager who handles the day-to-day. When I have the hours down right, it's my idea of a good retirement…reading, walking, playing the harpsichord."
His schedule gives him generous time for catching up with local and expat friends in Guanajuato. He also takes advantage of the city's active cultural life. He is a regular at the university symphony's Friday evening performances, for instance, and also attends other music events.
And since 2008 he's hosted regular concerts at Hotelito Casa Dionisio. These days the concerts are held once a month, on a Wednesday night. "Wednesday has always been a good night for us, because it's an 'empty' night with relatively little on," he says.
Dennis books many local musicians as well as occasional expats, hosting everything from medieval music concerts…to flamenco…to French love songs.
The concerts have a large following among both locals and expats. Dennis charges less than $5.50 per person, and all proceeds go to the musicians. He pays for the post-concert snacks and drinks out of his own pocket.
It's just another way of giving back to a city that's given him a laidback, enjoyable retirement.
Get Your Free Mexico Report Here:
Learn more about Mexico and other countries in our daily postcard e-letter. Simply enter your email address below and we'll send you a free special report – Why Millions of Americans Are Moving to Mexico.
This special guide covers real estate, retirement and more in Mexico and is yours free when you sign up for our postcards below.
Get Your Free Report Here