As the managing editor of International Living's Daily Postcards, I hear from our editors and correspondents on the ground in the world's top retirement havens on a daily basis about what makes these countries perfect…their affordability, the great weather, good-value real estate…the friendly people.
Panama has all these things…but it also has a huge variety of locations to choose from when looking for your ideal retirement spot (if you're considering Panama, there's an event that you need to be at this coming February…all the details are here).
And I got to see that diversity first-hand when I visited Panama earlier this year. Today I want to give you a taster of just a few of the beautiful spots around Panama that I think make for great retirement living…no matter what your tastes.
One of my favorite places in Panama is Pedasí, located on the country's Azuero Peninsula. The town itself, though not right on the beach, has that friendly, laidback approach to life that you find with beach towns the world over.
This part of Panama has miles of beautiful beach but my favorite is Playa Venao, about a 40-minute drive from Pedasí town. Popular with surfers, it's perfect for strolling or just sitting with a cold beer in hand, watching the wave riders.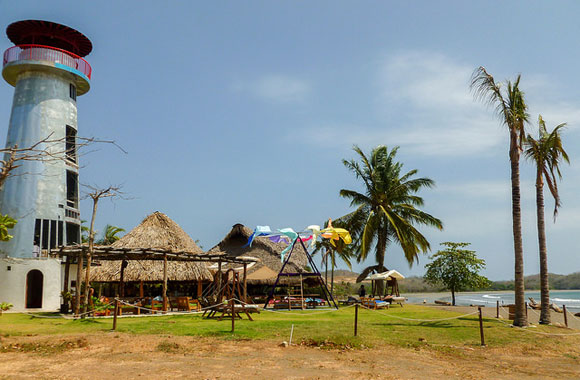 This part of Panama tends to fly under the expat radar, so real estate prices are affordable. A couple of miles outside of Pedasí town, on the road to Venao, there's a two-bedroom home for sale for $135,000.
If cooler, mountain living is more your thing, then the expat-favorite of Boquete could be for you. Lush green mountains surround this pretty town and its thriving expat community means you'll never be bored. A couple can live comfortably here on $2,500 a month here. And with views like this one, it's easy to see why it's been attracting expats…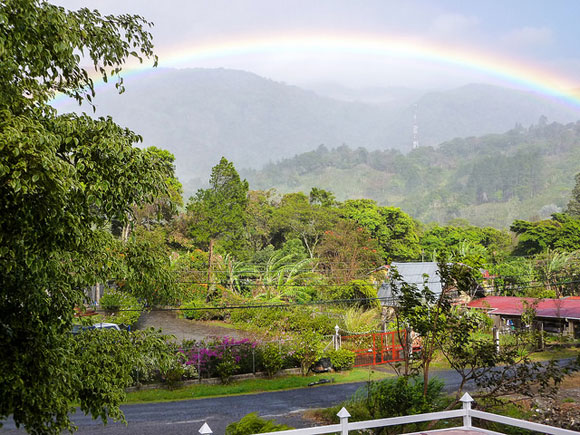 Boquete's verdant landscape comes from the fact that it does rain more here than in other parts of Panama. For many of the retirees who live there, that's not a deal breaker (in fact they love it). But for others it can be. If you want to be close to Boquete, but prefer your weather a little warmer, then a short bus ride down the valley will have you in the city of David.
When I visited, downtown was buzzing with locals going about their daily business or sheltering from the hot morning sun while catching up on the local gossip in the shade of the pretty Parque de Cervantes.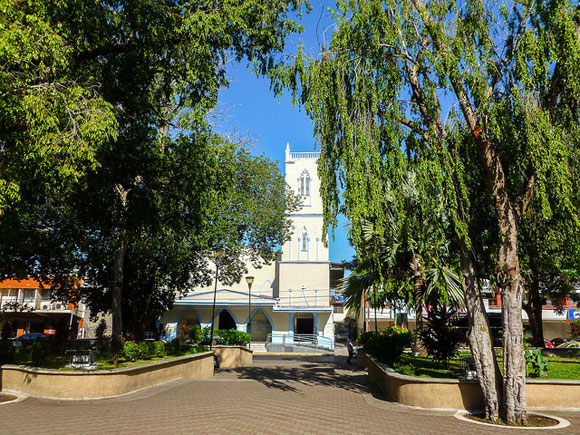 But there's more to David than just the busy center. Go just a few blocks in any direction from the central park and things become a lot quieter. If you're looking for quite living but with all the amenities of a big city on your doorstep, you'll find rentals outside the city center, in quieter neighborhoods for $500 a month.
And finally a tour of Panama isn't complete without mentioning Panama City. This is a city where the old and the modern coexist perfectly.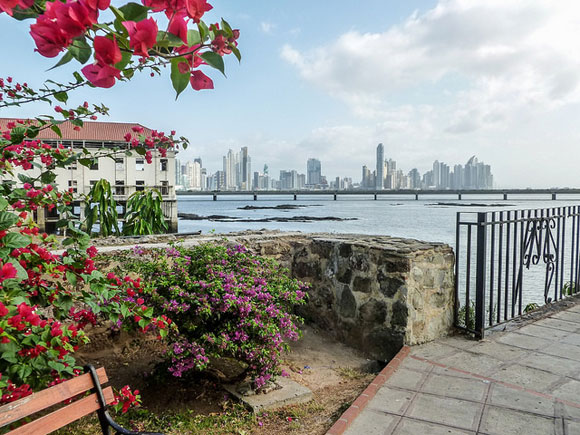 As I took a morning stroll along the city's popular Cinta Costera, a walkway that follows the arching Bay of Panama, it was like walking backwards in time. Behind me were the glittering highrises that sweep along the bay, housing banks, hotels, and apartments and in front of me, the narrow cobblestone streets of Casco Viejo, filled with colorful, beautifully renovated colonial buildings, flowers spilling from their wrought iron balconies.
And living in Panama City doesn't have to come with a high price tag. Prices for property in neighborhoods like San Francisco and El Cangrejo, which are close to all the modern conveniences the city has to offer start in the low $200,000s.
Panama really does have something for every taste and budget. I've given just a small taste of what it can offer…but there's so much more.
Get Your Free Panama Report Here:
Learn more about Panama and other countries in our daily postcard e-letter. Simply enter your email address below and we'll send you a FREE REPORT — Panama: First World Convenience at Third World Prices.
This special guide covers insider advice on real estate, retirement and more in Panama. It's yours free when you sign up for our IL postcards below.
Get Your Free Report Here