Ever since I retired and moved to Cuenca nearly three years ago, the low cost of food and groceries continues to be a favorite topic in the expat community here. But, this lazy cook wanted to know for sure—can a shopper really get fresh foods and also save dough?
I decided to put it to the test. Every week, I buy about 11 pounds of green, leafy veggies and fruits and use my juicer to make two-and-a-half quarts of a healthy smoothie I lovingly label my "Green Algae Pond Scum."
I normally shop for my juicer produce at the U.S.-style Supermaxi supermarket chain, paying an average of $17.53 per week. Expats can feel right at home here. Most of the produce comes in the familiar plastic bags and containers, and all meats are sold in plastic, shrink-wrapped trays.
But this week, I shopped for the same produce at the locals' favorite, one of the nine popular mercados (markets). And I paid a little under $9, about half as much as shopping at the Supermaxi.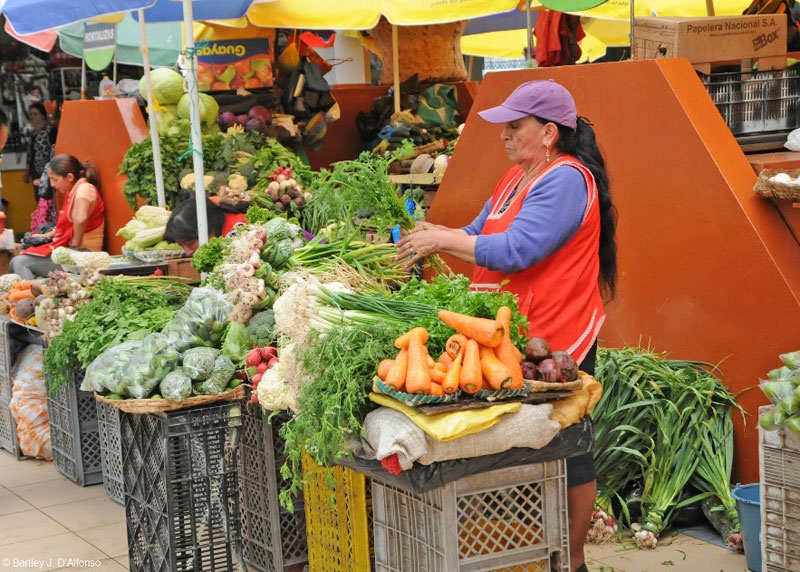 Inside the Nueve de Octubre Mercado in Cuenca's central district, a pound of chicken pieces sells for $1.35, while a large whole chicken goes for $6. A pound of beef or pork ribs costs $1.80, pork chops and lamb cuts go for $3 per pound, and bacon is $2.50 per pound. A five-pound slab of tuna will cost $17, the highly prized corvina (cod) is $4 per pound, and most other fish sells at $2 per pound.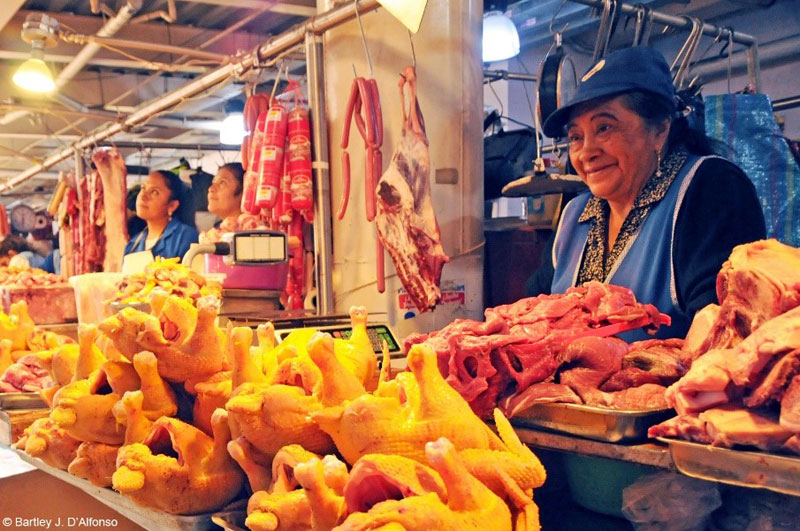 One of the smallest markets is the Tres de Noviembre Mercado, where the pace is a little slower, and many of the vendors post the prices of their wares. They seem to take extra pride in displaying their products, presenting an appealing palette of colorful fruits and vegetables.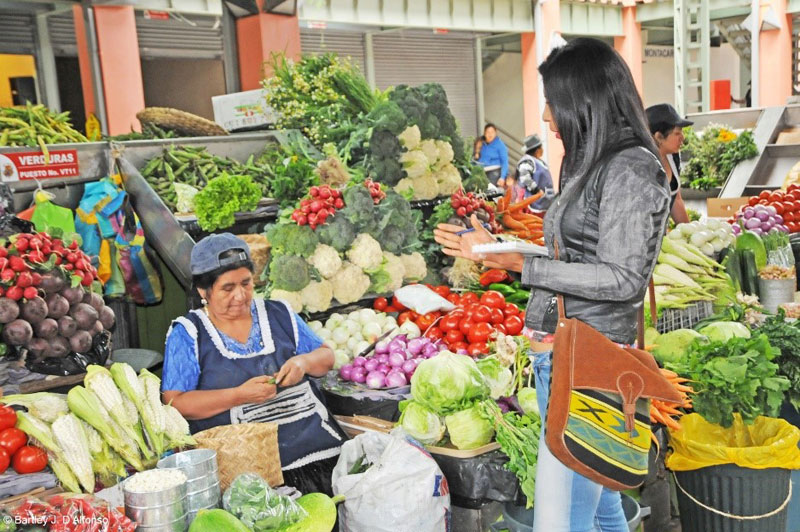 In here, you'll find juicy ripe blackberries for $1.50 a pound, a half-pound of garlic cloves for $1, a pound of sweet potatoes for only 40 cents, and a bag of a dozen achotillos (they look like strawberries with spikes, and contain a sweet white gelatin inside) for only 50 cents. Although there is just a small area for flowers, $3 for a dozen roses is half what they cost in the downtown Plaza de las Flores.
Shopping at the mercado saved me money but also since most of the produce is grown locally, the mercado foods taste much fresher than anything I could get either back home in the U.S. or at the regular supermarket. Guess where my grocery shopping will be done from now on.