I remember days when I would watch movies full of beautiful people in exotic settings and wonder when—if ever—I would get to travel and see the world.
White sand and swaying palms ringed by clear, baby blue waters made me feel more than a twinge of envy. Particularly when I was spending my days working in a gray-walled cubicle.
These days, however, life is different. The last movie I saw made me feel just a little smug. On screen, beautifully tanned islanders capered about in a setting so colorful it almost looked fake. But since I made the move to Panama just over 10 years ago, I can tell you that the piercing blues and the vibrant greens of a tropical beach really do look that way when the sun is high and shining bright.
I have spent the better part of a decade exploring Panama, and these days my friends back in the States are the ones feeling that twinge of envy. Though there are many beautiful beach destinations to choose from in Panama, the three I'm going to tell you about stand out among the best the country has to offer.
1. Pedasí: Small, Beach-Town Panama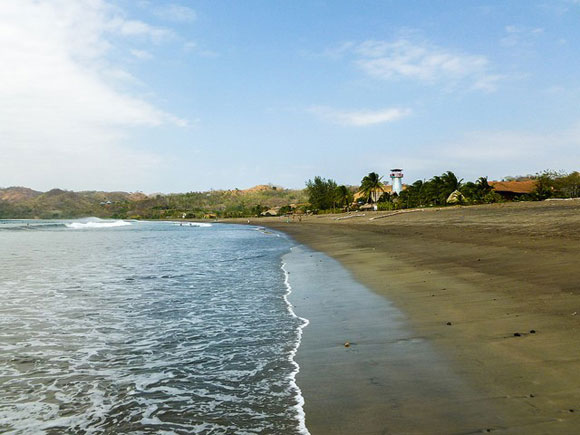 The first time I went to Pedasí, I was charmed by this tiny fishing village. Drive into town and you will find yourself on the main drag. It's so small that you can walk it in about 10 minutes. Everything else here seems small as well.
Behind the main street, you will find the town's old colonial plaza. There's an elegant gazebo where the old timers sit at noon to get out of the sun, and a pretty little church that always looks freshly whitewashed.
Even the neatly kept local houses look small, though most have terraces large enough to fit an entire living room set of furniture. In the evenings it's customary to sit on the terrace and watch life go by, greeting and nodding to people as they pass.
About a mile from the village center you will find the closest beach. Continue south from here toward the surfing beach of Venao and you'll find a whole string of beaches, all within an hour's drive. On most days they are completely uncrowded, and so clean you'd swear civilization was a thousand miles away.
2. Coronado: Close and Convenient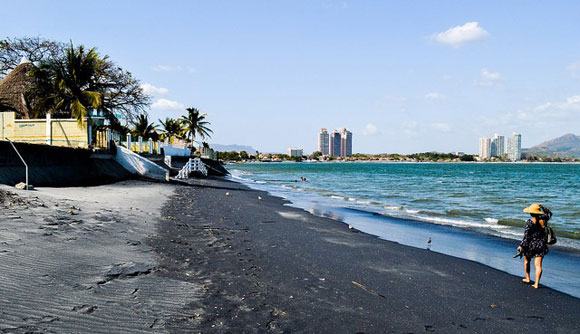 Since Pedasí is about a five-hour drive from Panama's capital, I can't go for the day. But in this country, it's hard to be more than an hour away from a great beach. No matter where you live, you can take little day-trip (even just go for lunch).
When I need a beach fix—and only have a little time—I drive an hour west to Coronado. From far away, the beach looks the color of weathered pine. Get a little closer, and you'll discover the sands here are magical—soft white, with swirls of black that actually glitter in the sun.
Coronado is arguably Panama's most popular beach. It's not only close to the city, but also, in recent years, it has become a hub for the many smaller beach towns that surround it. With supermarkets, shops, banks, and even a new clinic, Coronado is convenient indeed. No small wonder there is an active, fun expat community here.
3. Bocas del Toro: Movie-Worthy Caribbean Beaches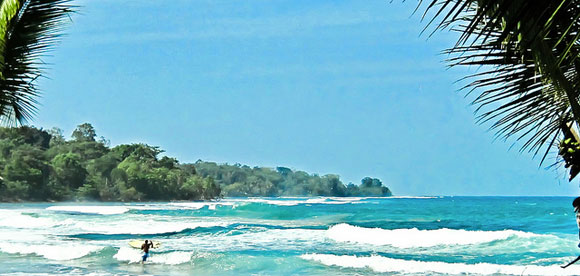 Just an hour's flight from Panama City, Bocas del Toro has to be seen to be believed. Here, the waters of the Caribbean are as clear as you could imagine. And the colors are beyond anything I'd ever seen, even on film. Yes, there are bright shades of turquoise and electric blue…but there are also hues of green, from pale glassy greens around Isla Colon to the sometimes emerald waters around Bastimentos. The sands are pure white, and when the sun is shining, the sky is the deepest shade of cornflower blue.
The first time I visited, a couple decades ago, tourists were in short supply. There were a couple of ramshackle places to stay, one nice inn (newly built back then), and just a handful of places to eat. These days there are dozens of places to stay and eat. You will find everything from Indian and Thai to fresh seafood, pizza, and more. But despite the development, the views have not changed.
To me, there's nothing more thrilling than seeing those jewel-bright waters from above, as my tiny plane descends onto the equally tiny air strip. Pretty darn close to a movie star lifestyle if you ask me.
Get Your Free Panama Report Here:
Learn more about Panama and other countries in our daily postcard e-letter. Simply enter your email address below and we'll send you a FREE REPORT — Panama: First World Convenience at Third World Prices.
This special guide covers insider advice on real estate, retirement and more in Panama. It's yours free when you sign up for our IL postcards below.
Get Your Free Report Here