Jim Sayers considers himself a very lucky man.
"I have lived in three Central American countries—Panama, Nicaragua, and Costa Rica—and am in love with each one," he says. "In each the people are so friendly. Add to that a wonderful year-round climate and most of the stressful issues associated with living in Canada or the U.S. are virtually non-existent.
"Naturally one must still face various issues, but they are generally much smaller here, and it is amazing how the warm tropical sun and an ice-cold Pina Colada can wipe away one's troubles.
"I like each country for different reasons and to choose between them would be like trying to identify which of your children you love the best. In the end, it comes down to which of the three countries has the most desirable features on your personal list."
In 1991, Jim moved to Costa Rica where he started a tour company. This enabled him to travel throughout Costa Rica, Panama, and Nicaragua.
"I would bring groups of tourists into Costa Rica via the river system," he says. "I know all of the roads and rivers."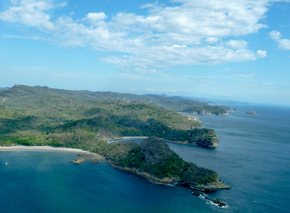 "After several years of this I sailed a boat to the Panama Canal and, although I didn't plan it, I remained living on the yacht until the canal was returned to Panama by the Americans. I was semi-retired at this point but worked part time as an independent computer consultant in Panama City."
When the U.S. withdrew from Panama, Jim sailed to Florida, then spent time in Michigan. Half of one winter was enough and he longed for the temperate climate once more. Returning to Panama, he settled in Boquete where he housesat for other expats.
Now, he lives in Costa Rica.
"Going back several years, Costa Rica was the poster child for tourism and relocation of expats for all of Latin America," he observes. "Then, Panama became a democracy, it began attracting tourists and retirees and is now one of the most popular destinations for both.
"Nicaragua, for many years, was not a country that attracted many tourists. Now it is rapidly moving forward and is being discovered by tourists the world over. To watch it happen, as I have, is quite inspiring."
"The cost of living," states Jim, "is lower in all the countries down here. Panama and Nicaragua are still great bargains and my pension goes much further."
Once again Jim has returned to his previous experience with the tour company.  He has always been an avid videographer and had filmed many of his trips, especially the exotic animals and birds of Central America. This provided him with the material needed to share these wonderfully unique experiences with others via YouTube.
"The internet now being pervasive throughout the world, businesses no longer require a fixed physical location and one can work from anywhere," he says.
Get Your Free Fund Your Life Overseas Report Here:
Sign up for IL's Fund Your Life Overseas e-letter today and we'll also send you a FREE report about ways to earn money abroad. Simply enter your email in the box below and we'll send you this free report: Fund Your New Life Overseas With These 6 Portable Careers.
Get Your Free Report Here