What will it be? Island hopping, fishing, paddle boarding…a trip to the city?
Perhaps a hike up Cerro Chame mountain and chilling at a waterfall. Or scuba diving in the Pacific's sparkling cerulean waters.
You might allow the day to unfold naturally. Take a virgin Piña Colada under a coconut palm and watch the bronzed surfers out on the morning waves.
But not before a stroll along the beach, the white sand caressing your feet, your steps in rhythm with the lapping waves.
The stunning setting gives you an overwhelming sense of well-being…the mountain backdrop, the sparkling ocean. But it's the knowledge that this could be the best investment you've ever made that gives you true, lasting peace of mind.
Our Real Estate Trend Alert deal in the Oasis at Playa Caracol opens soon. And I'll be locking down a condo along with fellow members.
From just $137,000, we can buy luxury, two-bed condos in an exclusive, low-rise and discreet corner of Playa Caracol. I figure on gains in value on those condos of $113,000 five years after delivery.
I'm going for a premium, three-bed condo for $164,000. I figure on gains of $136,000 on these condos five years after delivery.
These condos are fully furnished. Completely turnkey down to the cutlery, plates, and towels—a furniture pack worth $17,000, additional value.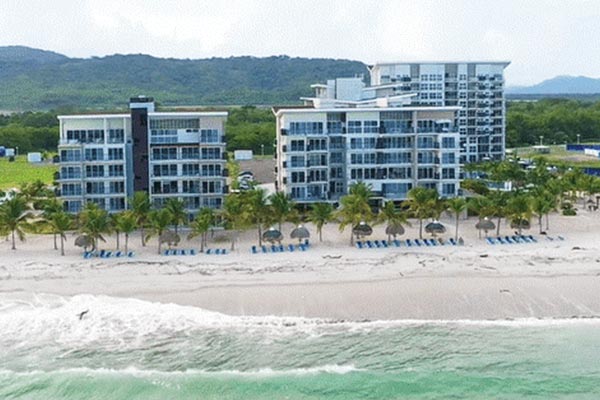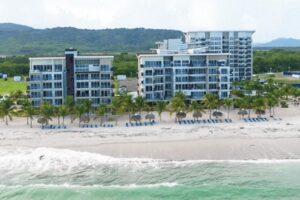 I'm buying because I want a base in Panama. A place close to Panama City where I can relax, spend time on the sand, get some work done, while having access to a super high-level of true beachfront amenities.
I'm buying because of the incredible low price, the killer capital gains potential, and because of the chance to generate hands-off, hassle-free rental income…
I'm buying because there's simply no place like this…
To understand how truly unique Playa Caracol is, you have to go all the way back.
The first time I explored this part of Panama I went in a four-wheel drive. The road was truly terrible. But the beaches were stunning. Miles of white sand, lapping waves and coconut palms. From here and there in the distance you could see the towering blocks farther down the coast where development had taken off around Coronado.
Yet here in Playa Caracol—much closer to Panama City—there was nothing but virgin beach and farmland.
It screamed potential. But it's no big mystery why it stayed off the radar. Stunning though it is, the roads were just too bad. Plus, most of the land was owned by just a few families that didn't want to sell. And much of the land was zoned for agricultural use.
I knew it would take more than good intentions to realize the potential of the place. It would take someone with vision, connections, and serious bankroll.
That's what developer Alfredo Aleman brought…
I have known Alfredo for 15 years. Alfredo Aleman is a guy who delivers. And when he decides he wants to compete in a niche, he creates the best community in that niche. That's why his projects sell so fast and values rise so strongly. Alfredo's grit, drive, and commitment to excellence are added advantages to his lineage. He was born into one of the country's most successful business dynasties. He moves and shakes at the level of world leaders and international moguls. And his passion for Playa Caracol is obvious when he speaks about it…
When Alfredo found the parcel of land for sale there was no road, no water, no electricity. It was raw, wild, and beautiful. He got to work, putting in all the infrastructure needed, spending millions of dollars in the process. His plan was ambitious but simple: to create a best-in-class beach community and make the most of the natural beauty.
He's succeeded.
When RETA had our last deal in Playa Caracol in September, Alfredo had delivered around 200 built units. That was impressive. As of today, the number has risen to 300.
It's a very real and tangible community…
And it's now entering its next phase…to become the Pacific Riviera's premier destination.
The next phase of Playa Caracol's growth is "the Pueblito."
The Pueblito is the "jewel in the crown" of the developer's visionary beachfront community. A thriving, vibrant beach village packed with high-level amenities.
Plans call for boutique stores, markets, restaurants, bars…everything we and our renters will want from a top-class commercial area.
Plans call for an ambitious event center, which fits neatly into a huge gap. There is nowhere for events on the beach like this, nothing so close to the city. It will be perfect for weddings, corporate get-togethers, you name it. They will come in their droves. There is set to be a wedding pavilion too.
You'll find a surf club beside a professional beach volley ball court. Beside that a golf simulator (where you'll likely find me when I visit).
On a manicured lawn directly in front of the beach we'll have outdoor events, open-air movies with the ocean a stone's throw away.
There will be smaller events rooms. A dog hotel, skate rentals, bike rentals…yoga studio, a co-working area, and a tour operator on hand to organize day trips.
The condos RETA members can lock down are close to the action of "the Pueblito" but completely private and discreet. A tranquil oasis as the name suggests.
We'll own the highest-end premium condos. Spacious, low-rise, and surrounded by greenery, just a short stroll to the beach and everything "the Pueblito" offers.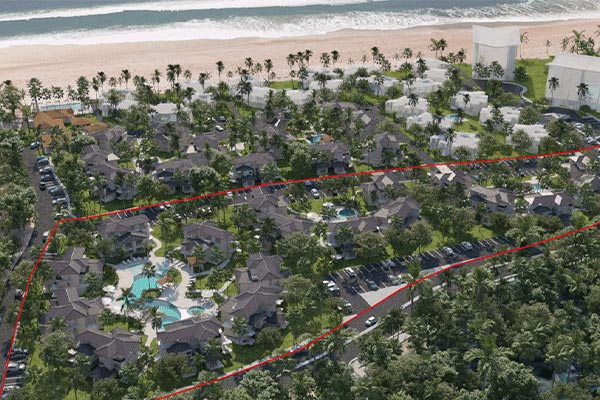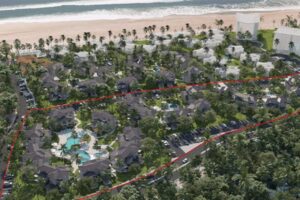 And we can own our piece of this now, before this project reaches the next level, while we still have the opportunity to own in this stunning beachfront community close to a world-class city for an insanely low price: from just $137,000.
That $137,000 gets you a fully furnished, luxury, two-bed condo in a discreet, high-end setting.
For just $164,000 we get premium three-bed condos that are lock off—meaning you can lock a door to create two separate units.
For a new community, we'll want to give it a year for the marketing and word of mouth to kick in. When it does, I expect rental demand to soar.
Our renters will be the well-heeled from Panama City. Panamanians are already discovering how unique the community is. In the coming years when the wealthy and well-heeled head west to the Pacific Riviera they will all want Caracol.
And they'll be joined by a new surge of tourists. In 2018 over 1.8 million tourists arrived in Panama. Between January and August 2019, the number was 1.5 million.
Now the government is getting serious about its untapped tourism potential. Playa Caracol is ideally located, and the super high-level of true beachfront amenities will ensure the community tops the list of vacationers from across Latin America, the United States, Canada, and Europe…all of whom can get to Panama easily thanks to Tocumen Airport's status as a global gateway.
That's what I love about the income potential of this deal…we are hitting many markets with the crème da la crème of beach community real estate.
And like I say, it's more than just a vision. Playa Caracol is developing fast. And RETA members have already seen paper gains.
In 2017, when Playa Caracol was in its earliest phase, I brought members an opportunity to buy two-bed, ocean-view condos from $199,000. In August 2019, a similar-sized condo farther back from the beach with only a sideview listed for $299,000.
That's a paper gain of $100,000 in a few short years.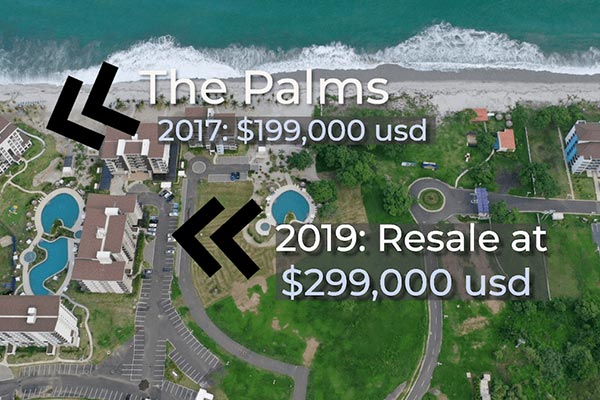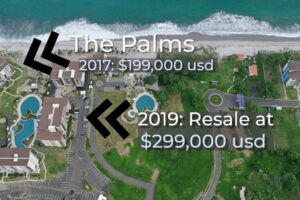 In September 2019, I brought members an opportunity to buy from $184,300. At the time I found it hard to nail down the profit potential. Now I've seen the plans for the Pueblito and the luxury Surfside hotel is in play, I figure those entry-price condos will be worth $250,000-plus in the next couple of years.
As Alfredo's vision has come to life, it's exceeded all expectations. But because of RETA's group buying power, we can still buy for an insanely low price: from just $137,000.
That $137,000 gets you a fully furnished, luxury, two-bed condo in a discreet, high-end setting. For just $164,000 we get premium, three-bed condos that are lock off—meaning you can lock a door to create two separate units.
Remember, if you're a RETA member and you want to get in on this deal, you need to pay close attention to your Alerts.
Given the phenomenal demand from our last two RETA deals at Playa Caracol, we could see these condos snapped up in hours.
Get Your Free Real Estate Report Now
Sign up for our free daily Postcard e-letter and get a valuable free report on the The 5 Best Places to Buy Real Estate In 2023.
Related Articles
The 10 Best Places to Invest in Real Estate
5 Reasons Panama Steals the Top Spot…s