At my sidewalk table, I smile to myself, and hoist my glass for another sip. Full-bodied German beer, a tidy Mayberry-esque town square across the street…and gauchos in full regalia passing by.
Sometimes it's still hard to believe I'm in Brazil.
And in fact, the locals proudly refer to their little slice of heaven as Outro Brazil: "Another Brazil."
Stretching east to west across Rio Grande do Sul, Brazil's southernmost state, the Serra Gaucha ("Cowboy Highlands") is a delightful little enclave reminiscent of the rolling hills of the Great Smoky Mountains of my native North Carolina.
And like the North Carolina mountains of 50 years ago, this area is just being discovered. Brazilians from Sao Paulo and Porto Alegre are coming in droves to visit, and many are buying second homes here. There is just something welcoming about these hills, an indescribable attraction. After years in Rio, I recently relocated here, and already feel very much at home.
Canela, my new home, has a quiet, relaxed, family atmosphere. While fairly flat and easy to navigate on foot, quite nearby are three parks sporting canyons, waterfalls, rivers, and hiking trails. Caracol Falls is picture perfect.
Canela, in recent years, has become a regional center for ecotourism. And Gramado, just 3.5 miles away, is her chicer sister. During every season, you can come here to enjoy regular festivals and celebrations. Gramado is also the place to buy knits and leather goods.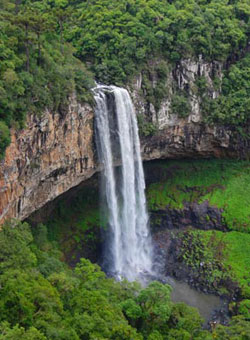 At the western end of the Serra lies Bento Goncalves, the center of Brazil's nascent wine industry. It's a popular spot for folks to spend a few days at a hotel or spa relaxing and drinking in the scenery, as well as the wines.
Dotting the hillsides, you'll find a lot of smaller towns, each with its own personality and attractions, from Garibaldi, where you can ride in a steam locomotive, to Novo Petropolis, where German is sometimes heard on the streets.
And wherever you go in the Serra, you'll encounter good food at reasonable—sometimes exceptional—prices: lots of pasta and sausages, reflecting the area's Italian and German heritages. Capeletti, a soup of pasta balls in chicken stock appears on almost every menu. Pullet and mountain trout are also Serra specialties. A basic all-you-can-eat lunch buffet is $6. A more upscale spot will cost you $10. The food is uniformly excellent, the establishments spotless, and the service uniformly attentive.
The Serra experiences four seasons; the weather here attracts many Brazilians. I can see why. Personally, after numerous summers sweltering in Rio and more in Florida before that, I find the climate in Serra Gaucha energizing. In the summer, the daily temperatures average about 90 F. In the winter, it drops to around freezing on a few days, with even an occasional light snowfall. Between hiking and cool nights, I sleep very well.
There's a mix of apartment homes in town and houses in new planned communities on the outskirts. You can find new two-bedroom, two-bathroom apartments for around $130,000.
I found a great rental. My apartment has an open-floor plan downstairs with a sitting area, dining area with large table and six chairs, a roomy kitchen, and half-bathroom. Upstairs is a full bathroom and two bedrooms. The unit came fully furnished. Including water, electricity, and high-speed internet, I pay $550 per month. The location is excellent. I can walk to my gym in 10 minutes. The bank, stores, and restaurants are even closer.
Get Your Free Brazil Report Here:
Learn more about Brazil and other countries in our daily postcard e-letter.
Simply enter your email address below and we'll send you a FREE REPORT– The World's Best Beachfront at an Affordable Price in Brazil.
This special guide covers real estate, retirement and more in Brazil and is yours free when you sign up for our postcards below.
Get Your Free Report Here