Venice is often described as the most beautiful city on earth. It's a dreamlike vision where marble palaces float on lagoon waters, sun-drenched piazzas lead to shaded alleyways, and gloomy churches conceal colorful frescos.
This bewitching, magical city has inspired writers, artists, and musicians for a thousand years.
Renaissance artists like Giorgione, Tintoretto, and Veronese were based in Venice. They painted portraits of popes and royalty, scenes from ancient myths, and lavish altarpieces—work that you'll still see around the city today.
The city has long been a backdrop in movies and books. The lead character in the book Death in Venice stumbles around the city's landmarks, doomed by his obsession with a beautiful young boy. In Don't Look Now, the ghost of a couple's dead child appears to haunt them, running along alleys, jumping across moored boats and disappearing in deserted piazzas.
Many cities would kill to have this cultural and artistic heritage. But Venice has another string to its bow: a commercial angle.
It's considered the first true international financial center. It was an important trading point with the Byzantine Empire and the Muslim world. Commerce and trade transformed it into the most prosperous city in Europe by the 13th century.
And that wealth funded the arts. Venice's leading families vied with each other to build the most elaborate palaces. They sponsored talented artists. The city's craftsmen produced luxury goods to suit their tastes, from fine furniture to intricate chandeliers, to large glass mirrors. A countess reportedly traded an entire wheat farm for a Venetian mirror in the late 17th century. She considered it a bargain.
And Venice has long been a destination for tourists.
In the 17th and 18th centuries, Venice was one of the stops on the classic Grand Tour. These were an essential part of the education of English noblemen. Accompanied by a tutor and a retinue of staff, they traveled for months (sometimes years) through Europe. They visited museums and archaeological sites, mingled with fellow nobles, studied music, language, and art. Like all tourists, they brought back souvenirs of their trip. But not the cheap plastic masks or replicas of churches that today's tourists buy. The landed gentry brought back rare coins and marbles, Old Master paintings, and Renaissance gemstones.
By the 18th century, Venice was the "pleasure capital" of Europe, with gambling, courtesans, and a Carnival that lasted for months. There were also seven full-time opera houses. Venice claims that it is the birthplace of opera. Monteverdi produced La Favola d'Orfeo, the first-ever opera, in Venice in 1607.
Only the rich could afford to do a Grand Tour. But steam-powered travel came along in the 1820s, making travel easier, safer, and cheaper. Then, Thomas Cook pioneered affordable tourism, allowing the masses to book their version of the Grand Tour. Italy was one of the first foreign destinations Thomas Cook offered to aspiring travelers in the 1860s.
Today, travel is more accessible and affordable than ever before. That's triggered a boom in global tourism. The middle class is exploding in many countries and the newly wealthy want to travel. Cheaper airfares have widened the pool of potential travelers. Budget airlines in Europe for example offer flights from London to Rome for as little as $58 return.
The numbers say it all. In 1950, there were 25 million international tourist visits. That rose to a phenomenal 1.5 billion in 2019.
These new tourists still want to visit the classic Grand Tour locations like Paris, London, and Venice. So much so, that a whopping 36 million international visitors flocked to Venice in 2017.
They're coming to immerse themselves in Venice's history, culture, and art. They're mostly looking for the same experience. They visit St. Mark's Square with its Basilica and the Doge's Palace. They take a gondola down the Grand Canal. They post Instagram shots of the Bridge of Sighs.
With so many visitors, Venice can feel crazy busy at times. There's talk of limiting cruise ship passengers who clog the streets but don't stay overnight in the city. Fees are planned for visitors who only come for the day or a few short hours. Blogs and travel sites give tips on how to beat the crowds at iconic sights.
But you can enjoy Venice without getting stuck in crowds. The city lends itself to an afternoon wandering the streets and drifting down canals. You'll get lost but find new discoveries along the way. Not far from the main tourist haunts are little eateries, often with only a handful of tables, serving delicious food at local prices. And you'll come across hand-made glass, paper, and lace…damask and brocade fabrics…quirky bookshops and junk shops and flea markets.
It's in these spots that you'll also find real estate opportunity in Venice.
You need to look within a 15-minute walk of the main tourist attractions. You're in the side streets and on quiet little piazzas. You're looking for an apartment that's dated, unloved, and priced right.
That's how you can get an apartment in Venice for as little as €199,000…one that could generate as much as 16% a year in rental income.
Get Your Free Real Estate Report Now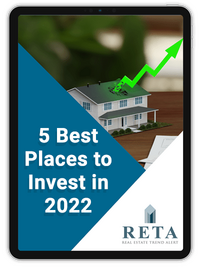 Sign up for our free daily Postcard e-letter and get a valuable free report on the The 5 Best Places to Buy Real Estate In 2022.
Related Articles
Where to Take Advantage of Italy's New Tax Breaks
Top 10 Things To Do In Piedmont, Italy
Upcoming Conferences
Live Better, Spend Less, Retire Sooner
IL's Retire Overseas Bootcamp
October 21-23, 2022 in Atlanta, GA

In safe, warm, welcoming communities abroad, as little as $1,700 a month can bankroll a good life... this fall, our experts will show you where—and how.
Early Bird DISCOUNT—Save $100 When You Register by Sep. 29
Details Here IL's Retire Overseas Bootcamp
---
Registration Now Open for the Best of Europe Private Screening

In the Right Spots in Europe, You Can Retire in Style—in an Historic, Sun-Drenched Locale—for as Little as $2,300 a Month or Less—Especially Now With the Dollar and Euro at Parity for the First Time in Two Decades.
And We'll Show You How, October 1-2, During the Special All-Online Best of Europe Private Screening.
---
The Income Revolution Forum
What if You Had the Freedom to Enjoy the Good Life Anywhere in the World You Wanted to Be...and Get Paid While You're There?
We'll show you how—with hands-on guidance—you could beat inflation...secure your retirement...ditch your commute...and turn a skill you already have into a portable side income of $300, $600, even $3,000 or more a month.