The world's economy has all but stopped.
22 million jobs lost in America in the last month.
This is predicted to rise to 47 million jobs lost in the second quarter.
If that happens, the unemployment rate will be over 32%. To put that in context, during the worst of the Great Depression the rate was 24.9%.
America was already in the throes of the Great Retirement Crisis before the pandemic. "The bad news is that almost half of Americans approaching retirement have nothing saved in a 401(k) or other individual account," reported Bloomberg a year ago.
Long before Covid-19, millions of Americans were postponing retirement, working way past the age of 65. Millions were scrambling to recover wealth and prosperity lost to the last big crisis in 2008/09.
Social Security won't cut it. In their 2019 annual report, the trustees of Social Security said they expect the program's fund to run out of money by 2035. And now, with tens of millions more Americans unemployed and not paying into the system, that could happen much sooner.
Now this…an unprecedented shutting down of the economy.
What happens next?
Inflation? Deflation? Depression? Rebound?
These big questions are everywhere.
They all miss the point…
The question to ask yourself is simple. The one thing to focus on is clear.
Because what you do in the coming days and months can position you to thrive and prosper regardless of the outcome of this crisis.
So ask yourself…
What can I do now to save my retirement? How can I use the opportunities the crisis presents to improve my quality of life…to become wealthy…to live worry-free?
Today, I announced something very special to members of my Real Estate Trend Alert.
Announcing Project Prosper: How to Save and Grow Your Retirement.
My entire team have their orders. I have briefed my global network of insiders and contacts.
I recognize the urgency of this unique project.
I've never done this before but for the next couple of weeks it is my number one priority…
I'm creating an unprecedented set of resources that will roadmap for RETA members how to thrive and prosper in whatever world emerges from this crisis.
I'm bullish, and optimistic. Not for the stock market or how the U.S. and the West will handle challenges to currency, commercial, and military strength. I'm bullish and optimistic that there are things you can do now that will allow you to thrive and prosper—no matter what.
I've been doing them myself since the first ripples of the 2008 crisis…
We're ready for this.
Just a few weeks into shutdown and we at RETA are already getting deals because of the crisis.
True beachfront in Panama…huge discounts in perfect-weather Medellín…and a stunning deal on spacious homes in Tulum on the Riviera Maya…Homes where I predict gains of $76,000 shortly after delivery.
This is just the beginning.
The end of fear and the beginning of Project Prosper: How to Save and Grow Your Retirement.
For RETA members this will be your blueprint for transforming your financial future.
I will show you how you can take this moment to set up an income stream for life.
How to use this moment to buy great income-earning real estate at as much as 50% off. How to maximize your yield from those properties…how to live rich, with steady cash flow by owning real estate in some of the most beautiful places in the world.
We are in an unprecedented zero-interest-rate environment in the developed world. I'll show you how you can use incredibly cheap money to buy high-yielding, undervalued real estate.
But there's more…
RETA, up to now, has been about places you can make enormous amounts of money from capital appreciation and income. But, as part of Project Prosper I'll also show you places where you can use this crisis moment to get a "pocket money" dream home for under $100,000. Sometimes with mortgage payments of less than $200 a month.
Stay tuned…
I want you to come on this journey with me. Thrive and prosper thanks to the once-in-a-lifetime moment this crisis offers you. Improve your quality of life and become wealthy.
This weekend, in the April issue of Real Estate Trend Alert, I'll publish the first in a series of resources that will go into making Project Prosper the ultimate guide to retiring rich, regardless of economic shocks.
If you're a RETA member, keep an eye on your inbox…
Wishing you good real estate investing!
Get Your Free Real Estate Report Now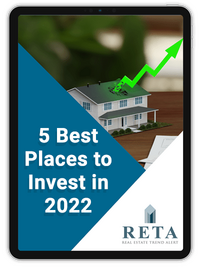 Sign up for our free daily Postcard e-letter and get a valuable free report on the The 5 Best Places to Buy Real Estate In 2022.
Related Articles
The 10 Best Places to Invest in Real Estate
A Whirlwind of Deals…and We're Only Getting Started
Own a Two-Bed Home in Tulum for $149,000