There is a "secret" South of France that is attracting more and more attention as a retirement destination each year.
You've already heard about the French Riviera and those beautiful places like Cannes or Nice. They are must-visit towns, but they are also busy with tourists for most of the year and as such attract premiums for real estate. You would need deep pockets to buy and live there.
And you'll know about Provence, which also carries a premium because of its pleasing Mediterranean climate, natural beauty, and the many books and films which have been set in its picturesque surrounds.
But I'm talking about the "other" South of France. The beautiful countryside running along the northern side of the Pyrénées from the rolling surf of the Atlantic at Biarritz and St. Jeande- Luz to the sandy beaches and warm water of the Mediterranean at Sète and Montpellier.
I've pinpointed three expat areas popular for their climate and affordability.
Aude—Medieval Marvels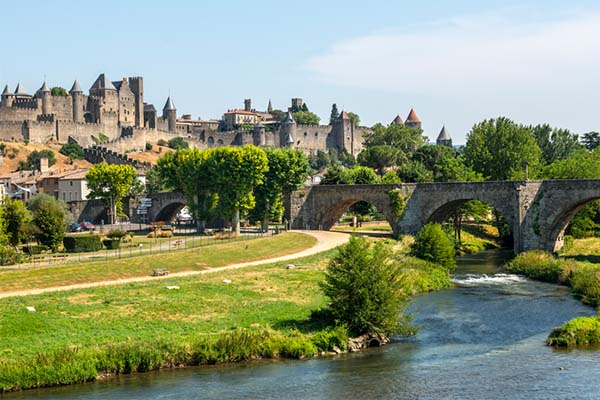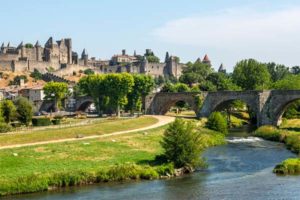 The Aude is one of the gems of France, meandering along the Aude River from which it takes its name.
Rolling countryside stretches to the horizon, a patchwork of fields filled with either sunflowers, barley, wheat, or corn crops.
Agriculture has dominated the Aude for centuries and became even more important with the construction of the Canal du Midi, which makes its way from Toulouse through a series of locks bisecting the Aude on its way to the Mediterranean.
Along the banks of the canal you will find some sensational towns and villages to consider in your hunt for the perfect French retirement.
Without doubt, the jewel in the crown is Carcassonne—home to Europe's biggest and best-preserved walled medieval town, called La Cité. The modern town surrounds the old city, so there are plenty of places to stay and lots of shops and markets.
There is also a small airport with regular flights to the U.K. and a railway station connecting Toulouse in one direction and the French Riviera in the other.
Paul and Sally Bosas moved to Carcassonne from Bunbury in Western Australia last year after a seven-year love affair with France.
"Paul and I chose the Aude for a few reasons," Sally says. "Number one being that it was the warmest and most affordable region of France for our budget.
"We had also visited a few places while on holiday in France since 2010, such as Toulouse and Argelès-sur-Mer, but when we saw the medieval La Cité on L'Aude River and the Canal du Midi at Carcassonne, that was a definite wow factor.
"In 2017, we were on vacation and had looked at several houses for sale in our preferred area near Perpignan, but they didn't quite meet our needs. Our real estate agent, Fiona Bridgeman of l'Habitat, suggested looking at two properties she had for sale in Carcassonne. One of these met our needs most closely, so just by chance, here we are in Carcassonne.
"We visit La Cité quite frequently, as we have had relatives and friends stay with us and, of course, it is a must-see.
"Our house is a 15-minute walk or a five-minute drive to La Bastide Saint-Louis (a suburb on the left bank of the Aude), where we often go to restaurants, markets, shopping, lunch, and later café alfresco, to sit and people watch."
Sally says she loves to see tourists around as she still feels like a tourist herself. "I like to try and pick where people are from, depending on their accent," she says. "It also adds vibrancy and life to the town. Carcassonne is a fantastic home base where we can take day trips with our two Griffon Bruxellois dogs to visit villages and other towns."
At one of the highest places on the Canal du Midi you will find Castelnaudary. I loved strolling around this town when my wife, Lorraine, and I lived nearby, and it is where we went for our main shopping. There is a Noz shop which we frequented regularly. It sells end-of-line and heavily marked-down goods. I have bought a very drinkable Merlot for $1.20 and a quaffable Spanish red for a similar price.
There is a huge reservoir in the middle of town called the Grand Bassin which stores water to ensure the canal is always full. It is a relaxing and pleasant walk along the banks watching the passing parade of narrow boats and checking out the catches of fishermen who sit along the banks.
The town is also home to the great comfort dish cassoulet (bean and meat stew), which is served at nearly all the town's many restaurants. We usually ended up at a place called, appropriately, Maison du Cassoulet and were never disappointed.
This is a rural paradise which we just couldn't afford back home.
Lorraine and I were housesitting for more than six months in a tiny Aude village called Cahuzac, where we made many expat friends. We even joined a group that meets once a month to trade English language books and have a coffee and a chat.
The population of the village is only about 30 and there are no shops but a great sense of community. Next door to us was a disused church and an old château whose only occupants were an eccentric old lady and her dogs.
In the autumn the village has a local fête where everyone turns up for a spit roast, drinks, and a good natter.
When the Tour de France passed the village, the whole population turned out and had a roadside barbecue with the local mayor providing the tables. It is not unusual for entire villages to turn out for all sorts of events throughout the year and newcomers are always welcome.
Jim and Gill Masters have been living in Cahuzac for 10 years. They have a big old house and run two gîtes for vacationers. Gill is also an accomplished artist and runs art classes from her home.
"We love being in this part of France," Gill says. "It is a rural paradise which we just couldn't afford back home. I am able to paint and have showings in nearby towns and we have a constant stream of visitors to our gîtes so are never short of new friends."
Because of Aude's great climate and popularity, real estate prices can be a little higher, but still dramatically less than the nearby coastal cities of Cannes or Nice or the beautiful but expensive Provence.
You can find renovated one- or two-bedroom village houses in very good condition for as little as $80,000. No outside space but charming houses. Just $100,000 to $115,000 will get you a two-bedroom village house with some kind of outside space like a small court or terrace.
Pyrénées-Atlantiques—Mountains and Beaches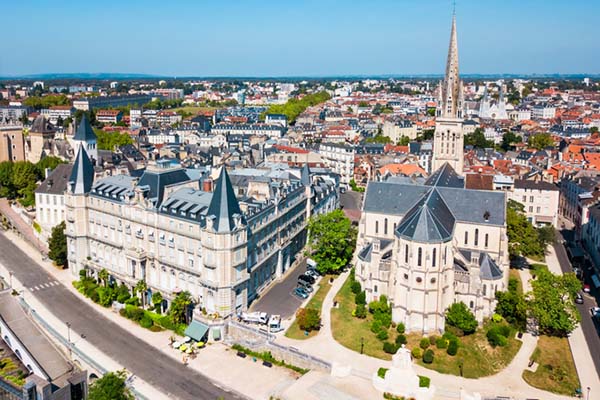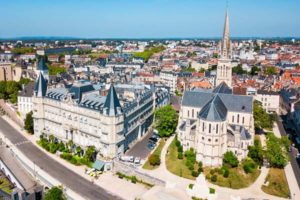 The Pyrénées-Atlantiques is nestled in the southwestern corner of France, stretching from the Atlantic Ocean along the northern foothills of the Pyrénées and taking in the French Basque country.
To the south is Spain, with resorts like San Sebastián only a couple of hours' drive, or you may prefer to run with the bulls at Pamplona, also a short drive away, It has become popular with expats from around the world because of its moderate climate and easy access to the beaches and ski resorts.
The main city is Pau (pronounced "poe"). With a population of 80,000, you can be sure it has all the requirements for retirement living, including three hospitals.
The health system in France is rated the best in the world by the World Health Organisation. A visit to the doctor costs about $40. After three months' residence you can claim 70% back. Prescription medicine is less than half the price you pay in the U.S. If you do develop a long-term illness such as cancer, diabetes, liver or kidney failure, then medication is free.
Nestled on the foothills of the Pyrénées, Pau is only a few miles from the Spanish border and has a distinctly Basque feel while delivering the quintessential Gallic lifestyle.
I've strolled along the central Boulevard des Pyrénées and I never get tired of its countryside views and mountain panoramas. The boulevard leads up to the castle of Château de Pau, birthplace of King Henry IV of France.
Gorgeous old villas and mansions line the streets, a testament to times past when the European nobility took their holidays there to take advantage of the mild climate.
Pau features wet, mild winters with warm, mild summers. In summer the average temperature is 68 to 86 F, while in winter you can expect around 53 F.
The city has easy access to hiking and climbing and of course cycling. Pau is second only to Paris when it comes to hosting stages of the Tour de France.
It is known for its interest in sports and boasts the first 18-hole golf course created in Europe, which you can still play today. It has a Victorian-style clubhouse with a distinctly British atmosphere. To keep you fit there are also swimming pools, tennis courts, gymnasiums, and facilities which cater to every sport.
Pau has a plethora of cultural facilities including museums, theaters, and cinemas, which host events and festivals around the year. There is the Pau Grand Prix with car racing through the city streets, a big music festival in July, followed by the Hestiv'Oc Festival in August featuring music and culture from the South of France.
Get the grandchildren to visit in May when the Urban Session is held. As a hip-hop dance and urban culture festival it may not be for you, but the grandkids will love it.
Pau has more than 160 restaurants so there will be something to suit everyone, including places specializing in local cuisine. The area is famous for garbure, a soup made from cabbage, beans, confit of goose, and ham or bacon. There are many variations, so try them all.
It would not be France without a local wine and Pau is famous for Jurançon which is produced in only 25 towns and villages. The moelleux (sweet) white wine is the most famous; however, they also produce a dry one.
There is an airport with connecting flights around the world and TGV (Train á Grand Vitesse) high-speed trains to take you to places like Paris, Bordeaux, and Toulouse.
You will find that property prices are very reasonable when compared to North America but by French standards are higher than those of cities of similar size.
As Pau is a university city, buy-to-rent apartments—especially one-room studio flats—are popular investments.
I spotted a few places within an easy drive of Pau between $160,000 and $215,000. But if you fancy doing a little renovation, there are plenty of habitable places under $105,000.
Sandra Stephenson and her husband Jean-Nicolas decided on Pau as their new home after spending a large part of 2017/2018 house- and pet-sitting there.
"One of our housesits was in the Landes department (in the southwest of France) in a very small village called Saint- Colombe," Sandra says. "Pau is about an hour's drive from Saint-Colombe.
While at this housesit we visited Pau on numerous occasions but also another small village close by called Saint-Sever.
"We really loved both these places and started to think about perhaps purchasing a place in either of them. First, we rented a chambre d'hote in Saint-Sever for three months, but after much research we couldn't find anything in our price range so we started looking in Pau.
"It couldn't be better, being close to the mountains and the surf beaches of the Atlantique," Sandra says. "Also, Pau had a lot to offer in terms of community events, free concerts, sports club opportunities, friendly people, and lots of shops, cafés, and restaurants. There are also three Facebook groups dedicated to community events in Pau.
"In April last year we put in an offer for a two-bedroom apartment right in the center of Pau, and our offer was accepted. We came here not knowing a single person, and we've managed to make a few friends now through our son's school, the kids' park, and neighbors. We decided to live in the city center because we didn't want to be isolated. We have a short walk to our son's school, Boulevard des Pyrénées, all the high-end French brand boutiques, cafés, restaurants, a huge library, organic fresh produce market twice a week, doctors, dentists, and lots of other amenities.
"We live in an apartment so we don't have a garden, but the city of Pau has become our garden."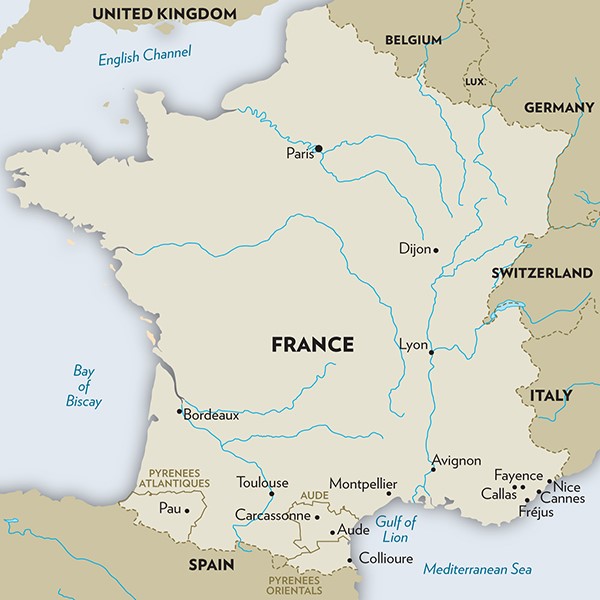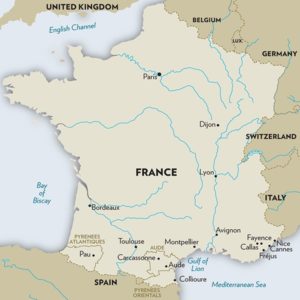 Pyrénées-Orientals—Rugged Beaches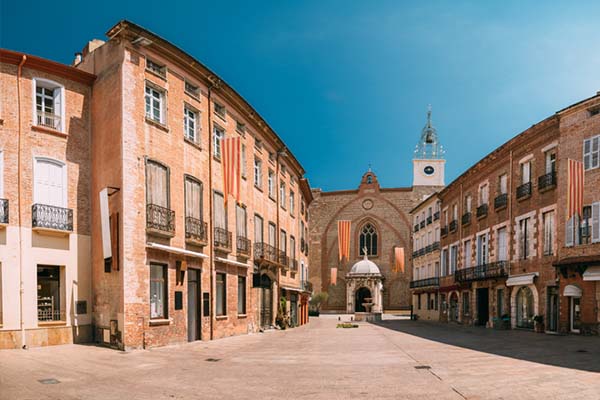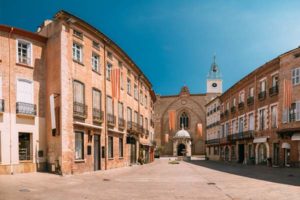 Head east along the Spanish border and you'll be in the Pyrénées-Orientals. The main city, Perpignan, is known for its Catalan culture and 13th-century Palace of the Kings of Majorca. In 2008, Perpignan became Capital of Catalan Culture and many street name signs are in both French and Catalan.
I've recently strolled through this amazing city with its blend of old and new and fusion of Catalan and French culture and architecture.
Perpignan is unique in that while it is French, the yellow and red Catalan flag flies over many buildings and landmarks.
For the best view of the old city center I climbed the 142 steps of the tower of The Castillet. A very windy day and not for the faint-hearted, but the reward was a panoramic view of the city. Perpignan doesn't have big high-rise office towers so the tower lookout gives an uninterrupted 360-degree view.
For an even better view and a lot more climbing I made my way to the Royal Palace. Even without the climb the palace is well worth the $4.20 admission price.
Swim in the Mediterranean in the morning, and ski in the afternoon.
An Australian friend, Stephen Marshall, is a regular visitor to the fishing town of Collioure about half an hour from Perpignan and just on the French side of the Spanish border.
"With its medieval royal castle, narrow streets, and cozy restaurants, it's popular year-round with visitors. I have eaten the best meal of mussels at Collioure," Stephen says. "I try and get back as often as possible."
Stephen spends most of his year cruising the Mediterranean on his yacht and puts the Pyrénées-Orientals as one of his favorite locations.
North from Collioure are miles of beaches and beach communities, which makes Perpignan so popular among expats. Eve Michaels says it was the location that drew her to the city.
"Here you can swim in the Mediterranean in the morning and ski in the afternoon, with more than 20 resorts only two hours' drive away," she says.
"It is a short drive to the Spanish Costa Brava resort of Rosas, and Barcelona is less than two hours' drive. Just over the border at Figueres is the must-see museum established by Salvador Dali, who described the railway station at Perpignan as the 'center of the universe' after what he described as a 'cosmogenic ecstasy' there in 1963," Eve says.
There is also a small airport with connections to Paris and the U.K.
The city has a population of around 300,000 and so has all the health and associated services like dentists, supermarkets, cinemas, and sporting facilities expat retirees could want. It has a traditional Mediterranean climate with warm summers and mild winters. And, like any city in well-connected France, the travel options around Europe are efficient and affordable.
Over the past year, house prices have risen in Perpignan. The average price of a house in Perpignan is only $180,000. But if you shop around you'll find terrific townhouses and two-bedroom apartments for half this amount.
Get Your Free Real Estate Report Now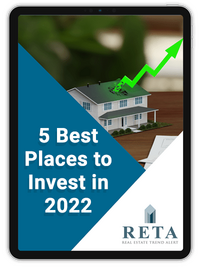 Sign up for our free daily Postcard e-letter and get a valuable free report on the The 5 Best Places to Buy Real Estate In 2022.
Related Articles
Here is What You Need to Know About Real Estate in France
France Itinerary: A Journey Through Southern France
Buying Real Estate in Southern France
Upcoming Conferences
Live Better, Spend Less, Retire Sooner
IL's Retire Overseas Bootcamp
October 21-23, 2022 in Atlanta, GA

In safe, warm, welcoming communities abroad, as little as $1,700 a month can bankroll a good life... this fall, our experts will show you where—and how.
Early Bird DISCOUNT—Save $100 When You Register by Sep. 29
Details Here IL's Retire Overseas Bootcamp
---
Registration Now Open for the Best of Europe Private Screening

In the Right Spots in Europe, You Can Retire in Style—in an Historic, Sun-Drenched Locale—for as Little as $2,300 a Month or Less—Especially Now With the Dollar and Euro at Parity for the First Time in Two Decades.
And We'll Show You How, October 1-2, During the Special All-Online Best of Europe Private Screening.
---
The Income Revolution Forum
What if You Had the Freedom to Enjoy the Good Life Anywhere in the World You Wanted to Be...and Get Paid While You're There?
We'll show you how—with hands-on guidance—you could beat inflation...secure your retirement...ditch your commute...and turn a skill you already have into a portable side income of $300, $600, even $3,000 or more a month.