Rounding a bend in the road, you catch your first glimpse of the bay of Honduras. The stunning silhouette of Guatemala's mountains to the south provides the perfect backdrop as the light scatters off the sparkling Caribbean water. The skies are a cloudless blue and a series of houses painted different colors, here white, there yellow, another green—and all with neatly-groomed yards—greets you along the coast road into the town of Punta Gorda.
Every visit I make to the Toledo region of Belize brings unexpected discoveries. Some folks call it the country's "forgotten district," and it's true that Toledo is a bit of an enigma. On the surface it appears peaceful and serene. But look closer and you'll find a contrasting alter ego. This Toledo is wild, untamed, enticing…
It's a perfect spot for intrepid eco-tourists or aspiring researchers. They can get off the beaten path for a physically challenging eco-adventure or dive into outstanding natural beauty in the Caribbean. "There are two separate worlds here. I could spend the morning being Jacques Cousteau in the cayes…and the afternoon being Indiana Jones in the jungle," says expat Bruno Kuppenfelder, who ditched his lucrative banking job for life in Toledo 15 years ago.
Bruno is one of a small number of retirees who have chosen Toledo to step into a bygone era and immerse themselves in a unique cultural heritage. Belize's diversity is best represented here. Walking down the streets of Punta Gorda, you'll see each ethnic group reflected in the faces you pass: Mopan and Kekchi Maya, Garinagu, Creoles, Mestizos, east Indians, Mennonites, Chinese…each has distinct roots, its own language, and its own traditions and beliefs. And yet these disparate groups get along amazingly well.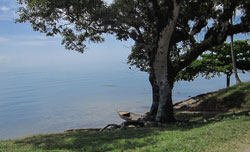 The coast abutting the town of Punta Gorda contrasts with that of Belize's other coastal towns.
Unlike in Placencia and San Pedro, you won't find any sandy beaches. Here the rainforest's verdant hills roll down to greet the sea at the edge of town.
The retirees I've met relish the pristine environment and appreciate the region's diverse cultural mix. They also enjoy one of the lowest costs of living in Belize. All told, a couple can live well here for $1,300 to $1,800 a month, depending on whether they are in town or out a little. Some folks live budget-conscious lives on even less. You can eat a pork-curry dinner at Waluco's for $4. And it's possible to rent a two-bedroom, two-bathroom home with a yard, across from the bay, for $600 a month. For under $150,000 you can buy something similar.
Several expats I met spend less than $1,500 a month, eating most meals out. The restaurants are reasonable in Punta Gorda. One expat who eats every meal out said that he spends less than $20 a day. He pays $3 for a breakfast of eggs, beans, tortillas, and coffee. His lunch is about $5. And he spends $8 to $10 for his dinner.
Related Articles
Is Belize a safe place for an expat to live?