I'm in Cabo San Lucas, self-distancing.
From my balcony office, I can see the beachfront driving range, and beyond that, the Pacific Ocean. Waves are crashing on the beach. The sun is rising from my left, slowly illuminating this incredible view.
It feels like any other morning in Cabo, and yet, I know it's not…
For the first time in 20 years I have nowhere I need to be…
No flights to catch, no business meetings to attend, no developments to view.
It's a surreal feeling. But I know it won't last.
That's why I'm using my free time to ponder and to prepare for what happens next.
I don't want to sound insensitive, but with every crisis comes opportunity. I intend to make the best of this terrible situation, and I hope you join me.
Yesterday, I explained just how strong a position you're in if you're a Real Estate Trend Alert member.
Our buying power is stronger than ever…
Our network is wider and deeper…
We'll be seeing more off-market deals and discounts…
And we're beautifully positioned for the eventual rebound.
But of course, these advantages are only useful if you're ready to act.
The first goal is having the right mindset…
Keep Your Cool
Right now, most of the public is either in a state of panic or a state of denial…
Hoarding things like hand sanitizer and toilet paper…
Or even worse, going about their day as if nothing significant is happening.
Both these mindsets are understandable, but also very wrong.
In a time of crisis, emotion is your enemy.
Over- or under-reacting will only make things worse.
If you have a portion of your savings in the stock market, I feel for you, I honestly do.
The best response is to keep calm and try to understand what's happening before doing anything else.
What we know so far is that stock markets around the world are in free fall and businesses are failing. Governments are preparing billion- and trillion-dollar stimulus plans in response.
While I can't predict exactly what happens next, I'm looking at examples from the past to give me a glimpse into the future…
This is Normal
The history of markets is a series of boom and bust cycles.
So, after the longest bull market in history, and over 10 years of gains, the current crash is not surprising. It's a normal part of the market cycle. What goes up, must come down.
In modern times, we saw this boom and bust cycle in the dot-com and housing bubbles.
When home prices in Ireland appreciated to a level that just made no sense, I knew it was time to exit, so I sold much of my real estate portfolio and disappeared to Latin America to ride out the carnage.
Then on Monday, September 15, 2008, Lehman Brothers filed for bankruptcy. The first domino had been toppled. By the time the destruction was over, stocks in the U.S. had dropped nearly 50% within about six months.
While it might have felt like the end of the world, it was actually the beginning of the longest bull market in history!
Until the "Coronavirus Crash," stocks had been going up since 2009. It was an unprecedented era of wealth creation.
Boom to bust to boom…and now bust again… That simply means another boom is coming…
Whether that's in a few months or a few years, it is coming.
This Too, Shall Pass
Listen, the coronavirus is a curve ball we didn't have to deal with in 2000 and 2008. If it continues to keep people from their normal routines, then the economic recovery is going to be very different from the last.
But mark my words, there will be a recovery.
The economy will simply adapt and evolve.
For example, there's already been a significant rise in people working and shopping from home.
While I understand there are a lot of jobs that cannot be done from home, many office jobs can be, and employers are being forced to realize this.
All my employees already work remotely. I rented an office once, but it was a waste of money since I'm either on the road or researching and writing (which I prefer doing at home for the peace and quiet).
Meanwhile, Amazon just opened 100,000 new positions to help with increased demand during the pandemic. More and more people are buying their groceries and other essentials online.
Impossible as it may seem right now, things will get better. Perhaps even better than we have ever had it before.
In the U.S., the Great Depression and World War II forged the Greatest Generation, and the era of the "American Dream."
When this bust has finally ran its course, the boom that follows will be another unprecedented era of wealth creation.
But if you want to be best positioned to prosper, you can't wait…
Now is the Time
Don't get me wrong, your top concern right now should be your health and the health of others. Follow the social protocols. Stay home. Keep your distance. Volunteer if you can. But don't waste this opportunity to boost your financial wellbeing.
This is an incredible time to start investing…
Crashes create bargains, opportunities to buy quality assets for huge discounts.
Of course, I'm biased, but I believe the best investments will be made in real estate.
Before anything else, people need food and shelter, land to farm and homes to live in. Investors often flee to assets like real estate in times of crisis too, because historically, real estate holds its value through epic crashes and periods of high inflation.
So that's what I'm keeping my eyes open for right now…
Motivated sellers…
Savvy developers looking for new markets…
Travel restrictions are definitely a huge problem and will lead to short-term pain for owners of vacation rentals (and opportunities for savvy investors). But I predict people will be desperate to vacation again, especially after spending weeks (maybe even months) in self-isolation.
Position yourself now to profit later…I am.
Tomorrow, I'll share my #1 crisis investment with you. It's a type of real estate that lets you protect a portion of your wealth from what's happening, and perhaps even make you much richer.
Best of all, you don't need a lot of money to start investing in this real estate.
Stay tuned.
And above all, remember, your health is your top priority.
Get Your Free Real Estate Report Now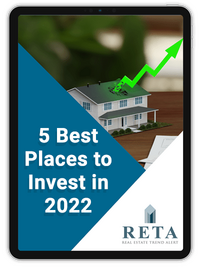 Sign up for our free daily Postcard e-letter and get a valuable free report on the The 5 Best Places to Buy Real Estate In 2022.
Related Articles
Los Cabos: Mexico's Gem of the Desert
Buying Real Estate in Los Cabos, Mexico
Real Estate & Property Information for the Riviera Maya
Upcoming Conferences
Live Better, Spend Less, Retire Sooner
IL's Retire Overseas Bootcamp
October 21-23, 2022 in Atlanta, GA

In safe, warm, welcoming communities abroad, as little as $1,700 a month can bankroll a good life... this fall, our experts will show you where—and how.
Early Bird DISCOUNT—Save $100 When You Register by Sep. 29
Details Here IL's Retire Overseas Bootcamp
---
Registration Now Open for the Best of Europe Private Screening

In the Right Spots in Europe, You Can Retire in Style—in an Historic, Sun-Drenched Locale—for as Little as $2,300 a Month or Less—Especially Now With the Dollar and Euro at Parity for the First Time in Two Decades.
And We'll Show You How, October 1-2, During the Special All-Online Best of Europe Private Screening.
---
The Income Revolution Forum
What if You Had the Freedom to Enjoy the Good Life Anywhere in the World You Wanted to Be...and Get Paid While You're There?
We'll show you how—with hands-on guidance—you could beat inflation...secure your retirement...ditch your commute...and turn a skill you already have into a portable side income of $300, $600, even $3,000 or more a month.