The province of Chiriquí in Panama extends from the Pacific Ocean at sea level up to an astounding 11,400 feet at the top of Volcán Barú, Panama's only volcano. It is truly one of the most impressive provinces in Panama, with an amazing amount of diversity in climate and terrain.
The city of David is the capital of the province, with a population exceeding 167,000. David is located in the "lowlands," as they are termed, about half an hour from the beach and directly on the Pan-American Highway. The highway is the lifeline for importing and exporting goods from countries north of Panama.
David is the only city of size within the province. No matter where you live, everyone makes frequent trips to David to take care of government needs, shopping, healthcare, and services that are not available in the smaller towns. But the nice thing is, all the communities in the province are within a few hours of the city, making it an easy day trip to get all your errands done.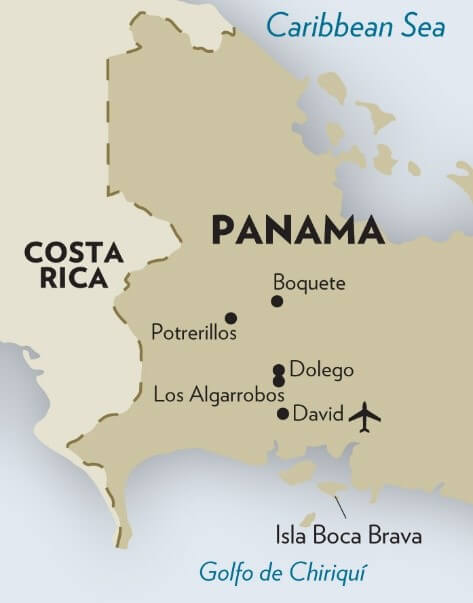 While many expats relish the amenities that city living offers, many more seek a quieter lifestyle. Another major draw to living in the highland villages are the cooler temperatures that come with the higher elevations. Year-round daytime temperatures of about 75 to 85 F are just about as perfect as you can get. In the higher elevations you won't need air conditioning or heating. While many expat communities with limited housing and high demand are becoming more expensive, you can still find charming smaller communities with rewarding real estate opportunities if you just know where to look.
Three smaller hamlets in the highlands shadowed by Volcán Barú are still undiscovered by most expats looking to buy homes. But that's exactly where you can find great deals. As you rise in elevation, the climate gets cooler and the housing prices get more affordable.
Potrerillos
Potrerillos is a small farming community just off of the Boquete highway past the town of Dolega. This area is typified by hilly pasture land dotted with volcanic boulders. Quiet is what this town is all about. Potrerillos is located about halfway between the city of David and Boquete, the largest expat community, making its location ideally positioned to reach both. Within 15 minutes' drive you can be in the city or the mountains.
While there are not many services in Potrerillos, there are currently a few North American-style neighborhoods where the homes sit on large lots with wonderful scenic views of the surrounding valley. Potrerillos has a small and tight-knit expat community, but most passersby don't take the side roads off the main drag to see these homes or even know that they exist.
One particular home for sale in Potrerrillos sits on just over half an acre. The main house on the property has 4,486 square feet of living space with two bedrooms and two bathrooms. The home has an open floor plan with high ceilings making it feel light, bright, and full of space. The grounds also contain two more smaller homes you could easily rent out, if you want. The first casita has one bedroom, one bathroom, and covers 410 square feet, making it an attractive rental property. There is also a 620-square-foot apartment. You could easily rent these out for $400 to $550 a month each.
All three properties are serviced with a backup generator and water storage tank. The half-acre is covered with palms and orange, Persian lime, and avocado trees. The property is selling for $225,000, and the owner will arrange financing. Another find in the same area is a three-bedroom, two-bath home on 6 acres. The home is open with lots of light and hardwood features throughout. Those 6 acres are enough to start your own small farm, raise horses and chickens, and have that dream garden. You can enjoy the breezes and view of it all from your large veranda. The asking price is $260,000.
If you are looking for a North American-style home, a new bungalow is now for sale. This property has recently been completely refurbished to include new kitchen cabinets and granite countertops. The master bedroom has an en suite newly tiled with a modern updated look. New ceramic floors have been added throughout the home. Three new air conditioners, as well as ceiling fans, provide excellent circulation. The covered back terrace is perfect for barbecues, and the home also includes a new whole house backup generator. This two-bedroom, two-bathroom home is priced at $185,000.
Dolega
Dolega is a small town on the highway from David to Boquete with a population of around 4,000 residents. Although small in size, the town offers basic amenities such as grocery stores, mom and pop convience stores, gas stations, and local restaurants. Dolega also loves to celebrate during the holidays and especially for carnival in February each year. There is easy access to public transportation in Dolega, making it a viable option to live if you choose not to own a vehicle.
Dolega has a shaded central park where you will find events taking place throughout the year. The tree-lined streets in the neighborhoods close to the downtown area are an appealing feature that you don't see in many communities of the same size.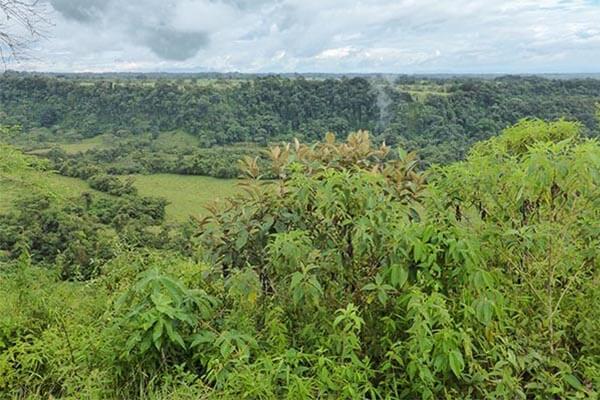 The town is spread out and takes in a few newer developments where you can find reasonable housing choices.
One country property is available on three-quarters of an acre of land on the outskirts of Dolega. The 2,982 square feet of living space includes two bedrooms and two bathrooms, large living room, and kitchen, with a beautiful covered back terrace area the length of the property. This property is great for entertaining and the location is in a quiet area close to the river. Asking price is $135,000.
If you want an income-producing property, Dolega has a duplex for sale five minutes from downtown. Live on one side and rent the other out. Each unit has two bedrooms and one bathroom, large living room, laundry, and kitchen. The large lot has several shade trees which keep the duplex cool and make it feel like you're living in the woods. This duplex, although basic, is being sold unfurnished for $110,000. The owner is willing to finance the sale with $50,000 down.
Los Algarrobos
Los Algarrobos is a small community between Dolega and David. Covering 12 square miles, Los Algarrobos has a population of just over 9,000. It doesn't have a central town per se, but rather many different housing developments situated on either side of the highway to Boquete. Most homes in this area are relatively new and several expats find the laidback neighborhoods in this area combined with the higher elevation and cooler temperatures an ideal location.
One new development in this area is called Doral Villas. This is a gated community where many homes have already been built and are occupied. The community has playgrounds for the kids, green areas for walking, and a gym. Models are priced to sell from $142,525 down to $92,000. The model priced at $142,525 has three bedrooms and two bathrooms with a formal dining room, terrace, closed laundry area, and garage. The total square footage is 1,475.
The $92,000 model has two bedrooms and one bathroom and covers 1,065 square feet.
Competition is making homes more affordable.
In the subdivision of Villa Gloria is a home for sale for $107,500. This home is located in a park-like setting with two bedrooms, two bathrooms, open kitchen with breakfast bar, granite countertops, laundry room, parking under cover for two vehicles, and hot water throughout. The home has 1,044 square feet of living space inside and an additional 355 feet of covered terrace space outside. These homes are new.
As you can see, there are plenty of homes available at reasonable prices throughout the Chiriquí highlands area. These prices reflect the norm for homes outside of the usual expat communities (where prices are somewhat inflated).
There is a continued spurt of new home construction as the population increases. The competition is making similar homes more affordable and means that it's a great time to invest in a home in Chiriquí, whether it's as your permanent residence or a vacation spot. Many homeowners are willing to finance the sale and the buying procedure in Panama makes the process relatively easy and painless.
Get Your Free Panama Report Here:
Learn more about Panama and other countries in our daily postcard e-letter. Simply enter your email address below and we'll send you a FREE REPORT — Panama: Easy, First-World Living and the World's Best Retiree Program.
This special guide covers insider advice on real estate, retirement and more in Panama. It's yours free when you sign up for our IL postcards below.
Related Articles
Five Popular Beach Towns in Panama
Upcoming Conferences
Live Better, Spend Less, Retire Sooner
IL's Retire Overseas Bootcamp
October 21-23, 2022 in Atlanta, GA

In safe, warm, welcoming communities abroad, as little as $1,700 a month can bankroll a good life... this fall, our experts will show you where—and how.
Early Bird DISCOUNT—Save $100 When You Register by Sep. 29
Details Here IL's Retire Overseas Bootcamp
---
Registration Now Open for the Best of Europe Private Screening

In the Right Spots in Europe, You Can Retire in Style—in an Historic, Sun-Drenched Locale—for as Little as $2,300 a Month or Less—Especially Now With the Dollar and Euro at Parity for the First Time in Two Decades.
And We'll Show You How, October 1-2, During the Special All-Online Best of Europe Private Screening.
---
The Income Revolution Forum
What if You Had the Freedom to Enjoy the Good Life Anywhere in the World You Wanted to Be...and Get Paid While You're There?
We'll show you how—with hands-on guidance—you could beat inflation...secure your retirement...ditch your commute...and turn a skill you already have into a portable side income of $300, $600, even $3,000 or more a month.