I am bullish on Ecuador's north coast—and have been since 2009. It's Ecuador's nicest stretch of coast. And now a new highway joins the new coastal highway at Pedernales, opening up the seaside area around Jama—classic Path of Progress. It's stunning here but real estate prices stayed low because it was difficult to get to.
This coast is hotting up. An owner who got in two-and-a-half years ago has been able to resell his lot in a project I recommended. He sold for close to double what he paid. Not a bad return.
Don't worry. You haven't missed out. This opportunity is only getting started.
A few weeks ago I took a day-trip from Quito to this coast for my hot-off-the-presses report which I delivered at International Living's Live and Invest in Ecuador Conference. This coast is changing fast. I needed to visit 24 hours before the conference started to make sure my presentation was current.
Before the new road, drive time from Quito to the coast was eight hours or more. Two decades ago it took all day.
On previous trips I have flown to Manta and then traveled by road north. At Bahia, the journey was interrupted by a wait…followed by a ferry crossing. (Today, a new bridge cuts out this wait. This new bridge is part of the improved coastal highway infrastructure.)
But with the new highway it's a straight three-and-a-half hours from Quito's city limits to the coast at Pedernales.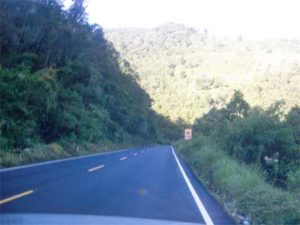 This is my favorite mountain drive on my beat.
Our drive on the new highway was smooth. This used to be a dirt road that served no purpose other than connecting little mountain villages. It was always the most direct route to the coast but this wasn't the route the road to the coast followed. When you see the terrain you understand why.
Stretches of this road have been carved out of the side of the Andes. The first two hours outside Quito is incredibly scenic with towering mountains and amazing valleys.
In fact, just 30 minutes on this road from downtown Quito you find yourself in an otherworldly mountain wilderness. Much of this area is protected as a nature preserve. Around each corner, there's a new microclimate and foliage. In places, you're surrounded by orchids and misty cloud forest. Five minutes away you find semi-dry jungle. There is little development…just a few viewing points and small cafes where you can enjoy a fresh juice or a coffee.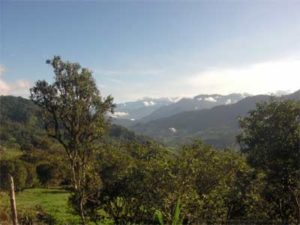 Another hour of driving and we had already begun our descent from high in the Andes. Here the terrain is lush, green, temperate highlands. The little town of Mindo is a short drive from the main highway. Mindo has been attracting bird watchers and eco-enthusiasts from Europe for the past decade. Some stayed, setting up boutique hotels and quality restaurants. This place is rich in delicious, natural ingredients. This is where I usually stop for breakfast when I make this trip. This time we kept going. Ceviche was waiting for us right on the beach.
The Quito highway links up with the main coastal highway connecting Atacames and Manta. (Work on that highway is more than 90% complete. Work crews were busily working on the remaining stretches.)
We comfortably arrived at our destination in time for mid-morning ceviche. The reward on arrival is greater than fresh ceviche and a cold drink in fresh ocean breezes.
The real estate values are jaw-dropping. Right here, you could buy a beachfront home for less than $70 per square foot. That includes the lot. I saw a 3,035-square-foot home for $210,000.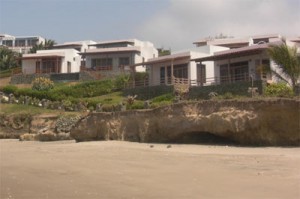 Once the world figures out how smooth the new road is and how nice this coast is these prices will be a thing of the past. This opportunity is now.
You can listen in to my full hot-off-the-presses scouting report on Ecuador's coast—it's a free bonus with the Ultimate Ecuador Kit, which you can still get. You can read more about it here.