A decade ago, you'd struggle to convince most real estate investors to invest in Portugal. There were many good reasons for this, including strict rent controls—which kept pre-1990 rental contracts frozen.
However, in 2012, two things happened that would change that. First, rent controls were abolished. And second, Portugal introduced its Golden Visa, which allowed people to get Portuguese residency by investing in real estate.
A building frenzy soon followed in Lisbon and Porto.
A big driver of profits is tourism, which is on a tear in Portugal. Each year brings a new record-breaking number, with 24 million tourists visiting the country in 2019. The Algarve alone had a record-breaking 20 million overnight stays.
Real estate growth is following suit. According to Residential Price Index (IPR), house prices in Portugal showed a 15.8% year-on-year increase at the end of 2019.
Lisbon has been the big benefactor. But it's become maxed out. Condos are now hitting a staggering €1,500 per square foot. And construction costs are up 40%. The savvy money is looking elsewhere…and the Algarve is in the perfect position to absorb the overflow.
The Algarve has been a long-time favorite for tourists and expats alike. With around 300 sunny days a year, scores of golf courses, a rich culinary scene, and some of the best beaches in the world, it has the feel and convenience of an enormous resort, but with the authenticity of Old-World Europe.
And now, with news that the Portuguese government plans to add restrictions to its popular Golden Visa program (excluding property in Lisbon and Porto from the scheme), real estate in the Algarve could be more desirable than ever.
I'm talking serious profit potential—if you know the right plays to follow and the right deal to buy.
For instance, here's a deal you can get in on right now…
Around the town of Tavira in the eastern Algarve you'll find wide-open Atlantic beaches and lots of protected land. The town's historic core is preserved.
A short, 10-minute drive from Tavira is the pleasant waterfront town of Cabanas where right now, there's an opportunity to buy a condo for €149,000 and lock in strong appreciation, along with rental returns in the region of €12,000 to €14,000 a year. A Portuguese bank found itself with a handful of condos a few minutes' walk to from the water's edge in the wake of the financial crisis. Now they are looking to clear these condos from their books. They're selling for at least €16,000 less than I reckon the condos are worth.
The condos come at an entry price of €149,000. I figure these condos are worth at least €165,000.
The numbers start to look very strong with the miracle of leverage—that is, Portuguese bank financing. Borrow 80% LTV and you're into the deal for €29,800, plus buying costs. Do it at say, a 1.5% rate and your repayments are around €575 a month.
I figure you could generate €1,000 a month in rental income on these condos, with that rising to €1,400 as you build up your rental clientele. So, you could cover your mortgage for the full year just by renting in peak summer months. Leaving you to enjoy your condo for the rest of the year.
The short-term rental market in the Algarve is anchored by a red-hot, 10-week peak season.
You can add two weeks at Easter and schools' (in northern Europe) spring and fall breaks. (The Algarve is very popular as a family destination.) May and September are good months to rent to golfers, young couples, and retirees.
Figure, all-told, on 10 weeks of peak rentals and then 10 weeks scattered through the rest of the year at an off-season rate.
And the season is getting longer as Portugal's tourism sector booms.
Get Your Free Real Estate Report Now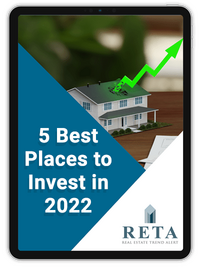 Sign up for our free daily Postcard e-letter and get a valuable free report on the The 5 Best Places to Buy Real Estate In 2022.
Related Articles
Real Estate & Property in Portugal
Portugal's Secret Hill-Town Bargains
Upcoming Conferences
Live Better, Spend Less, Retire Sooner
IL's Retire Overseas Bootcamp
October 21-23, 2022 in Atlanta, GA

In safe, warm, welcoming communities abroad, as little as $1,700 a month can bankroll a good life... this fall, our experts will show you where—and how.
Early Bird DISCOUNT—Save $100 When You Register by Sep. 29
Details Here IL's Retire Overseas Bootcamp
---
Registration Now Open for the Best of Europe Private Screening

In the Right Spots in Europe, You Can Retire in Style—in an Historic, Sun-Drenched Locale—for as Little as $2,300 a Month or Less—Especially Now With the Dollar and Euro at Parity for the First Time in Two Decades.
And We'll Show You How, October 1-2, During the Special All-Online Best of Europe Private Screening.
---
The Income Revolution Forum
What if You Had the Freedom to Enjoy the Good Life Anywhere in the World You Wanted to Be...and Get Paid While You're There?
We'll show you how—with hands-on guidance—you could beat inflation...secure your retirement...ditch your commute...and turn a skill you already have into a portable side income of $300, $600, even $3,000 or more a month.