When you were younger, what did you envision your retirement would look like?
Long, happy days where you wouldn't have to work the 9-to-5 grind anymore. Playing golf or going to the beach on a sunny Wednesday afternoon. You probably saw yourself pursuing hobbies and taking classes that you never had time for before.
Your retirement picture allowed you to do anything you wanted. And perhaps the biggest part of your dream was to buy a comfortable home with an ocean or mountain view and your own vegetable garden. You could see yourself opening your glass patio doors every morning to the green, flower-laden gardens and sitting with a cup of perfect coffee watching the world go by.
Fast forward to now. Two recent recessions have changed many retirees lives…and that view of retirement has changed too. Maybe things don't look so easy anymore. The nest egg you had created is gone or has dribbled away to almost nothing. You might even have to work for longer.
If your home country has robbed you of those golden days you had been looking forward to, I'm here to tell you that you don't have to give up on that dream. You can have all of your retirement dreams and more in Nicaragua.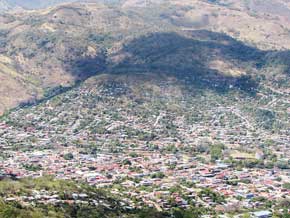 Nicaragua costs about one-eighth to one-tenth of what it costs to live a similar life in California…it's easy to live on $1,000 to $2,000 a month in this country of lakes and volcanoes.
How much do you spend on groceries each month in the States? In Nicaragua, $200 will get you all the food you'll need ($250 to $300 for a couple). For between $25 and $50 a week, you can stock up on fresh, organic produce. And that ocean-view home you always dreamed of…a three-bedroom, three-bathroom home with a swimming pool overlooking the ocean can be had for as little as $200,000. You can snag a two-bedroom, two-bathroom, ocean-view condo for less than $100,000.
But that's not all. Nicaragua's nature tapestry includes virgin beaches, clear turquoise natural pools, smoking and sleeping volcanoes, colorful birds, playful monkeys, wet, sun-drenched jungles, and so much more.
And you'll never be bored in Nicaragua. You can enjoy Mediterranean, Italian, Spanish, French, Indian, sushi, and of course Nicaraguan fare any day or night of the week. Dance to salsa or merengue, chill at a jazz or blues night with your new expat friends, or attend a free Nicaraguan ballet. Sailing, fishing, surfing, Latin dance, belly-dancing, cooking, painting, and all sorts of other classes await you.
Fill your day with all the fun things you want to do…or do absolutely nothing. The choice is yours and no matter what you do, you are living in a beautiful paradise, with warm ocean breezes or cool mountain nights. Rush hour traffic is gone. Stress is gone. That crazy, complicated, and expensive life back home is gone.
So maybe it's time to go back and re-evaluate your retirement dream…the one that you tossed aside for reality. And dream it again…only this time in Nicaragua.
Get Your Free Nicaragua Report Here:
Learn more about Nicaragua and other countries in our daily postcard e-letter. Simply enter your email address below and we'll send you a FREE REPORT –  Start a New Life on the Beach in Nicaragua.
This special guide covers real estate, retirement and more in Nicaragua and is yours free when you sign up for our IL postcards below.
Get Your Free Report Here