"Pereira is a small city with just about everything you could want from a large city—an airport, theaters, more shopping than you could ever need," says Mollee Thermos. "But it's still not as developed as Colombia's bigger and more well-known cities of Medellin or Bogota and I like it because of that."
Pereira sits slightly north and west of Bogota on the opposite side of the Andes mountains. Set in the heart of what's known as the Coffee Triangle, Pereira is surrounded by plantations, cattle and horse ranches, and country homes. The city itself is a mix of industry, universities, old colonial architecture, and modern arts, and for this reason attracts all manner of Colombians and foreigners.
Home to about 440,000 residents, many expats are finding this city to be just the right size for them as well. "There are a lot of us," Mollee says. Many expats work at the language or bilingual schools in the area or even at one of the universities, but others come just to enjoy life in Colombia's tranquil coffee region.
"I've met many Americans of Colombian descent who come here to retire and a lot of travelers come through and amañarse (become accustomed to it) so much that they end up staying."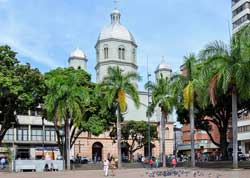 It's not just the city's amenities that appeal to Mollee though. She's also a fan of what can be experienced outside of town. "Pereira is so close to nature. You can drive 10 minutes and be in the forest or at a river. Trekking and outdoor adventure are on my list of favorite things about the city."
She also has a passion for bike riding and often rides into areas just outside of town. "I love getting to explore lush areas and enjoying new views and foods." And one of the biggest attractions near Pereira are the relaxing thermal springs where you can spend the night or just soak for the day.
And Pereira is also a great place from which to take day trips. Neighboring cities of Armenia and Manizales can be reached by bus in 45 and 90 minutes, respectively. And the small, tourist-friendly town of Salento is only 30 minutes away.
The perfect all-year weather makes these outdoor activities and excursions even more pleasurable. Average temperatures for the region range from 60 F to 80 F. And though an occasional downpour of rain or thunderstorm adds a bit of excitement, it just serves to keep the surrounding countryside a verdant oasis.
The lifestyle is hard to believe, but even more incredible is the cost. For a large one-bedroom apartment in a nice neighborhood Mollee pays just $135 per month and her water, gas, and electric come in at around $30 total. Her food expenses are low too, though she admits to splurging on items like natural peanut butter and Greek yogurt. "My monthly grocery bills are about $60, and dinner out is usually less than $3, but for a really fancy meal it could be up to $12 a plate."
The affordable cost of basics allows Mollee to invest in herself. Her weekly manicure and pedicure costs just $4.50. And she says "I spend most of my free time dancing. I go just about every day and I pay $20 per month."
Get Your Free Colombia Report Here:
Learn more about Colombia and other countries in our daily postcard e-letter. Simply enter your email address below and we'll send you a FREE REPORT: Beautiful, Diverse and Safe – Take Another Look at Colombia.
This special guide covers real estate, retirement and more in Colombia and is yours free when you sign up for our IL postcards below.
Get Your Free Report Here