Sherry production, horse-breeding, and flamenco…those are the three things Jerez de la Frontera does best. But after recently spending a month in this authentically Andalusian city, I think it should also be known for its low cost of living.
Just a 10-minute drive inland from Spain's southern Atlantic coast, Jerez has plenty of authentic Spanish charm combined with a comfortable, First World lifestyle. The historic center, with its cobbled streets, medieval monuments, and 18th-century buildings is compact and packed with plenty of cafes, bars, and stores.
This was where I rented an apartment, so almost everyplace I wanted to visit—monuments, museums, and sherry bodegas—was within a 10- to 15-minute walk of my building. And that building was an 18th-century palace, with marble floors and a peaceful central courtyard. I paid just $800 a month for my furnished, one-bedroom apartment.
Mine was a vacation rental, which generally come fully furnished in Spain, and the rent includes utilities. But you pay more than if you rented long term. I saw similar apartments, right in the center of town, renting long term for about $450 a month.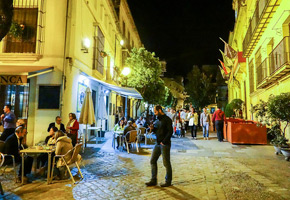 Jerez has a wonderful traditional market that was only a short walk from my apartment. I'd have a café con leche (which set me back $1.10) along with the locals at the corner bar each day before doing my day's shopping. Most fruits and vegetables in the market cost between 40 and 60 cents a pound. Thanks to the nearby Atlantic, there was plenty of fresh fish and seafood available. I bought some local shrimp for $3 a pound and fresh tuna steak for just $6 a pound.
But despite that great market and abundance of fresh food, I realized that Jerezanos never seem to eat at home. Instead, mealtime is an opportunity to sample tapas at one or more of the city's many bars…tapas bars, tapas bars with flamenco music, cafes with tapas, tabancos (old-time sherry bars that still serve sherry from barrels) with tapas. Thanks to Jerez's mild and generally sunny weather (even in winter) you eat outside, at a table under the shade of a broad umbrella.
Having a glass of sherry (only about $1.10) or a soft drink and a small, free dish of olives is a very civilized appetizer. But if you'd rather make a lunch of the occasion, order a couple of the many tapas on offer. Most cost just $2.20 to $3.30 for a generously heaped small dish. A few of those and a sherry make a fine lunch, all for under $10.
There are plenty of places to visit in the area too, with all the amenities and entertainment you might want. Though Jerez is inland, the major city of Cadiz is nearby, with its long beaches and big-city amenities. And it's only 10 minutes by bus or train to El Puerto de Santa Maria, the second of the three towns in Spain's Sherry Triangle, popular among Spanish and foreign tourists for its beaches. (The third town in the Triangle, Sanlucar de Barrameda, is half an hour's drive from Jerez.)
Jerez is a tranquil, inexpensive, and blissfully genuine Spanish place that is the perfect place to spend a few winter months. I'm already planning my next visit…
Get Your Free Spain Report Now
Learn more about Spain and other countries in our free daily postcard e-letter. Simply enter your email address below and we'll also send you a FREE REPORT – Live the Good Life in Sunny, Affordable Spain.
This special guide covers real estate, retirement and more in Spain and is yours free when you sign up for our IL postcards below.

Get Your Free Report Here