A million shades of green surround me as I drive. Above, the sky is a deep cornflower blue. I'm on the perfectly paved (and newly expanded) National Highway, driving down the Azuero Peninsula's eastern coast. As is customary in this region of Panama, the sun is shining.
A five-hour drive will get you from Panama's sultry capital to Pedasí, a gem of a village. Banana trees, sugar cane, and countless varieties of palms line the flat horizon. There are no highrises here…towns in the greater Pedasí district are tiny.
By the water, local fishermen have a few small boats lined up along the sand. For less than $2 a pound, they'll sell you red snapper, black grouper, amberjack…whatever they caught that day.
The Pedasí region is paradise for water and fishing enthusiasts. It's the kind of place where pretty much any fish, game or otherwise, is abundant. Anglers call it the Tuna Coast…but I think Sunshine Coast is a more apt description.
Expats have begun to discover this place because of the excellent climate. Daytime temperatures average 88 F, with ocean breezes cooling mornings and evenings down to about 78 F. Panama's Caribbean coast can get 120 inches of rain a year so this region is positively dry by comparison. Life here is lived in the sun.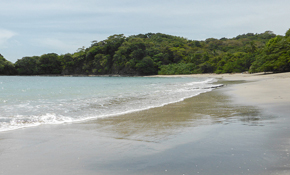 The English-speaking community is one of the most welcoming I've ever encountered. People are generous with their time, offering help and advice to newcomers. At local watering hole Smiley's, you're guaranteed to make friends over lunch or drinks.
The center of Pedasí isn't on the water, but a string of beaches begins about a mile south of town, which offer opportunities to swim and splash. For the more adventurous, there's spearfishing, surfing…you name it. Here the Pacific is warm and welcoming.
Few visitors to the Pedasí region go far enough south to discover Venao. Just a 45-minute drive from Pedasí, Venao is a surfing beach and quite the well-kept secret. The waters are crystal clear, and the pine-colored sand is soft and smooth. A handful of lodges and hostels line the coast—the rest is a blank slate. Outside of surf competitions that often take place here, the beach is always uncrowded.
In the Pedasí-Venao region a single or couple could live well on less than $2,000 a month, including rent. Rentals can go for as little as $600 a month…even less, if you spend a bit of time here networking with locals.
For those interested in buying, I've seen houses on offer from $130,000 to $230,000 for attractive homes with wide terraces. And the infrastructure is good…power, water, internet…everything you'd need to live comfortably.
For all the "big-city" amenities you'll need the hub of this region, the city of Chitre, is just a 45-minute drive north of Pedasí. I've been watching Chitre grow, and there isn't much you won't find there. Big supermarkets, hospitals, clinics, dentists, movies…a new luxury hotel and housing development.
I confess, this is one of my favorite parts of Panama. And with flights from Panama City to the Pedasí region three times a week, it's easy to get here and enjoy some of the most pristine beaches the Panamanian Pacific has to offer.
Get Your Free Panama Report Here:
Learn more about Panama and other countries in our daily postcard e-letter. Simply enter your email address below and we'll send you a FREE REPORT — Panama: First World Convenience at Third World Prices. 
This special guide covers insider advice on real estate, retirement and more in Panama. It's yours free when you sign up for our IL postcards below.
Get Your Free Report Here